'Sister Wives' Patriarch Kody Brown Reveals He Had COVID in a Cameo
Did anyone on 'Sister Wives' get COVID? As the reality show's 16th season continues on TLC, see how the Brown family has fared with the pandemic.
For the most part, viewers agree that Sister Wives head of household Kody Brown has been extremely committed to doing his part to stop the spread of COVID. Ever since the first case of the coronavirus was announced in the United States in 2020, the father of 18 has appeared to be unwavering in taking the necessary precautions to keep his large family healthy and safe.
Article continues below advertisement
We see a lot of that play out in Season 16, when the reality stars are shown grappling with issues of social distancing and mitigating the risks of mixing the four Brown households.
As a result, viewers are curious if anyone on Sister Wives ever got COVID, or if the family have been able to keep themselves free of the virus this whole time.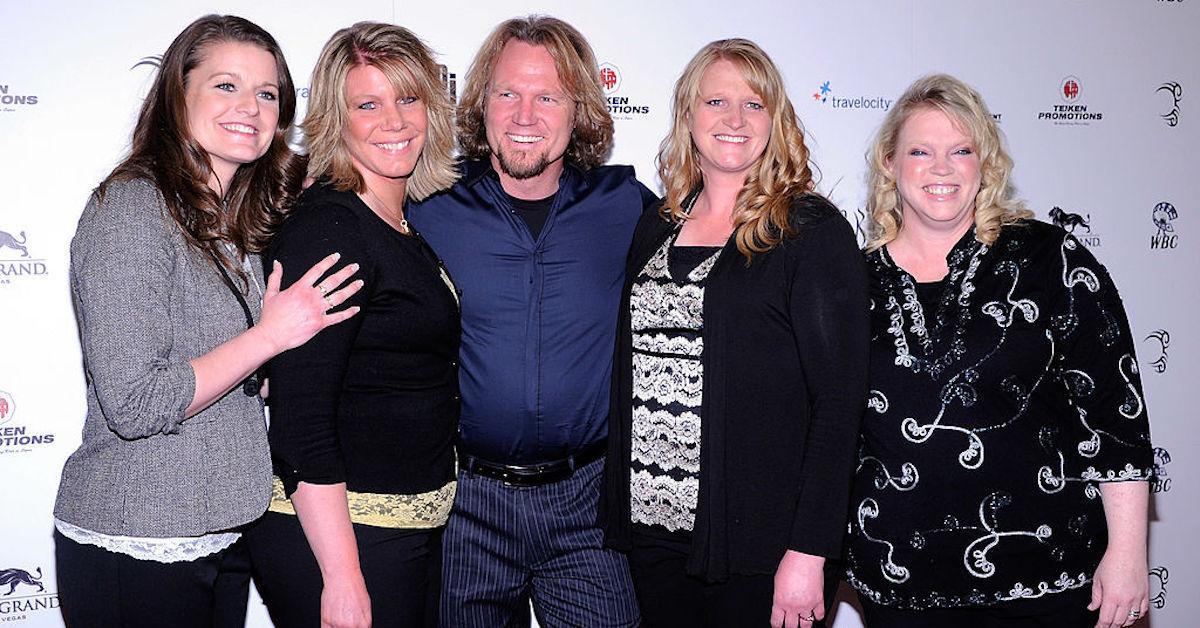 Article continues below advertisement
Did anyone on 'Sister Wives' get COVID?
The wives have been very vocal about the fact that COVID has "put a strain" on the family. "We're definitely not seeing each other," Meri said in an episode, while Christine agreed that "a lot of conversations revolve around COVID, and it's exhausting."
In the season's supertease, which was released in October 2021, Kody explained his position. "When it comes to the COVID virus, I'm not willing to gamble a family member's life," he said, adding that all four wives and their respective households were quarantining separately on their property. "I'm the only one that's going from home to home," he said.
Article continues below advertisement
Thus, it might come as a surprise for Sister Wives viewers to learn that Kody actually caught COVID, according to some Cameos he recorded for fans over the last year.
TikTok user @mrskickstand, who has gained a following of hundreds of thousands, thanks in large part to her Sister Wives deep dives, theories, and recaps, dug up some evidence when asked by a follower if she knew whether "any of the Browns have had Covid."
Article continues below advertisement
In a Cameo posted "a couple of months ago," according to @mrskickstand, Kody spoke to a fan who seemed to be struggling with the pandemic. "I empathize with your situation with COVID," he began. "Not completely, but I've had it and it did bad things to me, it was really hard. And boy, what a tough thing to deal with."
In a separate Cameo clip, posted three days ago, per @mrskickstand, Kody addressed a different fan.
"[The Cameo requester] says that you guys are proud that I've been really good about COVID protocols and I don't even know what to say about that anymore," Kody says.
Article continues below advertisement
"I think that my cure has been worse than the disease. But that's just a personal thing, struggling a lot, second-guessing myself, which I probably shouldn't do at this point, but it's been a long two years with this whole thing ... Anyway, hang in there, all of us are having to do it," he continues. "All of us are having to hang in there."
Have any of the wives caught COVID? Are they vaccinated?
It is unclear whether any of Kody's four wives or 18 children caught the virus while or after he had it.
However, we do know for certain that at least one of the wives — or should we say ex-wives — has been vaccinated: Christine. Back on May 5, 2021, Christine, who would go on to separate from Kody the following November, told her followers that she'd been vaccinated that day.
"Celebrating Cinco de Mayo with tacos, and guacamole is my favorite!" she wrote. "I got my COVID vaccine today, and if I'm feeling too sick to eat tacos, I'm going to lose it like a piñata loses its candy!"
Article continues below advertisement
Shortly thereafter, one fan said on Reddit that a "little social media stalking" indicated that "Christine is the only one who for sure got it," though other commenters promptly chimed in to say that it's possible the other Sister Wives stars got vaccinated and didn't post on social media about it.
As Robyn explained at one point early this season, "Since the pandemic has hit, Kody is in a really bad place mentally and emotionally because he's having trouble getting the wives to agree with him on what to do as far as COVID and how to handle it." As a result of their ongoing disagreements, it's hard to know where Robyn, Meri, Janelle, their children, and even Kody stand as far as their vaccination status.