Chrishell Stause Finally Addresses Her Recent Breakup With Jason Oppenheim
Curious Selling Sunset fans are dying to know: What's going on between Jason Oppenheim and Chrishell Stause? The Netflix reality stars went public with their relationship back in July 2021, and we've been on the edge of our seats waiting for them to spill the tea about how this happened ever since.
Sadly, Season 4 did not address their romance, but Season 5 is expected to have some answers.
Article continues below advertisement
As we wait for the latest installment to drop on Netflix, some fans began to question whether or not the pair was still together after Chrishell went solo to an awards show and unveiled a totally new (and totally fire!) look. Is it possible that the real estate power duo has called it quits? Jason's absence definitely raised some questions.
Keep reading to find out everything we know about the current state of Chrishell Stause and Jason Oppenheim's relationship.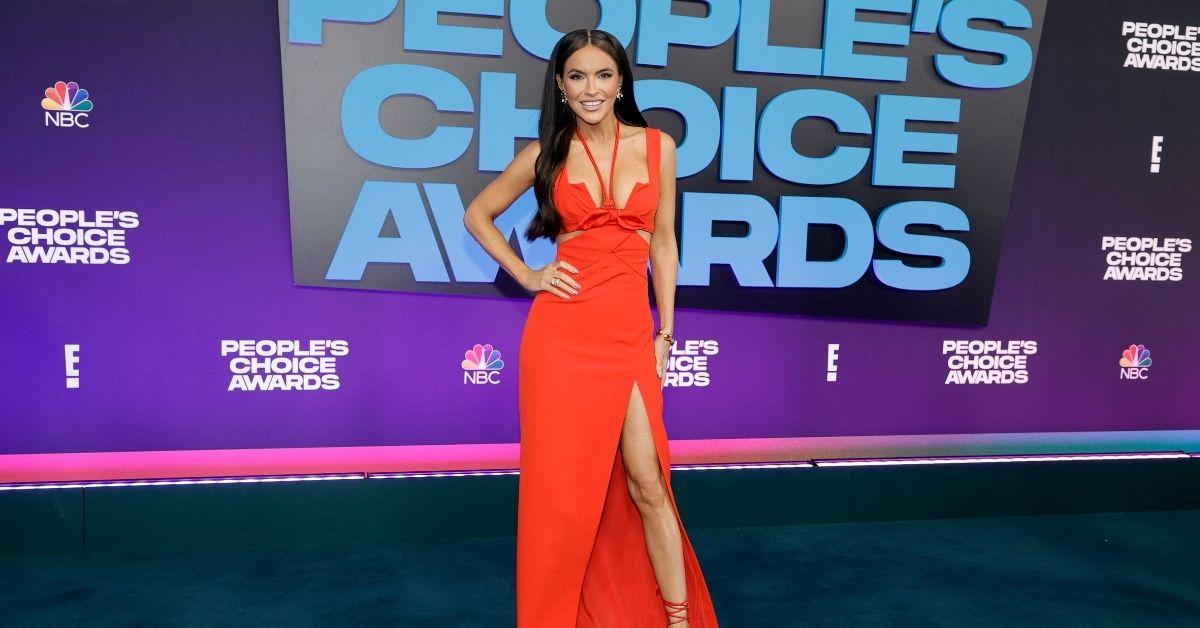 Article continues below advertisement
Chrishell Stause and Jason Oppenheim have called it quits.
In December 2021, Selling Sunset star Chrishell Stause debuted a new look during the People's Choice Awards. The reality star had gone full-on brunette — not to mention, she absolutely slayed in her red evening gown.
During the show, she was seen hanging out with co-workers and besties Mary Fitzgerald, Emma Hernan, and Heather Rae Young El Moussa. However, this wasn't a girls' night. Mary and Heather each brought their husbands along. Meanwhile, Chrishell appeared to have come alone.
Article continues below advertisement
Fortunately, she wasn't alone the whole night, though. She posted a photo to Instagram with Marvel actor Simu Liu and recorded him walking up to the stage to accept an award, which could be seen on her Instagram story.
Article continues below advertisement
As a refresher, Simu was one of Chrishell's clients in Season 4. During a visit to the office, Jason seemed visibly annoyed by how friendly and flirty Chrishell and Simu were getting.
Article continues below advertisement
With Jason's absence, Chrishell's new hair, and Simu just happening to be there, fans began to wonder if Chrishell was single. One user tweeted, "Chrishell changed her hair color and posted a picture with Simu. What's [sic] are the odds her and Jason broke up?"
Article continues below advertisement
Apparently, the odds were pretty good as they have confirmed their split. On Dec. 21, multiple sources told People that Jason and Chrishell were no more. The reason for their breakup? According to an insider for Life & Style, it came down to them having different ideas of what their future would look like.
The source claimed, "Chrishell really wants to have children, but Jason isn't on the same page so they mutually agreed to end their relationship. They're still best friends."
Jason took to his Instagram stories shortly after the news broke to say that the two have indeed decided to mutually part ways. In a statement, Jason wrote, "While Chrishell and I are no longer together, we remain best friends and will always love and support one another. She was the most amazing girlfriend I've ever had, and it was the happiest and most fulfilling relationship of my life."
Article continues below advertisement
Jason also confirmed the reason for the split. "While we have different wants regarding a family, we continue to have the utmost respect for one another. Chrishell is an exceptional human being and loving her and having her in my life is one of the best things that has ever happened to me," he shared.
Article continues below advertisement
Chrishell recently broke her silence on her and Jason's split.
On Dec. 21, 2021, Chrishell broke her silence regarding her recent breakup. In a heartfelt post on Instagram, Chrishell wrote, "I have tried to embrace the world that I have found myself in, and that includes being open and honest in my relationships." She noted that she chooses to see the relationship as a success despite its ending and that she's glad to advocate for what she wants in life.
She added, "Jason was and is my best friend, and other than our ideas for family ultimately not being aligned, the amount of respect and love for each other will not change going forward."
Article continues below advertisement
Despite Chrishell and Jason's split, it certainly seems that there's no ill will between them. Hopefully, Season 5 will give us a little more insight into what happened, but regardless, we can expect that there won't be too much drama between them when the new season arrives.
Seasons 1 through 4 of Selling Sunset are currently streaming on Netflix.