Did Taylor Swift and Travis Kelce Break Up? A Look at the Rumors
Taylor Swift and Travis Kelce fans are wondering if they split after she missed his game. Read on for why Taylor is also being accused of grooming.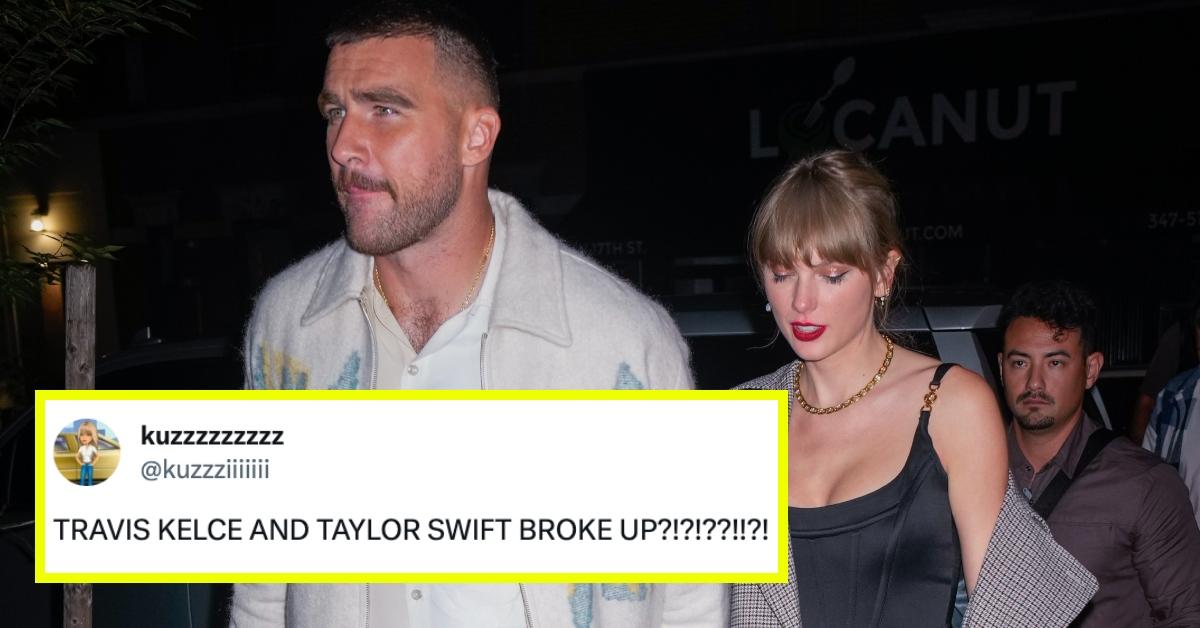 The Gist:
Taylor Swift and Travis Kelce started hanging out in September 2023 and dropped hints in the first half of November 2023 that things were official.
But amid an unfortunate fan death on Taylor's end and false claims that she was grooming Travis, folks are wondering if they are still together.
Article continues below advertisement
Swifties were beyond ecstatic for her. Travis appeared so unproblematic, compared to controversial singer Matty Healy, who Taylor was hanging out with prior to meeting Travis. If anything, the NFL player's only flaw was that he wasn't the best speller.
Article continues below advertisement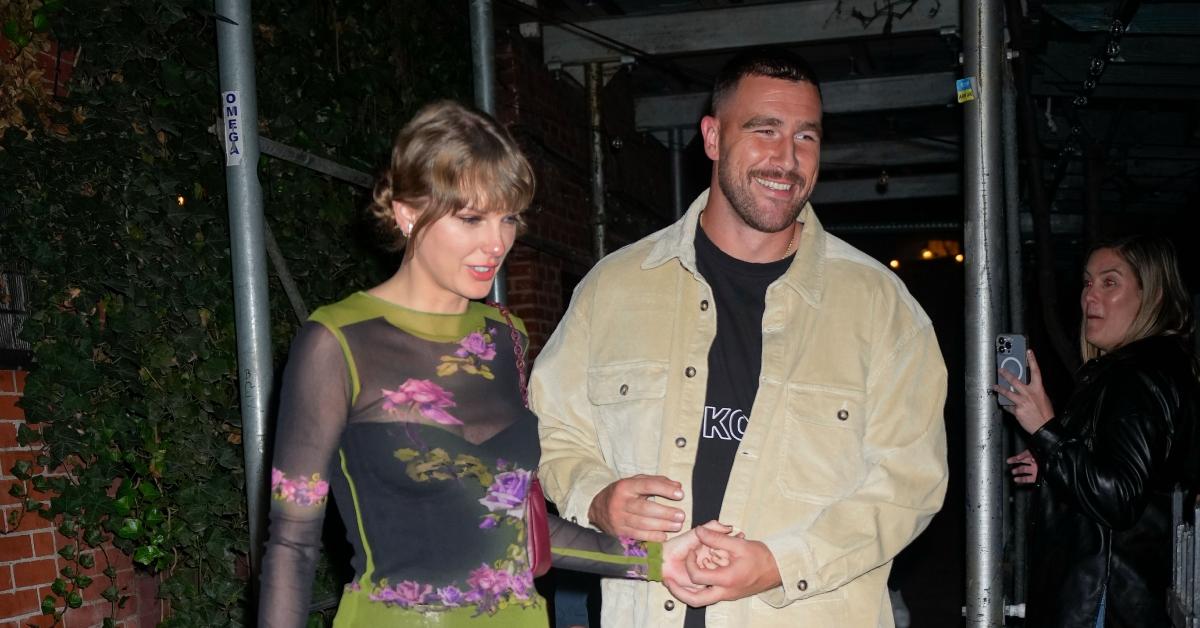 But already, rumors are circulating that Travis and Taylor broke up. "Travis Kelce and Taylor Swift broke up?" one user asked in all caps on X on Nov. 17, 2023. Another user ominously tweeted the following day: "Oh no. I just saw some stuff. Either Travis Kelce and Taylor Swift broke up or when she finds this stuff out, they're going to."
Article continues below advertisement
Is there any truth to these rumors? About a week after Taylor and Travis confirmed their relationship, a tragedy plagued Taylor's Eras tour. And on top of all that, people are jokingly making serious allegations against Taylor.
Are Taylor and Travis still together?
On Nov. 20, 2023, Taylor was absent from the Arrowhead Stadium in Kansas City, Miss., as the Chiefs played the Philadelphia Eagles, which once again pitted Travis up against his brother Jason Kelce.
Leading up to the game, news had circulated that Travis and Taylor's parents would meet at this highly anticipated game, but unfortunately, none of the Swifts were there. The Chiefs lost to the Eagles 17 to 21. And immediately fans began speculating if Travis and Taylor broke up.
Article continues below advertisement
However, Taylor wasn't at the game because she was still in Brazil after a difficult weekend on tour.
On Nov. 17, a 23-year-old fan named Ana Clara Benevides Machado passed away during her show in Rio de Janeiro. The area was facing extremely high temperatures that weekend and the venue allegedly did not allow concertgoers to bring water bottles in.
Article continues below advertisement
Ana's father told local outlet Folha de S.Paulo that his late daughter suffered a cardiorespiratory arrest after entering the venue, but her exact cause of death has not yet been revealed.
Article continues below advertisement
After this devasting incident, Taylor moved her show scheduled for the night of the 18th to the 19th. Because it was pushed back, Taylor didn't have as much time to fly back to the U.S. for the game. Not to mention that it could have looked insensitive for her to quickly jet back to the U.S. after a life was lost at her show.
That said, Taylor and Travis are believed to still be dating. There are no reports claiming that anything changed between the new romantics.
People are claiming that Taylor is "grooming" Travis because of their "problematic mental age gap."
Among all the hearsay that Taylor and Travis have broken up, there have also been wildly inaccurate claims that Taylor is grooming Travis. To set the record straight, these claims are all false. Travis is actually one year older than Taylor. They are both two adults who are doing nothing wrong.
Article continues below advertisement
One user on X penned a seemingly satirical tweet claiming that their relationship was inappropriate.
The tweet read: "Can we talk about the problematic mental age gap between these two and how Taylor might actually be grooming Travis? Travis has multiple head injuries and suffers from CTE leading to the huge mental age gap which make him vulnerable."
Article continues below advertisement
The user continued to note: "After consulting a special educator we have determined Travis Kelce's mental age to be 17 years. This is plain and clear grooning." (It's unclear if "grooning" was misspelled on purpose).
The whole tweet is believed to be a bit, but some folks may have taken the bogus claim word for word, especially since Taylor has previously had romantic relationships with men who were underage.
Bottom line: From breakup claims to phony allegations that Taylor is grooming her older boyfriend, the rumor mill is in overdrive right now. There is no actual evidence supporting any of these narratives.