Why Do Some Folks Hate Matty Healy? Let Us Count His Controversies
Why do people hate Matty Healy? He's been caught up in some controversies, and some who are familiar with The 1975 frontman don't like him.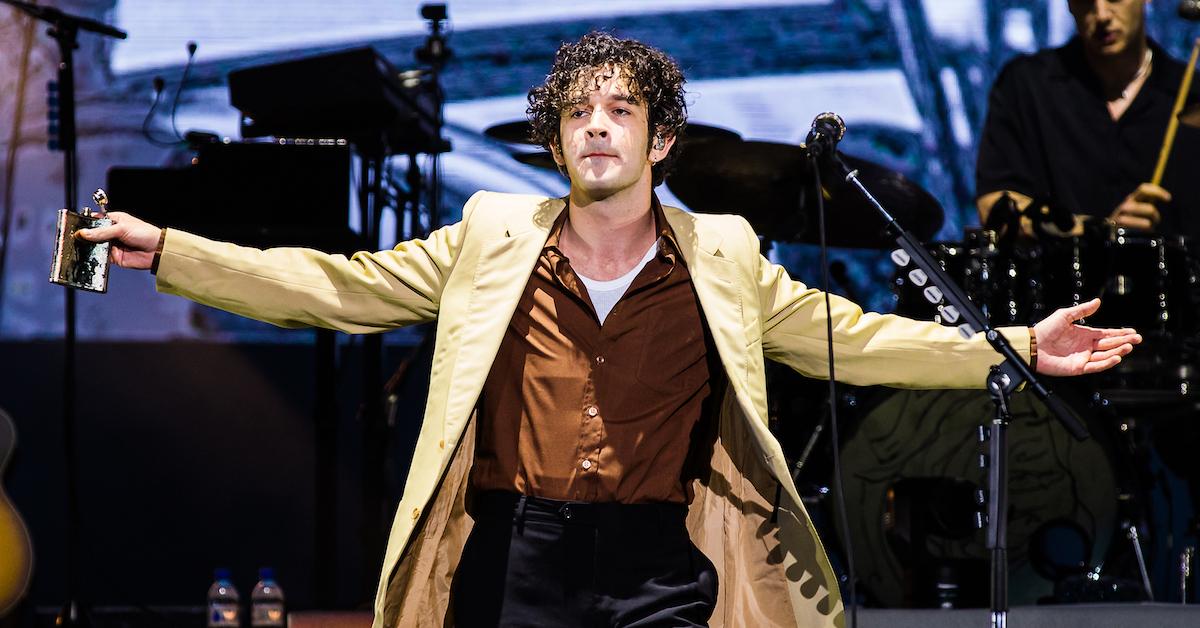 When rumors started swirling of Taylor Swift's new boyfriend in May 2023, plenty of folks all had the same question: Who is Matty Healy? Fans know he's the frontman of the U.K. indie/alternative band The 1975, and also the son of British actors Denise Welch and Tim Healy. Unfortunately, those who are familiar with Matty also know he has weathered a few controversies during his career.
But why do people hate Matty? Let's take a closer look.
Article continues below advertisement
Why do people hate Matty Healy? He's been involved in a few controversies — some legit and some taken out of context.
In late 2022/early 2023 a clip of Matty marching and making a saluting gesture during a The 1975 concert went viral for all the wrong reasons. Some called for his cancellation because he was doing what they perceived to be a Nazi salute during the band's song "Love It if We Made It." It's unclear if this is what Matty intended.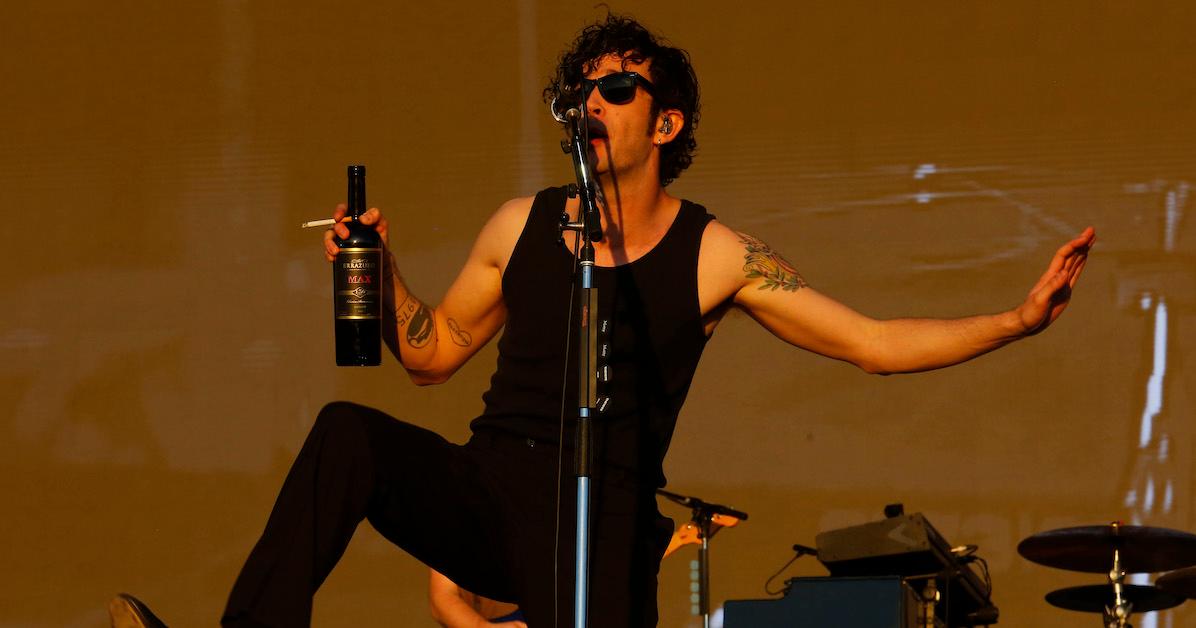 Article continues below advertisement
The march in question happens as Matty is singing, "'I moved on her like a b---h' / excited to be indicted / Unrequited house with seven pools / 'Thank you, Kanye, very cool,'" (both of which are quotes from Trump). Seemingly, the song is actually calling out Trump for his misogyny and Kanye for his antisemitic comments and other questionable behavior.
Article continues below advertisement
Another controversy involving Matty Healy centered on a BLM tweet.
In May 2020, Matty tweeted in support of the Black Lives Matter movement. "If you truly believe that 'ALL LIVES MATTER' you need to stop facilitating the end of black ones," he wrote on the social media platform, per Variety. Which in itself was fine.
However, he also included a link to "Love It if We Made It" because it's a commentary on institutionalized racism and police brutality. ("Selling melanin and then suffocate the black men / Start with misdemeanors and we'll make a business out of them.")
Many folks were outraged that Matty seemingly used BLM to promote his music. He deleted the tweet (and has since deleted the account as a whole), but some people decried his tweet as an insensitive money grab.
Article continues below advertisement
Matty has also been called out for racial insensitivity on 'The Adam Friedland Show.'
Article continues below advertisement
"I just feel a bit bad, and I'm kind of a bit sorry if I've offended you," Matty said during a The 1975 concert in New Zealand not long after the podcast appearance, per Billboard. "Ice Spice, I'm sorry. It's not because I'm annoyed that me joking got misconstrued. It's because I don't want Ice Spice to think I'm a d--k. I love you, Ice Spice. I'm so sorry. I don't want it to be misconstrued as mean. I don't mind being a bit of a joker … but I am genuinely sorry if I've upset them because I f---king love them."
Article continues below advertisement
Another offensive sound bite from The Adam Friedland Show described an incident that many say sexualizes the brutalization of women of color. The men discussed when a woman walked in on Matty masturbating to a hardcore porn website that's known for misogyny and racism.
"She went back in and Matty, like, on his phone and then on his 77-inch OLEDs just got Ghetto Gaggers blaring," Adam recalled on the podcast. "Thirty seconds after the hang, just hardcore pornography."
"You're not exaggerating. It was 30 seconds, like, you guys were still waiting outside," Matty added. "She came back in; I was already flustered. I was dressed as 'guy who is jacking off,' so I had, like, an untucked shirt, and I think it literally was Ghetto Gaggers on the TV — somebody just getting, like, brutalized. … And it wasn't some cool-scene New York art girl [who walked in on me]. It was little Olive, who came in, like, 'I'm so sorry, I'm just getting my water!'"
Article continues below advertisement
Matty's past comments about Taylor Swift don't sit well with Swifties in light of their reported dating.
A 2016 interview Matty did with Q magazine has been revisited in 2023 in light of reports that he and Taylor Swift are dating. In the interview, Matty was asked if he was afraid of losing himself in the limelight of a public relationship amid rumors that he and Taylor dated in 2014.
The musician responded with, "Yeah, absolutely," per The Guardian. "And the reason I mention that is because if I had gone out with Taylor Swift I would've been, 'F---ing hell! I am NOT being Taylor Swift's boyfriend.' You know, 'F---. THAT. That's also a man thing, a de-masculinating, emasculating thing."
Article continues below advertisement
Still others hate Matty Healy because of his on-stage persona and bits.
Matty is known for his wild on-stage antics. From kissing fans, to pretending to masturbate, to sucking a fan's finger, to eating raw meat, The 1975 frontman has pulled some controversial stunts in his performances. He's also a fan of doing bits that blur the lines of acting and reality.
Article continues below advertisement
Many folks not "in" on a particular bit have been offended by his band cutting him off onstage right before he seems like he's going to say something controversial. "I don't think it's a racist thing to say ..." Matty said one time before the intro to "It's Not Living (If It's Not With You)" cuts him off. Another time, Matty said, "Asian people are like ..." before the guitar riff drowned him out.
Article continues below advertisement
Some also point to videos in which Matty seems to be literally the worst type of person. In late 2022, he appeared on Chicken Shop Date with Amelia Dimoldenberg. Those who aren't familiar with his (and Amelia's) dry, sarcastic sense of humor might think he was serious about some of the things he said.
Article continues below advertisement
Why did Matty Healy delete his Instagram account?
In April 2023, Matty's official Instagram account @trumanblack was deleted. He addressed the move not long afterward at a The 1975 concert, explaining, "The era of me being a f---king a--hole is coming to an end. I've had enough."
Regardless of sarcasm or planned bits, there's no shortage of reasons for folks to hate Matty Healy.
Hopefully, it really is the end of an era for Matty's controversies— especially since he is reportedly dating Taylor Swift. Because her PR team won't mess around with his nonsense.
If you are looking for ways to donate your time or money to Black Lives Matter and other antiracist organizations, we have created a list of resources to get you started.