Dillon Danis and Logan Paul Said They Were Both at NYC Party When a Gun Was Pulled
Dillon Danis and Logan Paul were both at a party together when a gun was pulled. However, they share different versions of what happened.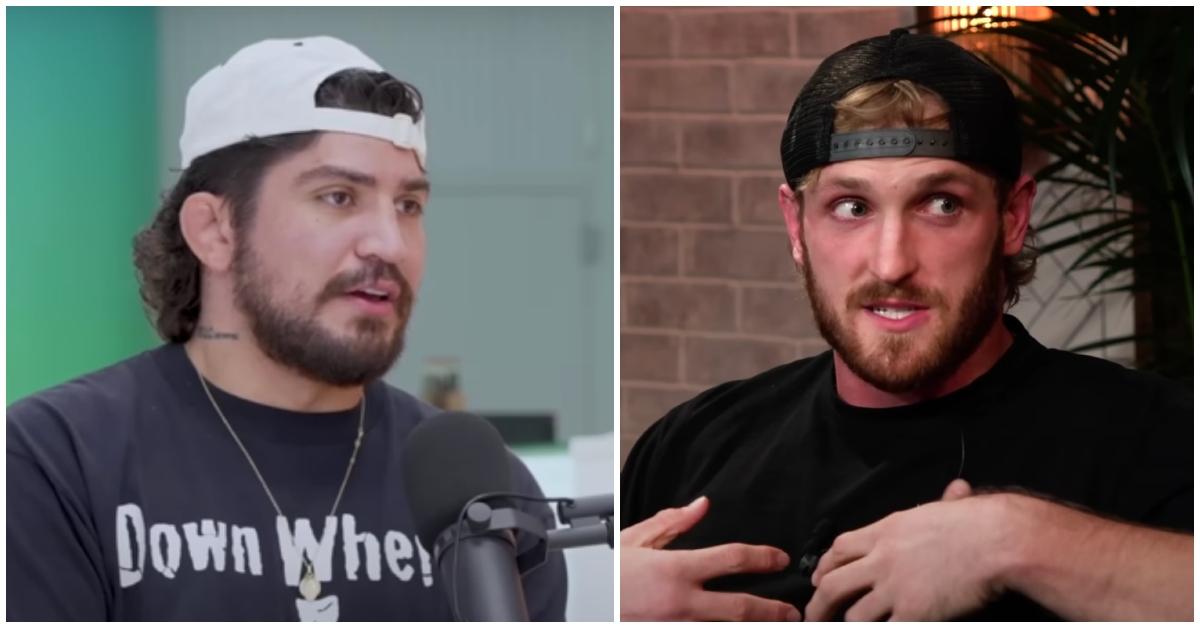 The gist:
Dillon Danis and Logan Paul have both discussed an incident where they were at a party in NYC and a gun was pulled, but they have different versions of the story.
Dillon claims he stopped the shooter from killing Logan. Logan claims that Dillon's friend was trying to shoot Logan's friend Mike Maljak.
Luckily, no one ended up injured that night.
Article continues below advertisement
Since this fight was announced, Dillon and Jake have been taking jabs at one another in preparation. Dillon has been posting photos of Logan's fiancée Nina Agdal on X (formerly known as Twitter) in order to tick him off. After reportedly sending Dillon a cease-and-desist letter to him as a result of the personal attacks, Logan joined in on the warfare and threw cake at his competition during a press event.
Article continues below advertisement
Fans have been following every interaction exchanged between these two men, even those from the past.
In fact, Dillon and Logan have both discussed a past incident in New York where they were together. During this incident, a gun was drawn, but no shots were fired, and there was no actual shooting.
But, what actually happened and how did this transpire? We break it down below.
Article continues below advertisement
Dillon Danis claims he saved Logan Paul's life, but did he?
Dillon spoke on the incident during an August 2023 episode of the Full Send Podcast.
He claimed they were at an afterparty in New York and at the time, he was on crutches. He doesn't explain how the conflict arose per se, but at some point, an unnamed person pulled out a gun, and Logan began to worry.
"He came over to the table and he was like, 'Can you pinky promise me you're not gonna do anything?'" Dillon explained. "I pinky promised — and I'm on crutches — and I was like, 'yeah, whatever.' We're talking and then that whole s--t happened."
Article continues below advertisement
Dillon, who hails from New Jersey, claimed that "[Logan] didn't realize who I am in New York or the connections I have, and, like, I stopped him from getting murdered that night. Because they were going to shoot him in the back of the head. And I was like, 'No, I don't want him to die. Just calm down.' And after that, he has not come back to New York."
While that sounds very heroic of Dillon, there is no evidence confirming what happened.
One writer for Barstool Sports penned a piece claiming that Dillon's telling of the story "has to be the worst lie ever told."
Article continues below advertisement
Logan Paul claims that Dillon Danis's friend tried to shoot his friend Mike Maljak.
On a June 2022 episode of the Flagrant podcast with Andrew Schultz, Logan also recounted the incident and claimed that the gun was pulled specifically on his friend and podcast host Mike Maljak.
Article continues below advertisement
"Actually, here in New York one time," he started. "Actually, Dillon, me and Jake have all been kind of beefing for some time. We were at a party, this is when Dillon was on the crutches and one of his boys pulled a gun on Mike," Logan said.
It was unclear why a gun was pulled on Mike.
Fortunately, the trigger was never pulled and a shooting never occurred. But Logan didn't seem to mention anything about being in danger of getting shot and/or getting saved by Dillon.
Certainly, in the same way that Dillon could be twisting the facts, Logan might be too.
Perhaps they'll be able to sort out the truth during their big fight on Oct. 14, 2023, at the AO Arena in Manchester, England.