These Emmy Awards Viral Moments Will Keep You Laughing Until Next Year's Event
The 2022 Emmy Awards might be over, but fans still can't stop talking about these viral moments. See the most hilarious memes here!
Another Primetime Emmy Awards ceremony has ended, and the annual event included plenty of things to discuss. Many TV actors took home a trophy, while others must wait until the award show airs again.
Either way, viewers laughed, cried, and commented during the 2022 Emmys.
Article continues below advertisement
Here's our list of viral moments you may have missed from the show.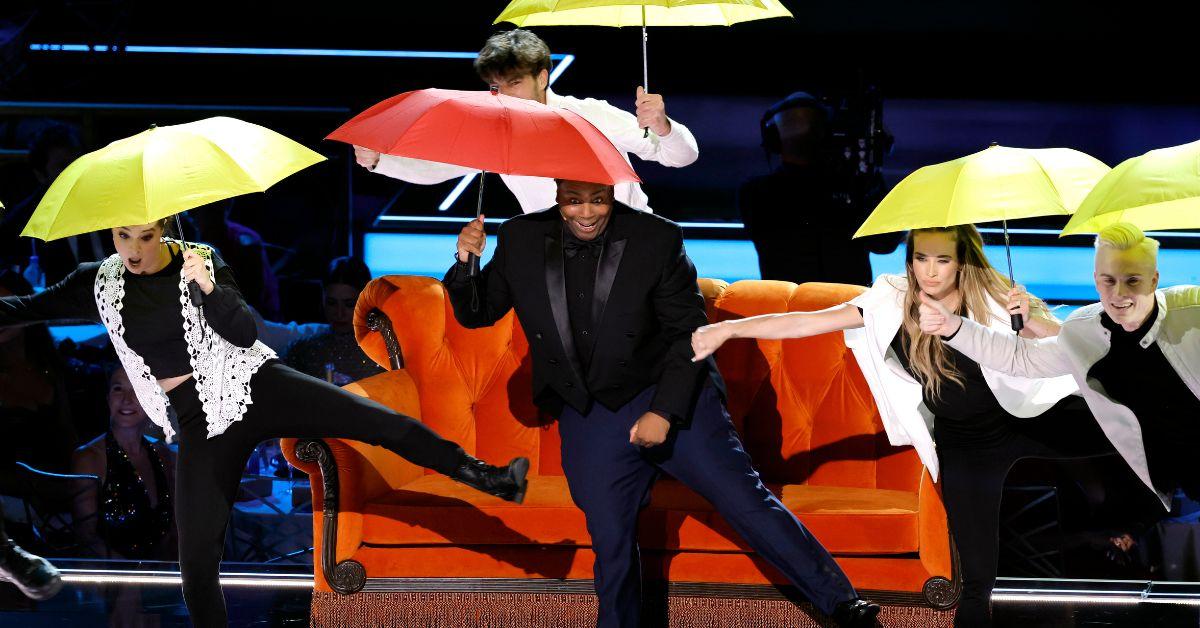 Kenan Thompson opened up the 'Emmy Awards' with a bang.
Emmys host Kenan Thompson led the award ceremony by declaring himself the "mayor" of the night and promised not to "ruffle any feathers" as the Emmys progressed. The SNL star danced to several famous theme songs, including the "I'll be there for you" chorus from Friends, but made sure to add a little Living Single call back.
Kenan ended his set, which featured Game of Thrones and The Brady Bunch references, with the queen of daytime TV, Oprah Winfrey, who presented the first award.
Article continues below advertisement
Julia Garner won an award after the final season of 'Ozark,' and some fans are confused.
Actress Julia Garner accepted her award for "Best Supporting Actress in a Drama Series" after years of being on the show.
"Thank you for writing, Ruth; she's changed my life," Julia said on the show. "I want to thank Jason Bateman, thank you for taking a chance on me," Garner said in part when she took the stage."
While many of Julia's fans praised her for the win, others were upset that other co-stars like Laura Linney never won an award during the entire series. However, Ozark viewers jumped to her defense on Twitter.
Article continues below advertisement
Sheryl Lee Ralph won her first Emmy and celebrated the win with her powerful singing voice.
Abbott Elementary star Sheryl Lee Ralph took home an Emmy for "Outstanding Supporting Actress." The award was Sheryl's first win and the second time a Black actress had won the award since Jackee Harry did 35 years prior.
Sheryl also felt the impact of her prize as she sang Dianne Reeves' song "Endangered Species" and accepted the award. The Moesha actress also encouraged the audience to never give up on their dreams, no matter how long they may take to achieve.
Article continues below advertisement
The Internet refused to accept any Jennifer Coolidge slander.
Jennifer Coolidge also won her first Emmy and accepted the award by doing what she does best: being hilarious. The White Lotus actress explained on the stage that she had difficulty talking because she had taken a lavender bath before the event.
Jennifer said the bath caused her body to "swell," which was why she was talking slower than usual.
Article continues below advertisement
The Emmys' team wasn't too sympathetic since they played the famous Emmys "wrap it up" song as Jennifer continued her speech. Instead of exiting, though, Jennifer danced to the music before finally thanking everyone who helped make her award happen.
Article continues below advertisement
Steve Martin, Selena Gomez, and Martin Short pitched their talk show.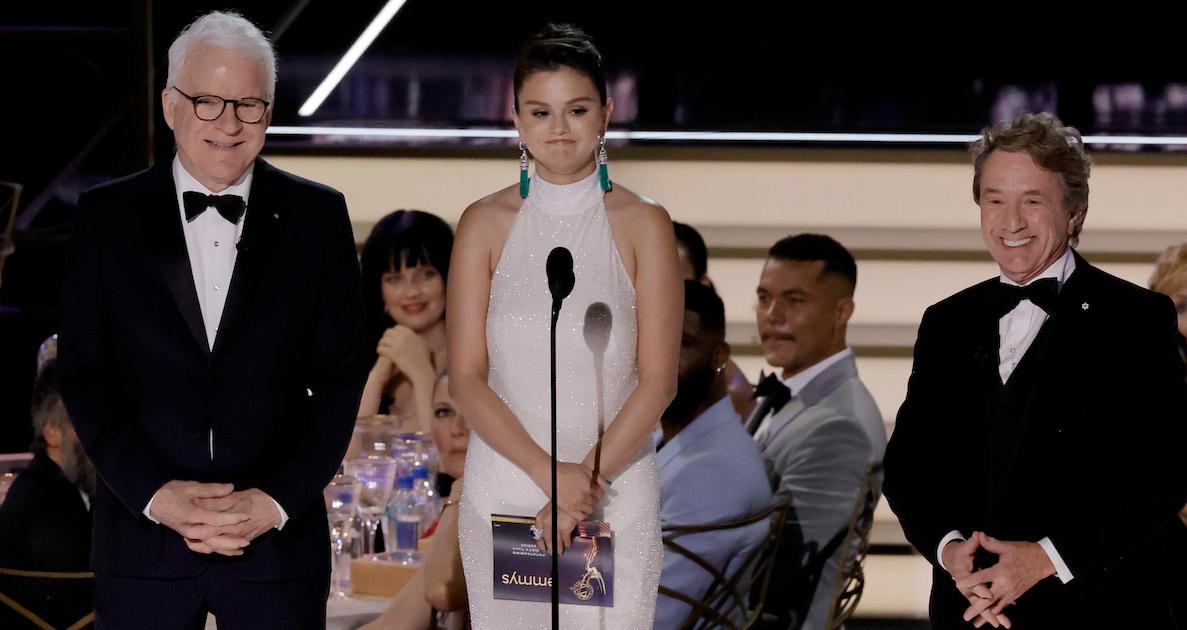 Only Murders in the Building co-stars Steve Martin, Selena Gomez, and Martin Short presented the award for "Best Variety Talk Series." Still, many viewers focused more on the three actors' talking. Fans couldn't get enough of Steve and Martin's witty banter and Selena being adorably stuck in the middle of the two comedy legends.
After their appearance, Twitter exploded with demands for them to create their own talk show.
Article continues below advertisement
Lizzo's show beat out 'Rupaul's Drag Race.'
Lizzo received a historic win when the singer accepted her award for her Amazon show Lizzo's Watch Out For the Big Grrls. The dancing competition beat Rupaul's Drag Race, the leading winner for several years. The "About Damn Time" singer celebrated her win with the dancers from the show and added empowering words to her acceptance speech.
Article continues below advertisement
"The stories that they shared, they not that unique; they just don't get the platform," Lizzo said to the audience, per CNN. "Let's just tell more stories. When I was a little girl, all I wanted to see was me in the media, someone fat like me, black like me, beautiful like me."
"If I could go back and tell little Lizzo something, I'd be like, 'you gonna see that person, but b**ch it's gonna have to be you," she added.
Article continues below advertisement
Geena Davis accepted an award for her contributions to gender inclusion.
Actress Geena Davis accepted the Governor's Award for her contributions away from the camera. In 2004, the A League of Their Own star launched the Geena Davis Institute on Gender in Media. The initiative strives to create gender and diversity inclusion in the film, which Geena noted is still an ongoing movement.
In her speech, the actress also thanked her team, including Madeline Di Nonno, president, and chief executive officer of the institute.
Article continues below advertisement
Jerrod Carmichael and his fur coat won for 'Rothaniel.'
Jerrod Carmichael accepted his award for "writing for a variety special" in a stunning white fur coat from Diddy's closet over his bare chest. The comedian, who came out as gay during the HBO Max special, Rothaniel, said he was "glad he won," and called the project of "great personal consequence."
While Jerrod received backlash from his family for the comedy show, fans cheered him on as he accepted his trophy.
Article continues below advertisement
Kenan Thompson and Kel Mitchell gave us the reunion we have been waiting for.
Aww, here we go! Nickelodeon fans rejoiced after witnessing a mini Kenan and Kel reunion on the Emmys stage. During Kenan's skits, he asked Kel what he wanted to drink, and the actor asked for a "good burger," referencing the duo's 1997 comedy.
Kenan and Kel then graced fans with kung-fu moves while Kenan hinted at a Good Burger sequel. We certainly have our fingers crossed!
Article continues below advertisement
Norm MacDonald and Olivia Newton-John were left out of the Emmys "In Memoriam" segment.
During the Emmys "In Memoriam" tribute, John Legend sang as the program shared several photos of actors and actresses who died within the last year. While many artists, such as Betty White, Bob Saget, and Sidney Portier, received their flowers, fans noticed several weren't featured. Some shocking snubs included Grease star Olivia Newton-John, who passed in August 2022.
Article continues below advertisement
Mariska Hargitay and Christopher Meloni tease 'Law and Order' viewers with some Benson and Stabler flirtation.
Law and Order: Special Victims Unit tag team Mariska Hargitay and Christopher Meloni presented the award for outstanding lead actor in a comedy series, but fans focused on the actors' undeniable chemistry.
After walking the red carpet together, Christopher and Mariska fed into the "ship" rumors even more, when they nearly kissed on the Emmys stage. The flirtation elated fans who still hope Benson and Stabler can finally date each other after over 20 seasons.
Article continues below advertisement
Quinta Brunson wins for writing 'Abbott Elementary.'
In addition to Sheryl's big win, Abbott Elementary star and creator Quinta Brunson also earned a trophy at the Emmys. The comedian took home the award for Outstanding Writing For a Comedy Series. The accolade was a significant victory for Quinta, the second Black woman to win the prize.
However, viewers weren't too happy with Jimmy Kimmel for playing dead on stage during Quinta's acceptance speech.
Article continues below advertisement
Zendaya thanks the "real" Rue Bennets after winning another Emmy for 'Euphoria.'
Zendaya won her second Primetime Emmy for Drama Actress in Euphoria. The actress has played Rue Bennett since 2019 and is now ​​the youngest-ever two-time acting winner, per Deadline.
"Thank you for making such a safe space to make this very difficult show," Zendaya said in her acceptance speech. "I love you all so much," said Zendaya. "Thank you to the Academy, thank you to my friends and family, some of which are here tonight. Thank you to Sam [Levinson] for sharing Rue with me. Thank you for believing in me, even in moments where I didn't believe in myself."
Article continues below advertisement
While accepting the award, Zendaya credited the people who struggle with similar issues as her HBO character and Euphoria's creator, Sam Levinson.
"Anyone who has loved a Rue or feels like a Rue, I want you to know that I'm so grateful for your stories, and I carry them with me, and I carry them with her," she continued. "So, thank you very much."
Article continues below advertisement
Juliette Lewis and RuPaul's presenting moment was an unexpected gem.
Yellowjackets star Juliette Lewis and RuPaul teamed up to present the award for limited or anthology series. While The White Lotus won the prize, some fans were honored to witness Juliette and RuPaul's banter live. For some, the best part was watching RuPaul reenact Sanford & Son actress LaWanda Page's hilarious line from the series.
Article continues below advertisement
Pete Davidson pokes fun at himself on the Emmys stage.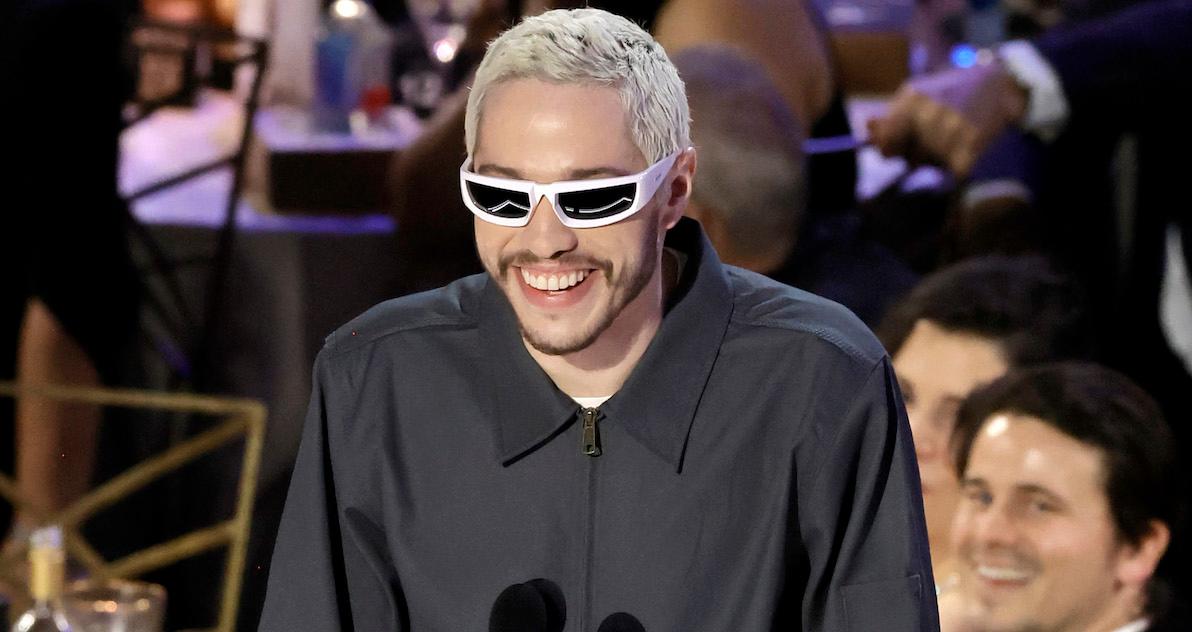 Is it really a star-studded gathering if Pete Davidson isn't somehow involved? The SNL comedian entered the awards stage and applauded Kenan's hosting abilities. Pete also joked that the Emmys was like his and Kenan's day job, as his co-star was "doing all the work" while he flubbed his lines.
Article continues below advertisement
Some TV fans were sick of all the 'Ted Lasso' wins.
Apple TV's Ted Lasso won big at the 2022 Emmys. The Jason Sudeikis-led comedy scored Lead Actor in a Comedy Series, Supporting Actor/Actress in a Comedy Series, and Outstanding Comedy Series, to name a few.
However, some Emmys watchers noticed a pattern in the show's success. Many fans expressed their frustration with Ted Lasso winning over other nominees.
Article continues below advertisement
A little royals shade never hurt anyone…
The night's final award, "Best Drama Series," went to Succession. Series creator Jesse Armstrong celebrated the win with the only mention of the royal family on Emmys night.
The writer briefly referenced Queen Elizabeth II's death by stating, "It's a big week for successions," per The Hollywood Reporter. Jesse continued joking about the real-life succession happening in the UK and said the academy's voting process was slightly different than King Charles'.
Article continues below advertisement
"Evidently, there was a little bit more voting involved in our winning than King Charles," Jesse said to the crowd. "I'm not saying we're more legitimate in our position than where he is. We'll leave that to other people. But we are incredibly grateful to have this. It is a wonderful honor."
Until next year Television Academy!