TikTok Star Emmy Combs Talks Alopecia and Paving Her Own Path: "Makeup Changed My Life" (EXCLUSIVE)
In an exclusive interview with 'Distractify,' TikTok makeup artist Emmy Combs opened up about alopecia, finding confidence through makeup, and sharing her passion.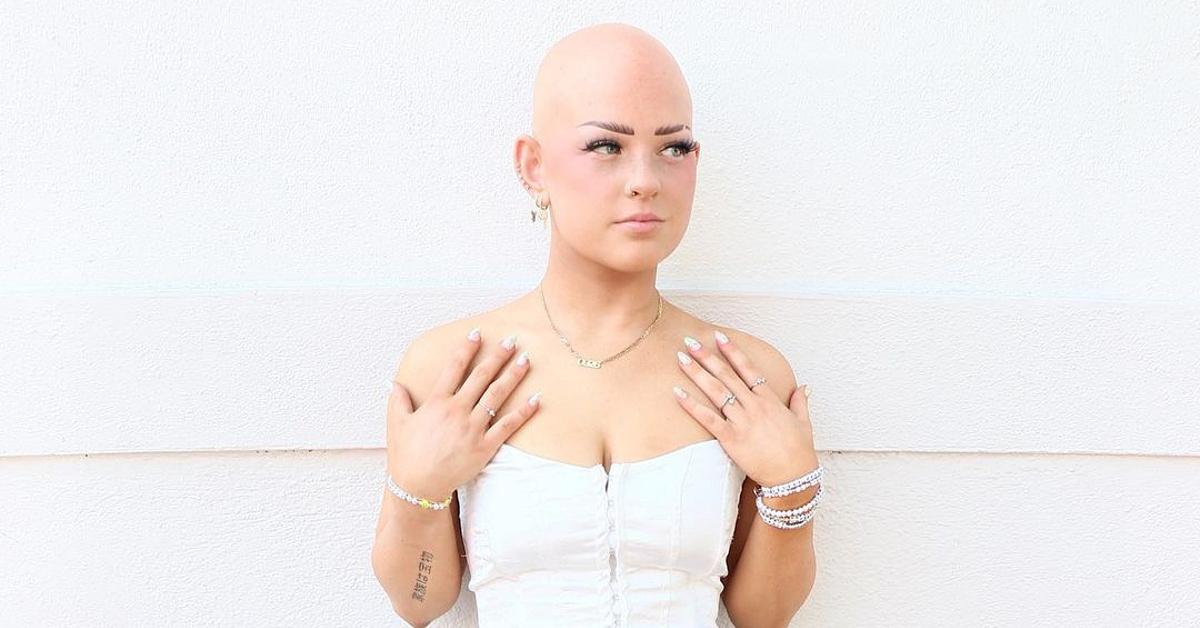 The online beauty sphere has seen a myriad of trends come and go since the dawn of time — or since Michelle Phan uploaded her first YouTube video back in 2007. Needless to say, the community looks a bit different in 2023 than it did in 2016.
There's certainly much less baking, but there's also more diversity.
Article continues below advertisement
And sure, fabulous creators like Jackie Aina, Bretman Rock, and NikkieTutorials have made the community more diverse for years; but still, there were gaps.
"I didn't really have a YouTuber [to watch] that had alopecia," TikTok and YouTube sensation Emmy Combs told Distractify.
Emmy was diagnosed with alopecia universalis — "a condition characterized by the complete loss of hair on the scalp and body," per the National Institutes of Health — at the age of 1. Always finding comfort in "enhancing her features" with cosmetics, Emmy paved her own path.
As of this writing, her TikTok account has amassed almost 10 million followers since her first upload in 2018.
The skilled artist and beauty TikTok darling sat down with Distractify to exclusively discuss her personal makeup journey, rejecting bullies, and the consequences of being "different."
Article continues below advertisement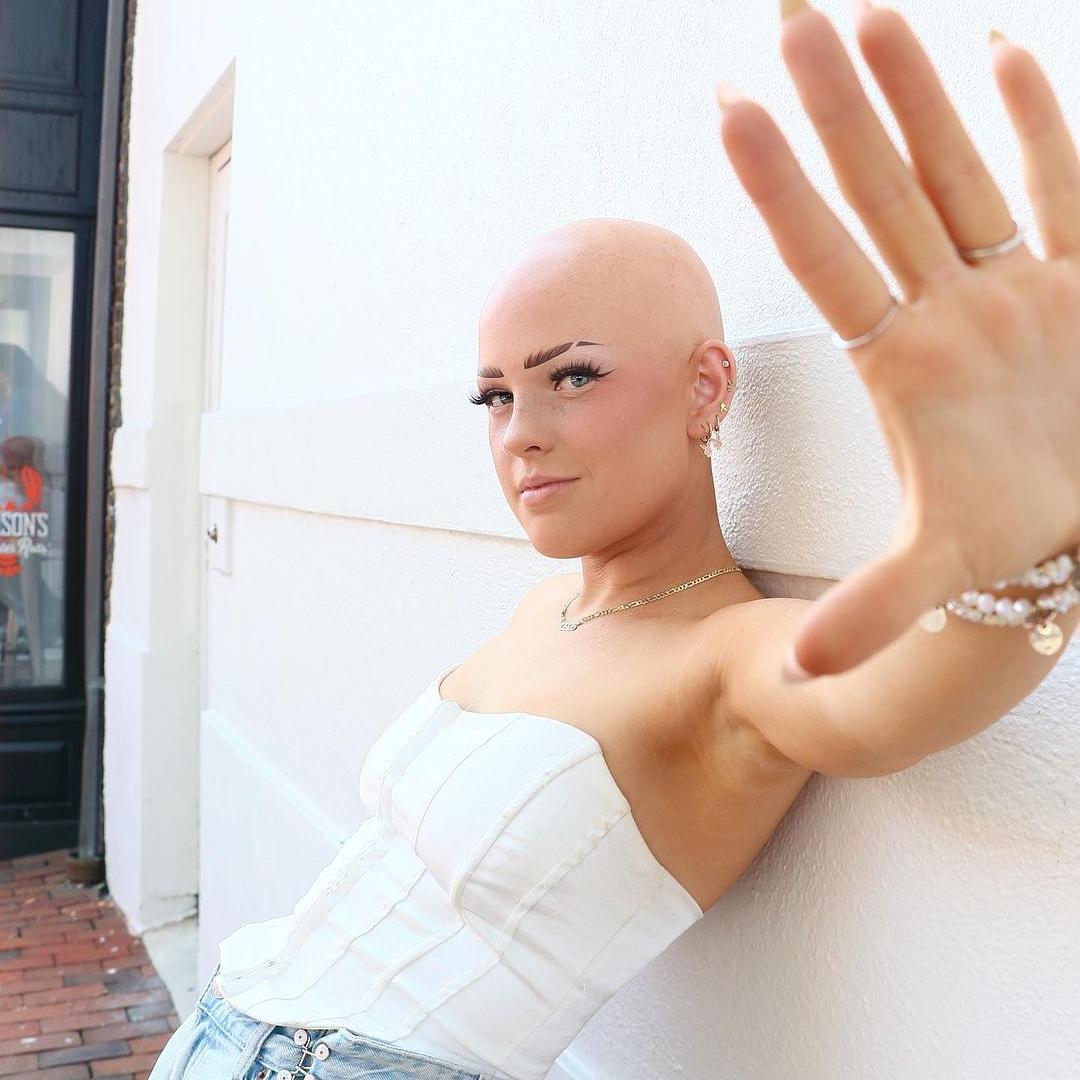 Emmy Combs gets candid about having alopecia and her makeup journey: "I didn't have anyone that looked like me."
Emmy's love affair with makeup began in around 2012 or 2013. "That's the first time I ever experienced makeup, like literally had my first eyeliner and my first pair of, like, Kiss lashes," she told Distractify. The Revlon ColorStay Skinny Liquid Liner was the first makeup product Emmy ever purchased.
But it wasn't until high school that Emmy truly discovered the shapeshifting, confidence-boosting magic of makeup.
Article continues below advertisement
"It brought people's attention towards my face and my makeup instead of, like, my bald head," she shared. Lace front wigs just aren't her thing, and neither is the brow lamination trend (for obvious reasons). Instead, she paints faux eyebrows on her freckled, hairless brow ridge with Anastasia Beverly Hills DIPBROW pomade.
As she experimented with various products and styles in her bedroom, she developed a "love and passion" for the art form during her formative teen years.
Aside from artistic intuition, Emmy's experimentation was born out of necessity, as she "couldn't really watch somebody's video to do [her] makeup because they had eyebrows and eyelashes."
"I got really good at it. And then I decided that was what I wanted to do with my career," she said.
Emmy earned her cosmetology license while still attending high school, later going to makeup school in LA, where she studied makeup application for television and film.
Article continues below advertisement
Emmy Combs on bullying and being different: "I didn't let people bully me."
Though she's much more than just the internet's favorite artist with alopecia, Emmy admitted her condition has shaped how she views her own femininity.
Emmy has uncomfortable childhood memories of strangers calling her a "little boy," and more recent memories of being addressed as "a sir" from behind.
Article continues below advertisement
"[Makeup] just helped me feel super feminine. It helped me feel super confident," Emmy explained. "I had something that made me feel very pretty. ... [While] getting ready for the school dance, not a lot of my friends were doing their makeup, except for me. They were all doing their hair."
You may be wondering, how did Emmy feel in her hairless skin before discovering makeup? Well, she thankfully has a wonderful mother.
Article continues below advertisement
"My mom had to teach me it's okay if people are staring. She used to say, 'They're staring at you because of how pretty you are, how beautiful you are. People are just gonna stare, you don't look like them,'" she shared.
And people certainly stared.
"I had the hardest time, I think when I was in elementary school, because everywhere I went it was like people stared at me, people stared at me, people stared at me," Emmy said.
By high school, Emmy was already showing up to school with her face beat for the gods.
Article continues below advertisement
"Now I'm like drawing attention to my face. Now I look like this person that no one has ever seen [and] I'm drawing attention to myself, which I was like, 'fine by me.'"
Since becoming an internet star, Emmy can no longer pinpoint why people are staring.
"Now I don't know if I'm getting stared at because I'm bald, or [if] I'm getting stared at because someone recognizes me from social media," she said. "I don't even notice the stares anymore."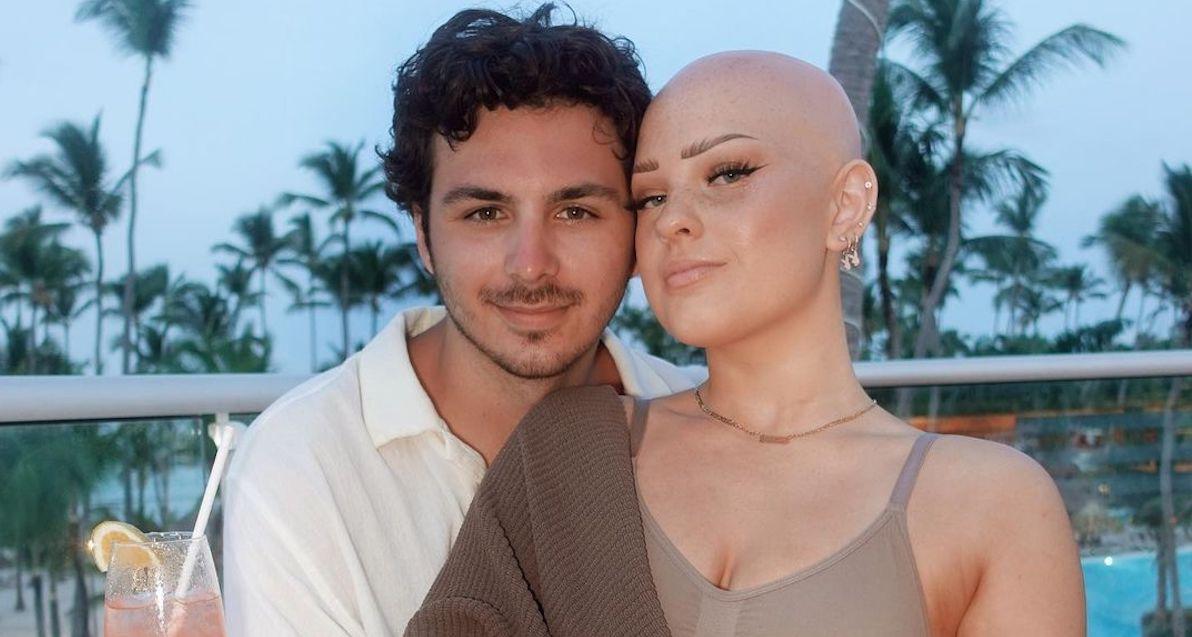 Article continues below advertisement
Emmy Combs has simple advice for aspiring social media beauty gurus: "Just be yourself."
Everyone and their painted mothers are creating makeup content in 2023. We asked Emmy what advice she'd give to aspiring beauty creators in the oversaturated modern era.
"My suggestion in 2023 is just to be yourself and to put your personality out there and people will love you for you," she firmly stated.
No one's going to love you for trying to be Tati Westbrook or Mikayla Nogueira!
Additionally, Emmy dissuades fame-chasers from making content solely for views, likes, and fans.
"Do it because you think that you could change somebody's life. You could change somebody's perspective on themselves," she urged. "Like, I think when I first started social media, I was pretty much was doing it because I had a couple of girls who had alopecia that were like, 'I really like your makeup, how do you do it?' And I was like, 'You know what, let me just make a video.' I literally made those three people happy and that was all I needed. I didn't really realize where it was going to take me."
Article continues below advertisement
Additionally, Emmy suggests people stick to what they know.
"My favorite type of content creators are the ones that spin off of what they do for a living and what they're passionate for," she said. "I follow this anesthesiologist, I literally forgot her name, but she's so funny. And she makes content about being an anesthesiologist."
Because the creator is so comfortable and knowledgeable in her field, Emmy even called her videos "the best content I've ever seen."
As we wrapped up our interview, we asked Emmy what else readers should know about her. She kept it simple:
"Nothing other than I'm just a 23-year-old who has alopecia and is a makeup artist — I'm a professional makeup artist."