Woman Mocks Office Culture by Showing "Perks" of Returning to Work in Person
A woman went viral with her sarcastic TikTok about all of the "perks" employees can enjoy from being in the office versus working from home.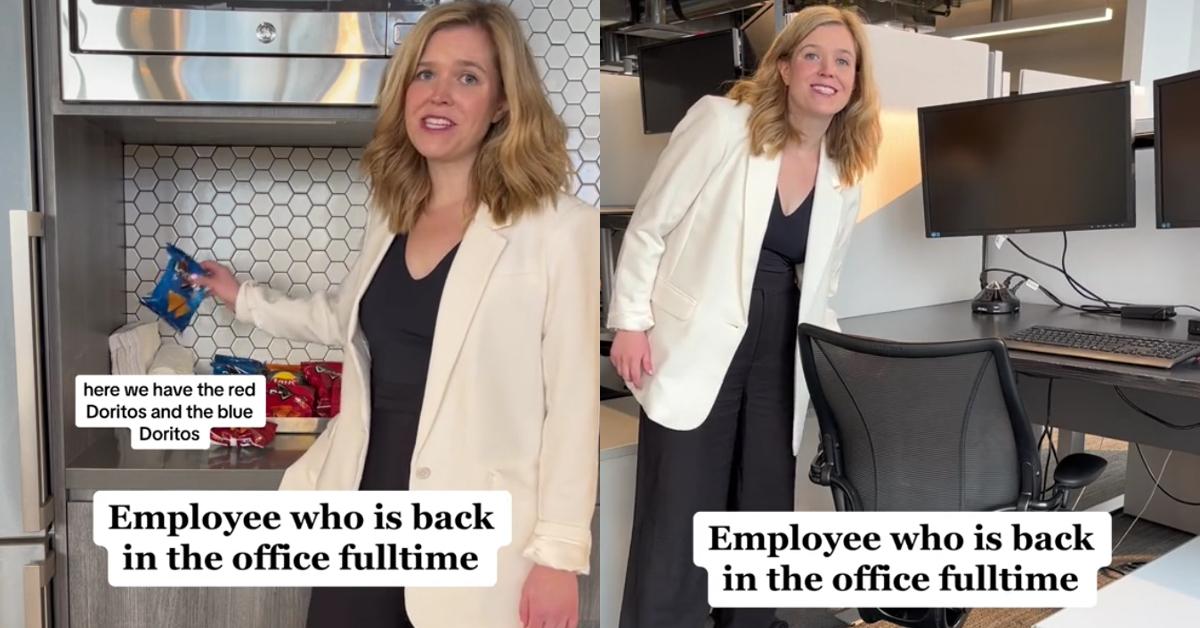 After the COVID-19 pandemic made a lot of employees and companies realize they can function perfectly fine with either a fully or, at the very least, large number of workers operating in a remote capacity, some businesses decided to significantly downsize its office spending.
Article continues below advertisement
But there were others who decided that it was time to "return to the office," which has been a decision heavily criticized by folks who would much rather work from the comfort of their own home and/or personal office setups.
That hasn't stopped businesses from demanding its workers spend either all or some of their time within the office spaces they've leased. It also hasn't stopped employees from listing the drawbacks of physically going to work, like this one woman who said she loses 3 hours every day just in commuting time because she has to work in office.
Article continues below advertisement
Or this other employee who said she couldn't understand why she was being asked to come into work physically when the majority of her day takes place over zoom calls.
TikToker Becca Harris (@beccaherries) recently posted a viral clip that's accrued over 96,000 likes on the popular social media platform also poking fun at some company's obsession with getting employees to work back in the office.
Article continues below advertisement
In it, she sarcastically highlights all of the wonderful benefits and perks of office "culture" folks are missing out on if they work from home.
She begins the clip by standing next to an office desk and stating: "I really get my pick of the seats when I'm in the office. I can use this desk for my laptop and this desk for my bag. And these 4 screens? Never been used."
Article continues below advertisement
The camera then transitions to her standing in front of a floor-to-ceiling window: "When I look out onto all these buildings I think one day, I'm going to own them all. Because of the work I'm doing in person every day, Monday through Friday, in the office."

Article continues below advertisement
She heightens the absurdity of working in an empty office after showing herself in a barren kitchen area: "A lot of water cooler conversations are happening right here, things like, oh what did you bring for lunch? Well, I think I'm gonna go out and get a salad, well that's because you make more than me!"
Becca continues, "Things like that we're hashing it out, face to face. Conversations that could not be happening over Zoom."
The video then cuts to Becca standing in front of a copy machine: "In the office I have access to a printer which is great if I ever need to go to the DMV or am doing estate planning."
Article continues below advertisement

She then hightails it back to the kitchen, lampooning the types of complimentary snacks office workers usually find in their offices: "You're not going to get this kind of snack variety at home. Here, we have the red Doritos, and the blue Doritos."
Article continues below advertisement
Back at the workstation, Becca also jokes about the height adjustable standing desk, stating that it's worth the "90 minute commute each way."

Article continues below advertisement
One commenter seemed equally turned off at the prospect of having to work in the office: "I literally just told my boss I'm not coming in today because it might storm later. I can't do this."
Another sardonically quipped: "I love going into the office to get on teams meetings. it just works!"
While another joked: "The restroom! You get to sit on a toilet that all your coworkers sit on too, and pray none of them come in to use the stall next to you at same time!"
Article continues below advertisement

Someone else found a bit of metaphysical poetry in the adjustable desk Becca highlights at the end of her clip: "That wonky desk is the mascot for the whole back-to-the-office movement"