Here's How 'Euphoria' Fans Reacted After Hearing That Season 3 Isn't Coming Until 2024
'Euphoria' Season 3 might not come until 2024. Is there a valid excuse for another two-year gap between Seasons 2 and 3? Here's what fans have to say.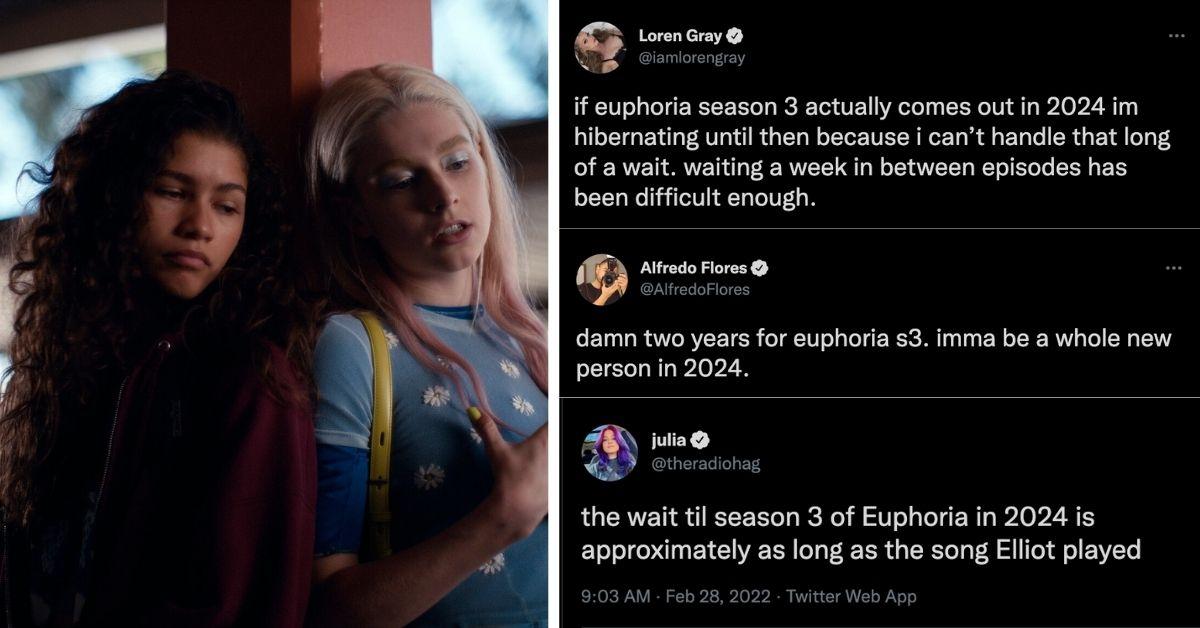 Spoiler alert: This article contains spoilers for Season 2 of Euphoria.
It's been announced that the third season of Euphoria won't be landing on HBO until 2024. Fans of the show are pretty angry with creator Sam Levinson. The season finale wasn't as epic as fans were hoping it might be, as too many questions were left unanswered. What's next for Maddy and Cassie's friendship? Is Nate going to face any repercussions for his actions? What's going on with Kat's webcam hustle?
Article continues below advertisement
Is Rue going to get tracked down by Laurie? Are Ashtray and Fez alive or dead?!
These burning questions are at the forefront of everyone's mind right now, which means waiting until 2024 for another season feels a tad bit too frustrating. Seasons 1 and 2 were separated by a two-year gap thanks to COVID-19. Is there a valid excuse for another two-year gap between Seasons 2 and 3?
This is what Euphoria fans have to say about everything.
Here are some fan reactions about 'Euphoria' Season 3 premiering in 2024.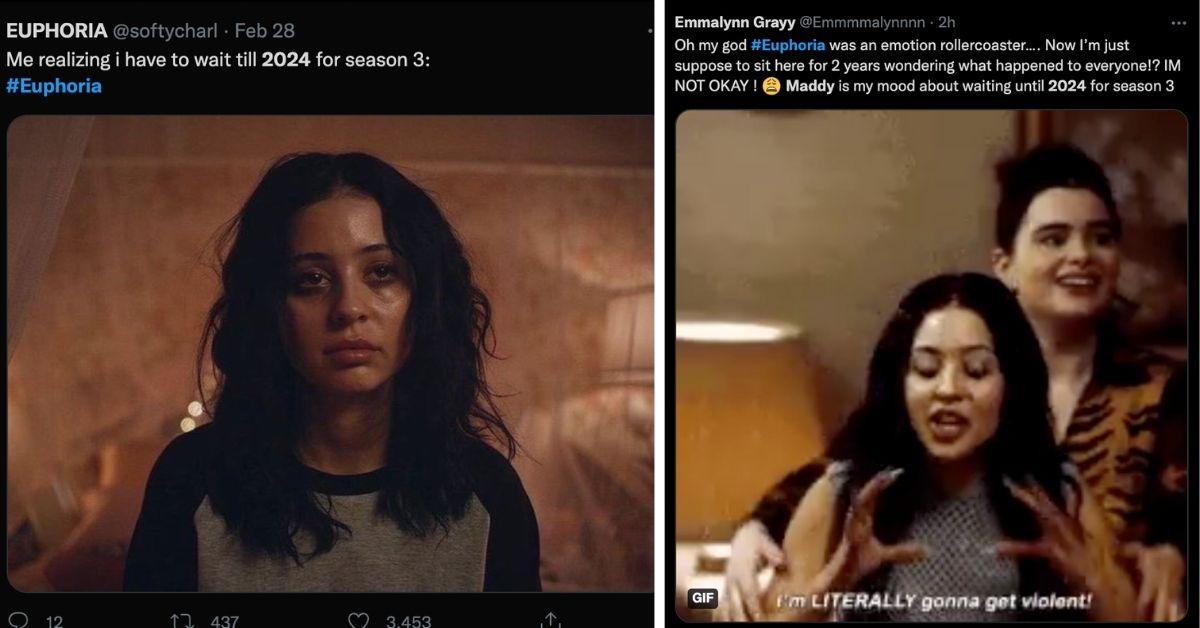 When Euphoria fans break down the storylines of what's going on with every single character in the lineup, there's simply too much to unpack. Maddy's character arc alone is going to lead to some incredibly intriguing episodes once Season 3 finally premieres. Her friendship with Cassie has been destroyed now that she knows Cassie hooked up with Nate.
Article continues below advertisement
The last interaction Maddy had with Nate was extremely volatile as he played Russian roulette with her in her own bed. The last interaction Nate had with Cassie was also pretty terrible since he told her she was no longer welcome in his home. Lastly, it will be interesting to find out what might happen between Maddy and her boss Samantha. Frustrated Euphoria fans would rather have answers about these things now.
Thanks to Fez and Ashtray's storyline, waiting for Season 3 won't be easy.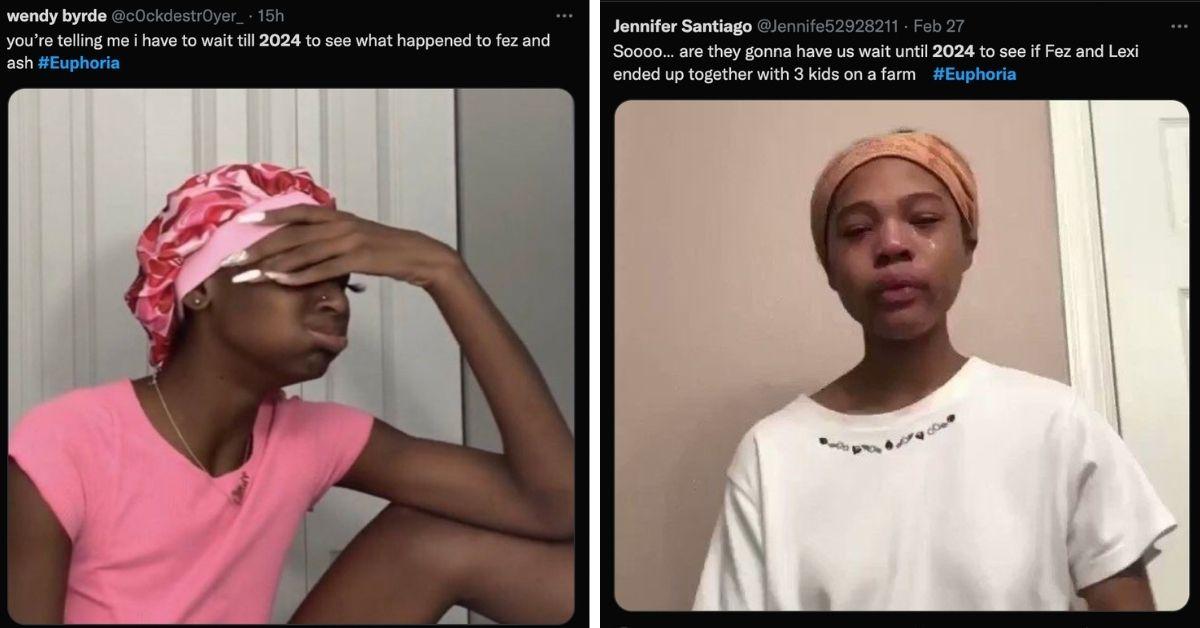 We know for sure that Fez got shot in the stomach, but did he survive? Since he's considered such a fan favorite, it's very likely we'll be seeing him alive and well in Season 3. Curiosity about his blossoming relationship with Lexi is at an all-time high.
Article continues below advertisement
What about Ashtray, though? The police were shining red lasers from their guns at Ashtray's face and body … but we never saw his body hit the ground. We heard a gunshot and a body thud against the floor, but was it actually Ashtray? If he indeed was the one who ended up getting shot during that deadly shootout, it would allow Fez to tell the truth about who killed Mouse and Custer. Waiting until 2024 for these answers is beyond aggravating.
We won't have answers about Rue's fate until 2024, either. Fans aren't happy about that.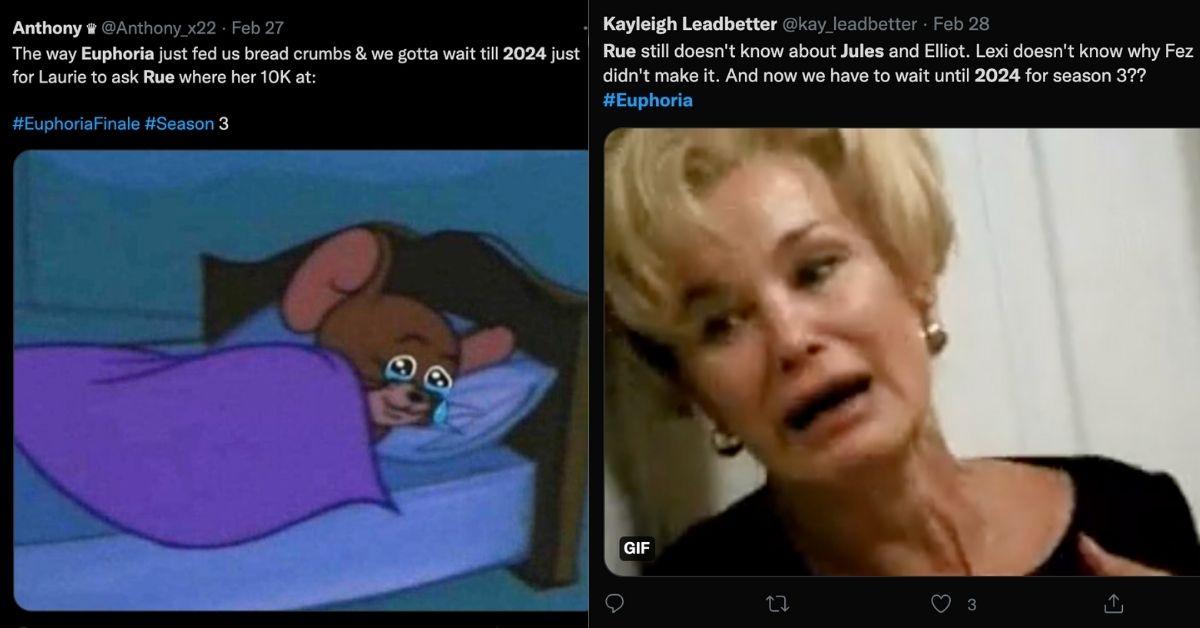 Rue took a suitcase filled with $10,000 worth of illegal substances from a dangerous drug dealer named Laurie at the start of Season 2. For some reason, after Rue's mother disposed of the drugs, Laurie's storyline wasn't further explored.
There's also a lot to be said about the way Rue left things with Jules. Jules approached Rue in the empty auditorium after Lexi's play to remind Rue that she loved her. As a response, all Rue did was give Jules a kiss on the forehead. Does this mean there's a potential chance that they'll be reconciling? It looks like these are just a few of the open-ended situations we'll have to wait for until 2024. Euphoria fans are rightfully annoyed by the fact that they'll have to wait so long to see more episodes.
In the meantime, you can always check out the Season 3 predictions!