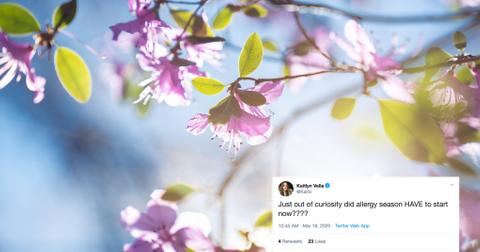 10 Memes About the First Day of Spring and the Impending Allergy Season
By Shannon Raphael

Mar. 19 2020, Published 11:58 a.m. ET
While the COVID-19 (aka the coronavirus) reports and isolation recommendations are making a lot of people feel down, there's always one thing that is almost guaranteed to put a smile on your face: memes. The coronavirus pandemic has brought people a lot of uncertainty and fear, but the internet has seemingly come together to make content that can poke fun at the state of the world.
Article continues below advertisement
These first day of spring memes will make you laugh.
Now that spring has arrived (a day earlier than normal), unsurprisingly, there have been a lot of hilarious tweets and memes about celebrating the changing of the seasons.
Read on for the best 10 first day of spring memes — whether it's about people's excitement for some good weather, or it's the idea that nature doesn't have any clue about what's going on — we've rounded up a few of the best ones.
1. There were many jokes about not enjoying spring because of the coronavirus.
While the first day of spring sometimes means enjoying the outdoors and getting together with friends (because let's face it, those in northern states are often still dealing with multiple snow storms after spring begins), things are obviously very different in 2020.
Article continues below advertisement
2. Spring has sprung, but you should probably stay inside.
The seasons may be changing but that doesn't mean that the importance of social distancing has.
At least we can watch the flowers start to bloom when we run out of things to stream on Netflix, right?
Article continues below advertisement
3. It almost feels like Mother Nature is playing a joke on us.
While many are doing their part to flatten the curve by staying inside, nature is still going about its business like nothing has changed. At least we can start opening the windows?
Article continues below advertisement
4. Celebrate the Spring Equinox with a long nap.
Since there's not much we can do aside from school, work, TV, and sleep, you might be celebrating the Spring Equinox a bit differently this year. Plus, a nap is never really a bad idea.
Article continues below advertisement
5. Follow SpongeBob's lead.
Even though you can't see your friends, you can still find some creative ways to have fun at home. Per SpongeBob, one of these ways is making your own at-home friend group. At least you don't have to worry about getting into a fight with one of them.
Article continues below advertisement
6. Warmer weather means a change in habits.
Warmer weather = shorts and dresses, which for some, means that you might finally have to start shaving your legs again. Get ready to add several minutes back into your shower routine.
Article continues below advertisement
7. The beginning of spring usually means baseball season... but not this year.
For many, when the flowers begin to bloom it means that baseball season is just around the corner. In the wake of the coronavirus, nearly all sports have either been delayed or canceled their seasons.
Article continues below advertisement
8. Allergy season is upon us.
One of the dark evils of spring is allergy season — when people struggle to breathe, see, and smell because of the influx of pollen. With the coronavirus pandemic, many are afraid that they won't be able to discern their allergies from being ill.
Article continues below advertisement
9. March Madness isn't happening, but there's a bracket that really counts.
Even if you weren't a fan of college basketball, chances are that you've filled out a bracket at some point in your life. While many people are feeling a void about not getting the chance to do so this year, this Twitter user made a bracket for the best Netflix dramas. This is a bracket that we can all get behind.
Can we also suggest a reality TV bracket?
Article continues below advertisement
10. Miranda Priestly is still not about florals for spring.
The Devil Wears Prada is relevant all-year round, but during springtime, this gif of Miranda Priestly gets new life. For those wondering, florals for spring still aren't groundbreaking, but it happens year after year.
Article continues below advertisement
The best way to prevent contracting or spreading coronavirus is with thorough hand washing and social distancing. If you feel you may be experiencing symptoms of coronavirus, which include persistent cough (usually dry), fever, shortness of breath, and fatigue, please call your doctor before going to get tested. For comprehensive resources and updates, visit the CDC website. If you are experiencing anxiety about the virus, seek out mental health support from your provider or visit NAMI.org.