No, Gia Giudice Isn't Addicted to Drugs — Here's What's Actually Going On
Does Gia Giudice have a drug problem? Jackie Goldschneider started the rumor to give fellow 'RHONJ' star Teresa Giudice a taste of her own medicine.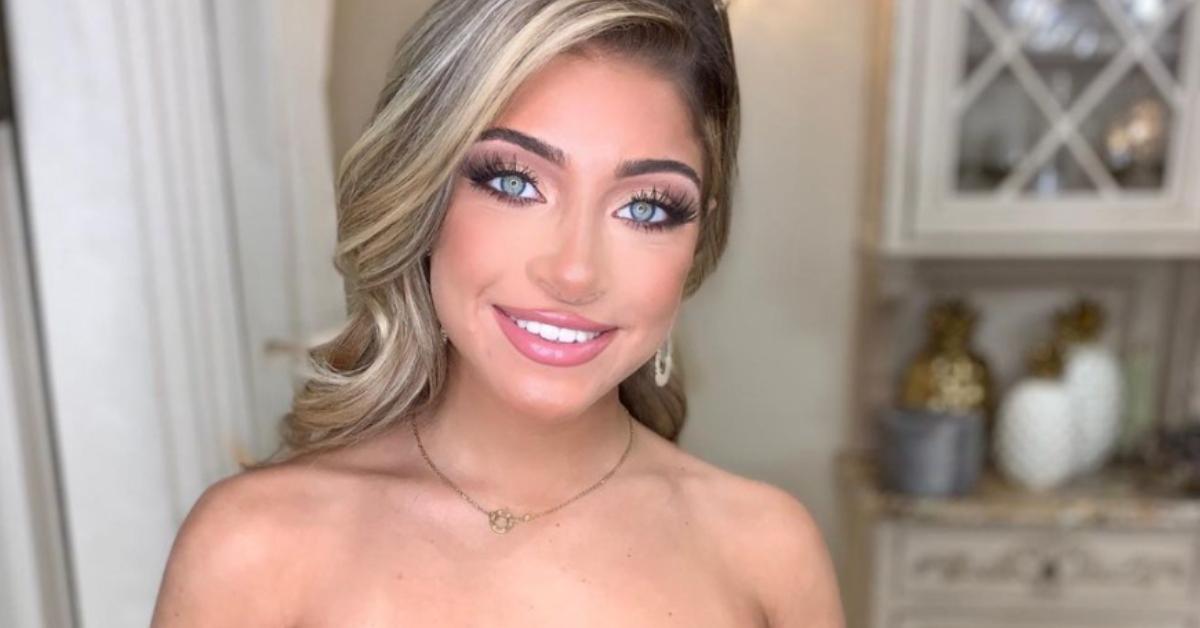 In February 2021, 20-year-old Gia Giudice started getting trolled online after RHONJ star Jackie Goldschneider falsely claimed that she is addicted to drugs.
Jackie started the rumor because Gia's mom, Teresa, was stirring the pot in regard to her husband Evan's birthday party. As the Season 11 premiere of RHONJ reveals, Teresa told several guests in attendance that Evan goes to the gym to pursue extramarital affairs — which didn't bode all that well with the host, Jackie. So, what's going on?
Article continues below advertisement
'RHONJ' star Jackie Goldschneider falsely claimed that Gia Giudice has a drug addiction.
Jackie coined the vicious rumor to avenge Teresa for falsely accusing her husband, Evan, of pursuing secret love affairs at a gym in Tenafly, N.J. The star decided to take the path less traveled after her attempts to confront Teresa turned out to be futile.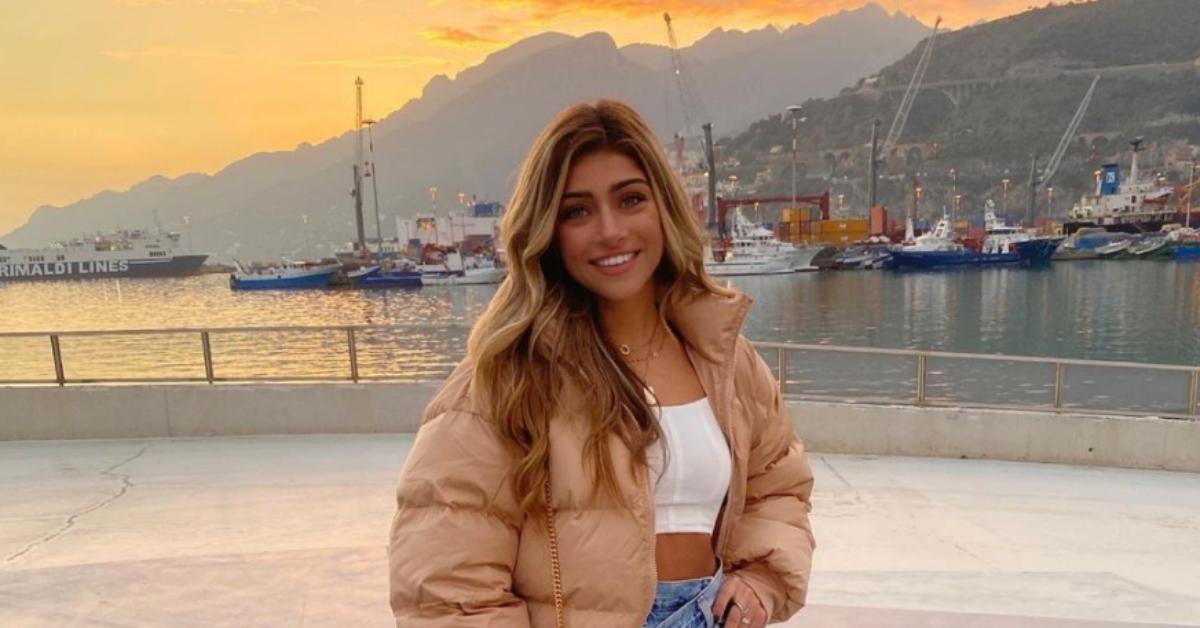 Article continues below advertisement
The stars sat down for a heart-to-heart at Margaret Josephs' home, the Season 11 premiere of RHONJ reveals. Jackie made some strong efforts to shed light on the negative impact of Teresa's dubious actions, but the conversation led nowhere.
Teresa remained reluctant to apologize or admit that the rumor about Evan's promiscuous behavior was completely ungrounded throughout.
"Well, you know what, I heard a rumor that Gia snorts coke in the bathroom at parties. I heard it, I don't know where I heard it from ... It's the same thing! How is that not the same thing?!" Jackie countered Teresa.
Jackie's allegations caused a significant public backlash, with many now turning their attention to Gia for all the wrong reasons.
Article continues below advertisement
Jackie issued an apology on Twitter on Feb. 18, 2021.
"My analogy about Gia was simply an analogy — there was no truth to it of course. The rest of the cast understood this, which you'll see in the coming weeks. The behavior at my husband's birthday party is truly unfortunate — destroying a marriage and family is not entertainment," she wrote.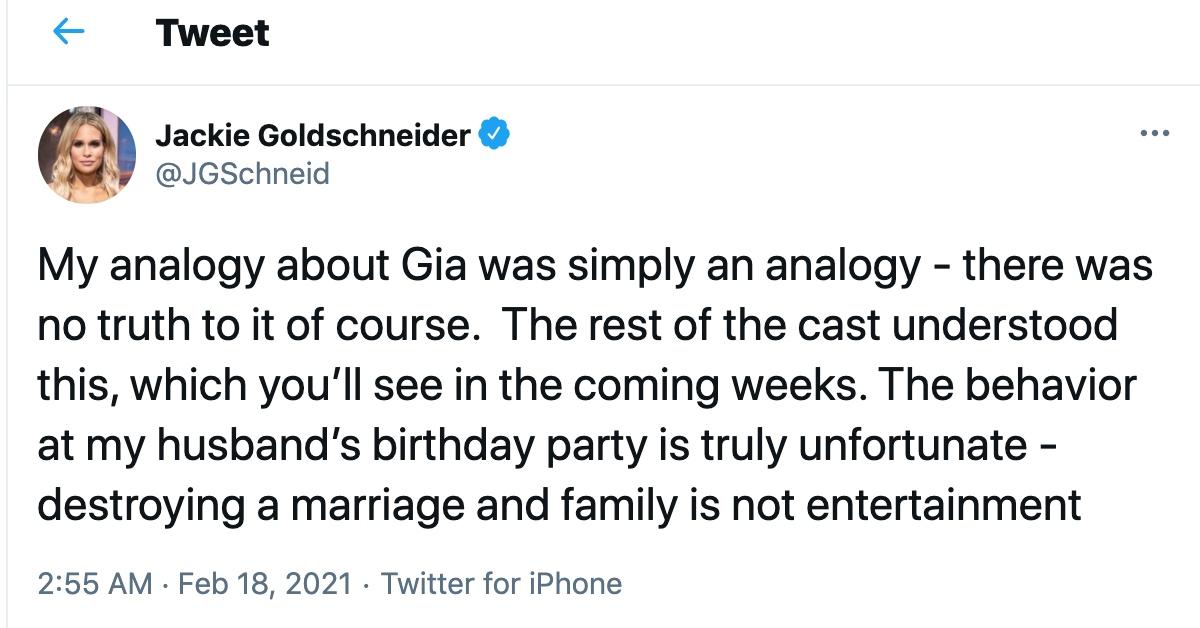 Article continues below advertisement
Gia responded to the false accusations about having a coke addiction via social media.
"Saying it was an analogy is making it excusable, it's not. My character is now being questioned. My name was used to make a point. No one should be used in that way, I am suffering the consequences for such an outlandish and untrue statement. While her marriage is happy and intact," Gia tweeted on Feb. 19, 2021.
It's understood that Jackie came up with the analogy to illustrate how Teresa's actions affected Evan's reputation.
Several fans took it to Twitter to defend Gia and argue that her name shouldn't have been dragged into the conflict. As some believe, she should have been spared the media attention because of her age — and because she is Teresa's daughter.
Article continues below advertisement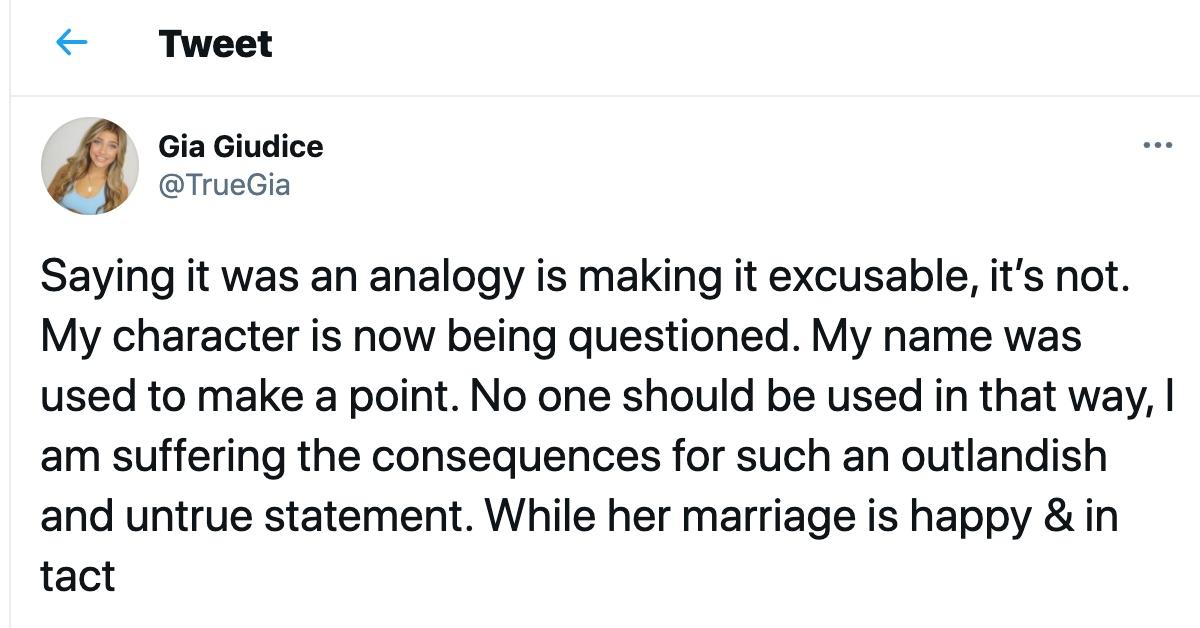 "It's one thing to talk about an adult but when you bring the kids into it it's a whole other story!" tweeted @ItsnotBritneyB2.
"Bravo Fans, please tweet the negative comments to the adults getting paid to deal with this and leave @TrueGia alone. Everyone knows it's a lie. All we see of Gia is beautiful things, an intelligent, good young woman navigating the beginning of her life. Be respectful and let her be," wrote @DeviousKJustice.
Catch new episodes of RHONJ every Wednesday at 9 p.m. EST on Bravo.