The End of the World Is Coming in 'God of War: Ragnarok' — Get Caught up on the Story
Need a story recap of 2018's 'God of War'? The sequel, 'God of War: Ragnarok', comes out on Nov. 8 on PlayStation 4 and PlayStation 5.
After six years, the sequel to 2018's God of War is finally upon us. The first game was released on the PlayStation 4 as a soft reboot of the popular game series that follows Spartan God Kratos as he faces off against the pantheon of mythological Gods. Upon its release, God of War received critical acclaim and won several awards, including the Game of the Year award at the 2018 Game Awards event.
With God of War: Ragnarok coming out on PlayStation, it's time for a recap.
Article continues below advertisement
While the game does exist in the same continuity as the original God of War games on the PlayStation 2 and 3, these new events are largely separate from those games and aren't necessarily required to follow the story in the modern games.
God of War 2018 kicks off a brand new story featuring Kratos as he begins a whole new conflict with a completely different set of gods. Check out our handy story recap of God of War to brush up for Ragnarok.
Article continues below advertisement
Check out our story recap for 'God of War' on the PlayStation 4.
Several years after his war against the Olympian Gods, an aged and rugged Kratos lives in a humble cottage in the Norse realm of Midgard alongside his archer son, Atreus. After holding a funeral pyre for his wife, Faye, Kratos and Atreus set off to fulfill her last wish for her ashes to be spread from the highest peak in the nine realms. But almost as soon as they begin their journey, a seemingly-immortal "Stranger" attacks them on behalf of the Norse Gods.
After fending him off, they officially begin their quest. They meet all manner of people, including a witch who recognizes Kratos' godhood as well as the Huldra brothers and rival forgers Brok and Sindri.
After receiving direction from the witch, Kratos and Atreus travel across different realms of Norse reality using the Bifröst in order undo obstacles in their path. They eventually meet an imprisoned god named Mimir, who tells them that the highest peak is within the giants' realm of Jötunheim.
Article continues below advertisement
At Mimir's request, Kratos beheads him and subsequently has his head reanimated by the witch, who is revealed to be the exiled goddess Freya, to Kratos' dismay.
Pushing forward with their journey, Kratos and Atreus are attacked by Norse warriors Modus and Magni. They manage to defeat one, but Atreus becomes severely ill after his inherent godhood begins to emerge. Kratos then digs up his old blades, The Blades of Chaos, and travels to Helheim to help cure his son.
Article continues below advertisement
Kratos eventually manages to nurse Atreus back to health. He even reveals to Atreus that he is a god in an effort to maintain his health and become more open with his son.
Eventually, they find a way to Jötunheim's peak. Unfortunately, they are ambushed by the Stranger and end up back in Helheim before they can complete their mission. It's here that they learn that the Stranger is Baldur, Freya's son whom she deprived of physical sensation in a misguided attempt to protect him.
They manage to return to Midgard, and Mimir posits one more path to get them to Jötunheim. However, Baldur attacks them in an attempt to capture Atreus and bring him to his superiors. Kratos and Atreus engage in one last fight with him. In the midst of the battle, Baldur is pierced by one of Atreus' mistletoe arrows, undoing Freya's magic on him and making him susceptible to death once more. Kratos is forced to kill Baldur, leading Freya to swear revenge on both of them.
Article continues below advertisement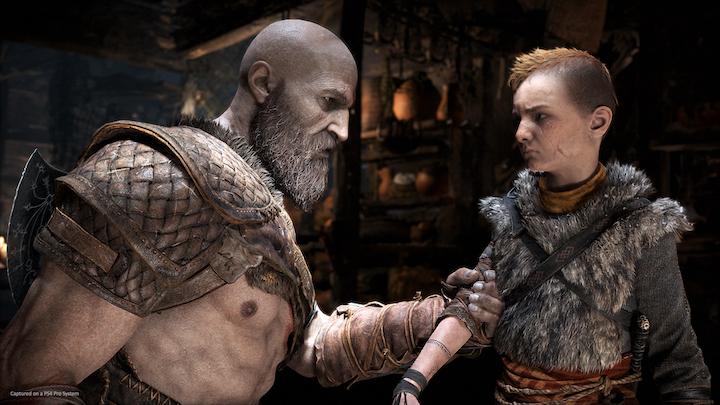 With all of their obstacles finally out of their way, Kratos and Atreus open one last portal to Jötunheim. There, they discover murals detailing the history of the long-lost race of Giants, including the fact that Faye was one of them. This makes Atreus part-giant as well as part-god. Atreus also discovers that the giants refer to him as "Loki," and Kratos secretly observes a mural depicting the future, in which Atreus holds a dying Kratos in his arms.
Article continues below advertisement
At last, Kratos and Atreus reach the peak of Jötunheim. They spread Faye's ashes from the top and honor her final wishes.
Upon returning to Midgard, Kratos and Atreus learn from Mimir that Ragnarok is fast approaching with the arrival of Fimbulwinter. In a secret ending, Kratos and Atreus encounter Thor in the middle of a blizzard.
The new game picks up some years after the events of the first one, where Kratos and Atreus once again take up arms against the Norse gods.
God of War: Ragnarok arrives on PlayStation 4 and PlayStation 5 on Nov. 8.