The Grimace Shake Goes Viral, Spawns Several Different TikTok Trends
Grimace shakes are back at McDonalds, and TikTok is having a field day with the drink, creating a number of different and distinct trends.
Food has always been central to a major slice of the videos on TikTok, and TikTokers are especially fond of limited edition or secret drinks and food from popular restaurant chains. The latest food item that has been taking over the platform involves Grimace, the McDonalds character, and the shake you can order to celebrate the characters 52nd birthday.
Article continues below advertisement
The trends around the Grimace shake don't involve simply ordering it, though. Once you've got the drink, that's when things start to get a little wild. Keep reading for all the details on the Grimace shake trend.
What is the Grimace shake trend on TikTok?
Because nothing can ever just be what it is, TikTok users have gone absolutely wild in their attempts to do something around the Grimace shake at McDonald's. Some users have painted themselves completely purple and then ordered the drink at a McDonalds, essentially pretending to be Grimace.
That's not even the end of it, though. Others have started taking a sip from the drink and then falling to the floor, surrounded by what seems to be a crime scene.
Article continues below advertisement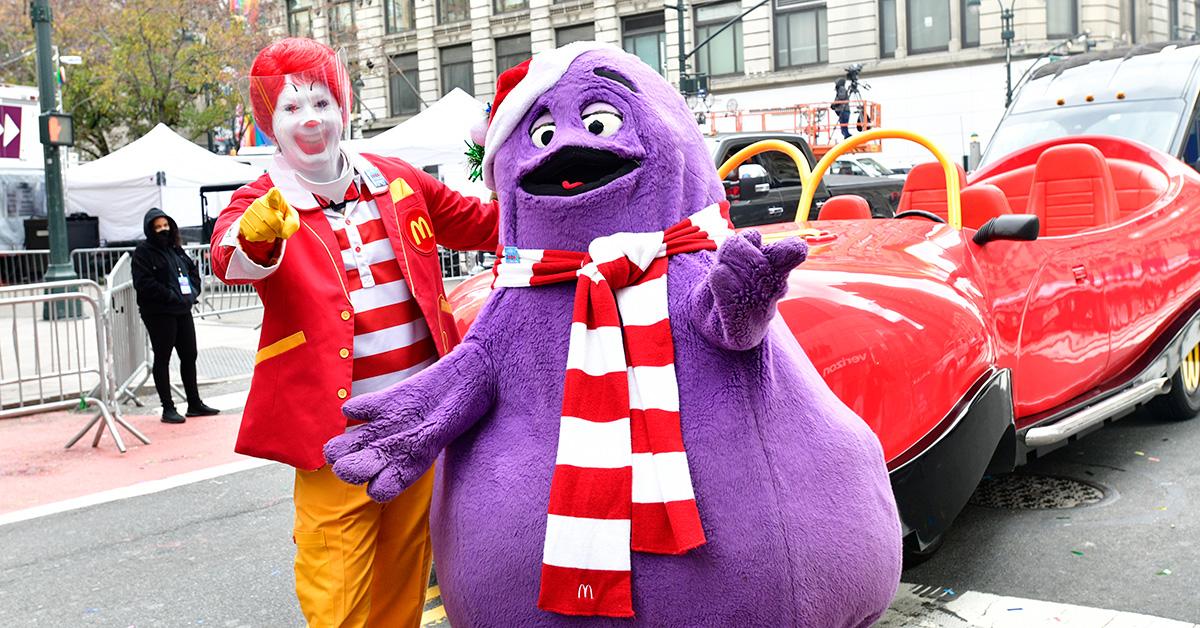 The joke here appears to be that the drink has poisoned them, and they are now dead. Users are, quite cleverly, referring to Grimace as a Griminal, and saying that they are part of a Grime scene. That core piece of the trend has become insanely popular, but others have also added reviews to the beginning, describing how bad the drink tastes before they pretend to collapse from its effects.
Article continues below advertisement
Some users have also twisted the trend so that when they take a sip, they pretend that they've been taken over by Grimace. Although the drink may only be available for a limited time, it's clear that those on TikTok don't think it tastes all that great. Even so, the trend means that many of them are still buying the beverage and putting it in their popular videos. So, McDonalds probably doesn't care whether people think it actually tastes good as long as they're buying it.
What is in the Grimace shake?
The Grimace shake is actually part of a special birthday meal that you can order to celebrate the character. The meal includes either a Big Mac or a 10-piece chicken McNugget as well as fries, a soft drink, and the purple-colored shake that has become so popular on TikTok.
The exact contents of the shake are still unclear, but one review said that the shake is incredibly sweet, and is a pleasant experience on the whole.
Article continues below advertisement
"I then tried to narrow in on the flavor with each subsequent sip. Birthday cake? Maybe. Cereal milk? Perhaps. But it's more like if someone dropped a Wild Berry Pop Tart into a fairly standard vanilla milkshake and then hit the pulverize button on the blender," Joey Morona wrote in his review.
Basically, then, it seems to be a slightly fruitier version of their normal shake.
While some TikTok users clearly don't appreciate the taste of the shake, others seem to be much more on board for what the drink has to offer. Either way, TikTokers are having fun and McDonald's is making plenty of money selling the limited-time shake.