Taco Bell Customer Sneaks 5-Gallon Jug Into Taco Bell, Fills It With Baja Blast
A viral TikTok showed off a Taco Bell customer's deceptive "hack" to getting 5-gallons of Baja Blast using a duffel bag, some nerve, and gumption.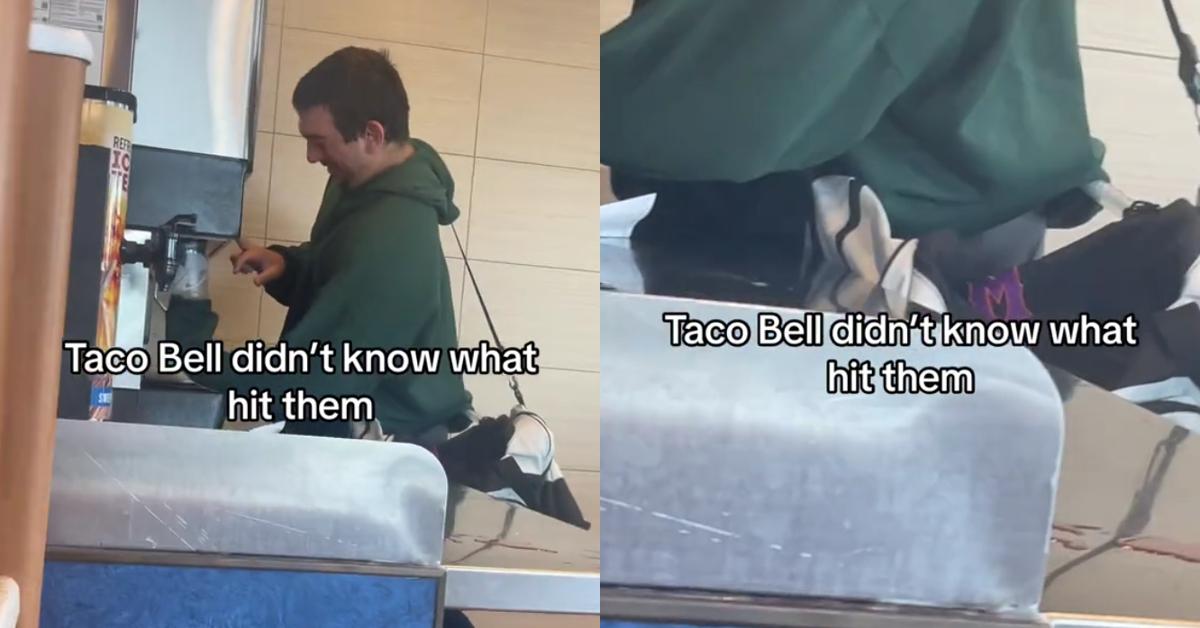 There are some people who just can't be left to their own devices. We all have that one friend, or family member, or kid, who we just know that if they're unsupervised, they're probably going to try and take full advantage out of any and every situation that they're in.
Article continues below advertisement
Like if you bring them to one of those self-serve candy stores, they're going to actively scope out the premises to see if an employee is currently looking at them. And if they're not, they will sneak a few free pieces of the wares, because aren't they entitled to some samples?
Or maybe you have a friend who goes into an all-you-can-eat buffet with a few pieces of Tupperware they brought from home and ask you to "set the pick" for them, providing coverage for when they scoop up the remnants of their plates into a container so they can munch on artificial crab meat salad when they get back home.
Article continues below advertisement
These are the folks who are always trying to finagle the system, and they even seem to get a bit of an adrenaline rush when doing so. They're often all smiles when they're performing these little acts of retail defiance, much like this Taco Bell customer who is a demonstrable Baja Blast enthusiast.
Article continues below advertisement
TikToker @jweav772 recorded the individual pulling the ultimate fountain soda heist in a viral TikTok that's accumulated over 2.3 million views.
In it, a person can be seen nestling a plastic fountain soda cup nestled in the sleeve of their hoodie as they carry a duffel bag on their side.
Article continues below advertisement
In the first part of the video, while it's apparent that the person that's being recorded is up to something, it's a bit difficult to put your finger on just exactly how they're pulling off the con.

Article continues below advertisement
The end of the video reveals what they were trying to accomplish, however: they show off the fruit of their labor: it turns out that a giant 5-gallon container of the Baja Blast was tucked away in the bag, and they had filled it with the soda during their visit to T-Bell.
It's unknown whether or not they subsequently hooked up the container to a water cooler so that they could instantly dispense Baja Blast soda.
Article continues below advertisement
There were some folks who couldn't seem to wrap their heads around why someone would go to such great lengths to get themselves the soda in this fashion, expressing that such a large portion would probably go flat before they could get a chance to drink all of it.

Article continues below advertisement
"Y'all know Baja blast are in stores for the summer y'all can just buy a couple of cases, it would last you longer and won't go flat as fast"
Another couldn't seem to understand why employees of the chain wouldn't instantly pick up on the suspicious behavior: "''hmm. that dudes been refilling that cup for like half an hour. what dark magic is this?'"
Article continues below advertisement
But there were other folks who said that the man's surreptitious behavior was all in vain as they used to head into their local fast food joint with empty 2-liter bottles and did the same exact thing: "We used to fill up two liters at jack in the box just to see if they would stop us. Never did just looked confused"

Article continues below advertisement
This kind of soda fountain quantity-maximization was a practice others were familiar with at different retailers as well: "I know QuikTrip here in Oklahoma you can fill up for less than two bucks"
Have you ever tried something like this? Do you think there's anything wrong with grabbing that much soda to go? Technically speaking, the self-serve machines do allow for free refills, but is it a bit gauche to take that much with you before exiting the location?