Here's What Happened in the Last-Ever Episode of 'iCarly,' Titled "iGoodbye"
How did 'iCarly' end? Starring Miranda Cosgrove, Jennette McCurdy, and more, the sitcom was among the firsts to address internet culture.
Nickelodeon's groundbreaking sitcom iCarly was a huge hit when it began airing in 2007, thanks to its pertinent topic choice, well-written characters, and hilarious scenes drawing on situational humor.
In its prime, the popular TV show featured star guests like Tina Fey, Jimmy Fallon, and One Direction. Over the course of six seasons, it addressed light-hearted topics like email chains and more serious ones such as first love and finding a job. So, how did iCarly come to an end?
Article continues below advertisement
The Season 6 finale of 'iCarly' revolves around Carly's trouble finding a dance partner.
Season 1 of iCarly premiered on Sept. 8, 2007. It introduced viewers to the main cast, including Carly Shay (Miranda Cosgrove), an ambitious teenager with a range of secret talents, Sam Puckett (Jennette McCurdy), her bestie, and Freddie Benson (Nathan Kress), a geeky kid with an unparalleled ability to build websites, shoot videos, and take care of various aspects of video production.
The narrative enters full speed once Freddie uploads a video of Carly and Sam, which helps them garner internet fame. But what about the last-ever episode?
Article continues below advertisement
Over the course of six seasons, iCarly offered a rare glimpse into Carly's complicated relationship dynamic with Freddie. This is the narrative thread the Season 6 finale revisits as well, capturing the last-ever kiss they share.
At the beginning of the episode, Carly enters into a state of full-fledged panic upon discovering that her dad, Colonel Steven Shay (David Chisum), won't be able to take her to the Father-Daughter Air Force Dance after all.
Article continues below advertisement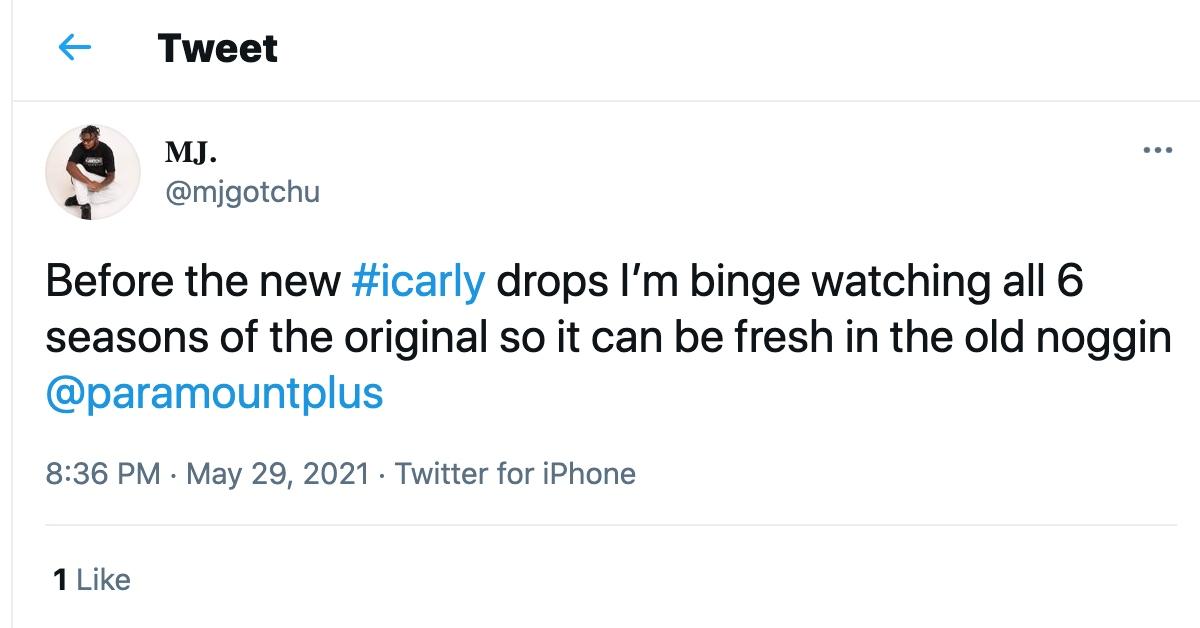 Carly's older brother, Spencer Shay, comes to the rescue and offers to take her to the event anyway — only for the ambitious plans to go downhill soon. He comes down with a volatile illness after getting sneezed on by Lewbert (Jeremy Rowley), the mean doorman.
Freddie and Gibby (Noah Munck) are next in line to help Carly out — but their kind offer only makes her even more upset about the whole predicament.
Article continues below advertisement
Colonel Shay invites Carly to join him in Italy in the Season 6 finale.
Colonel Shay swings in at last — and he does take Carly to the dance. During their time spent together, he also drops a slight bombshell on Carly; he invites her to join him in Italy.
After some careful deliberation, Carly accepts the offer, giving up on her own life to plunge herself into a new adventure far away from the colorful and eccentric world of Seattle, Wash. She and the gang stream their last-ever webcast — which ultimately marks the end of an era.
Article continues below advertisement
At the end of the episode, Carly and Freddie find themselves alone at the studio one last time. They kiss. Afterward, Freddie offers to help her with the luggage. In the final scene, Carly is shown rewatching their highlight reel on the airplane that's about to depart. She shuts down the laptop. In another part of town, Sam steps on the gas pedal of her brand new motorcycle.
"And, we're clear," Freddie can be heard saying in the last scene.
Devoted fans are probably wondering how and when the reboot will pick up after that emotional finale.
Watch the new iCarly on Paramount Plus starting on June 17, 2021.