Iris's Mysterious Disappearance Inspired Angela to Become a Cop on 'Dexter: New Blood'
Iris is one of several women who went missing in Iron Lake. As Angela's best friend when they were teens, Iris inspired the Chief of Police to join the force.
Spoiler alert: This article contains spoilers for Season 1 of Dexter: New Blood.
The ghost of Iris looms over Angela Bishop (Julia Jones) during the events of Dexter: New Blood. It was Iris's disappearance 25 years ago that ultimately inspired Angela to join the police force.
Article continues below advertisement
Speaking to true crime podcaster Molly Park (Jamie Chung) in Episode 4, Angela reveals that Iris was her best friend in high school. When Iris went missing, the entire town of Iron Lake, NY assumed the teen had simply run away. Though Iris was never found, Angela never stopped believing that her best friend was a victim of someone's sinister actions, and she made it her mission to solve the case herself.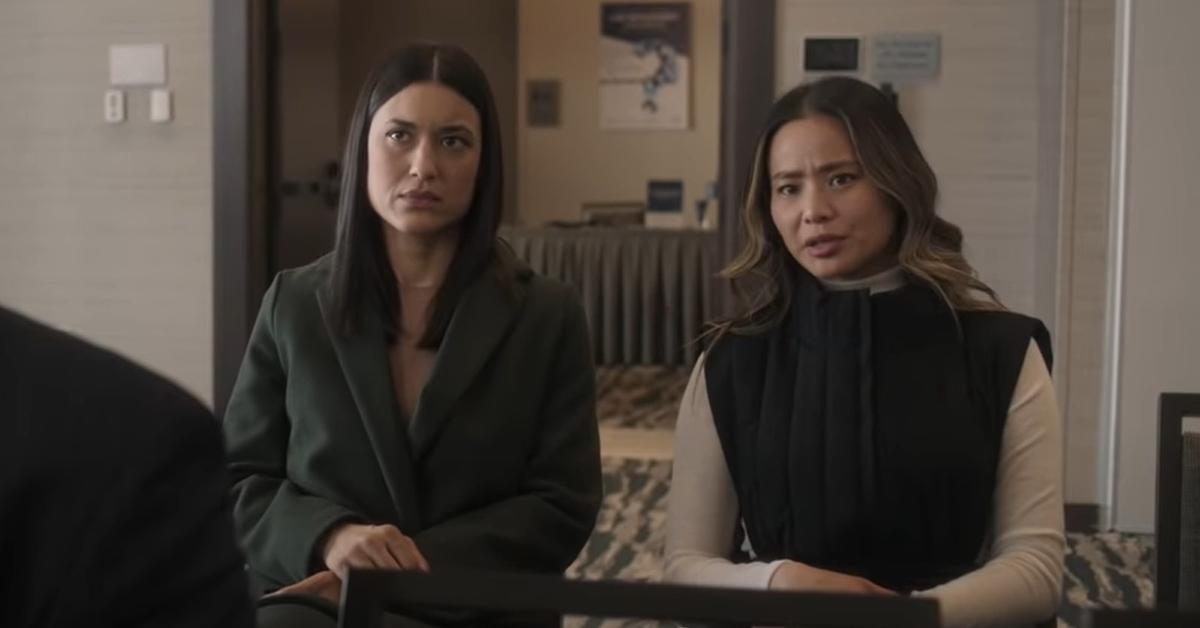 Article continues below advertisement
Iris helps Angela catch an Iron Lake killer.
Then in Episode 6, Angela finally finds Iris's body after all these years. Angela makes the dark discovery while searching for the body of Matt Caldwell (who viewers know died at the hands of Dexter). Though she'd broken up with Dexter (Michael C. Hall) after discovering he was living a lie as "Jim Lindsay," Angela enlists his help to figure out what happened to her best friend. Dexter examines her body and concludes that Iris was shot from behind and finds skin in her teeth.
In the following episode, Angela and Dexter agree that the primary suspect is "unofficial town mayor" and father of Matt, Kurt Caldwell (Clancy Brown). The DNA found in Iris's teeth support this theory. However, Kurt manages to evade jail by the skin of his own teeth by blaming his own father for Iris's death.
Article continues below advertisement
Kurt gets released from jail? He's obviously the killer!
Kurt concocts a tale that's just plausible enough to convince everyone on the Iron Lake police team of his innocence — everyone except for Angela, that is. He tells the story of how his father abducted Iris to satisfy his sadistic, murderous tendencies. Not only does Kurt say he's innocent in Iris's death, but adds that Iris bit him in an attempt to escape his father's clutches, hence why his DNA is in her teeth.
Article continues below advertisement
Of course, none of this is true, but Angela has no choice but to release him from custody. The DNA in Iris's teeth does match that of Kurt's, but it's only a 67 percent match, adding more credence to Kurt's case of plausible deniability.
A flashback eventually gives viewers a look at the truth behind Kurt's lie. It was, indeed, a young Kurt who picked Iris up as she was hitchhiking, though she quickly got the sense that something wasn't right. She immediately tried to get out of his truck, biting Kurt's hand during her attempted escape. And, just as Dexter suspected, Kurt did shoot Iris in the back.
Article continues below advertisement
While things seem to be on the upswing for Kurt, Dexter's fate is rapidly descending into chaos. At the end of Episode 7, Dexter is kidnapped himself after getting knocked out and thrown into a truck driver's rig. As the audience learns, this kidnapper sent Dexter a surgical screw from the inside of Matt Caldwell's leg, indicating that someone certainly knows Dexter is responsible for Matt's death.
Wait, so is this another creepy Iron Lake killer?
The jury's still out on that question. What we do know is that there's only three episodes left of Dexter: New Blood. Will Dexter finally find a way to get Kurt arrested, or will Kurt turn the tables on Dexter by accusing him of Matt's murder? There's a lot of questions we need answered, so we'll just have to wait for Episode 8 to hit Showtime on Sunday, Dec. 26.