'Floribama Shore' Fans Want to Know Why Gus Has Been Acting So Strange Lately
Is Gus from 'Floribama Shore' on drugs? The model and media personality sparked several fights in previous episodes of 'Floribama Shore.'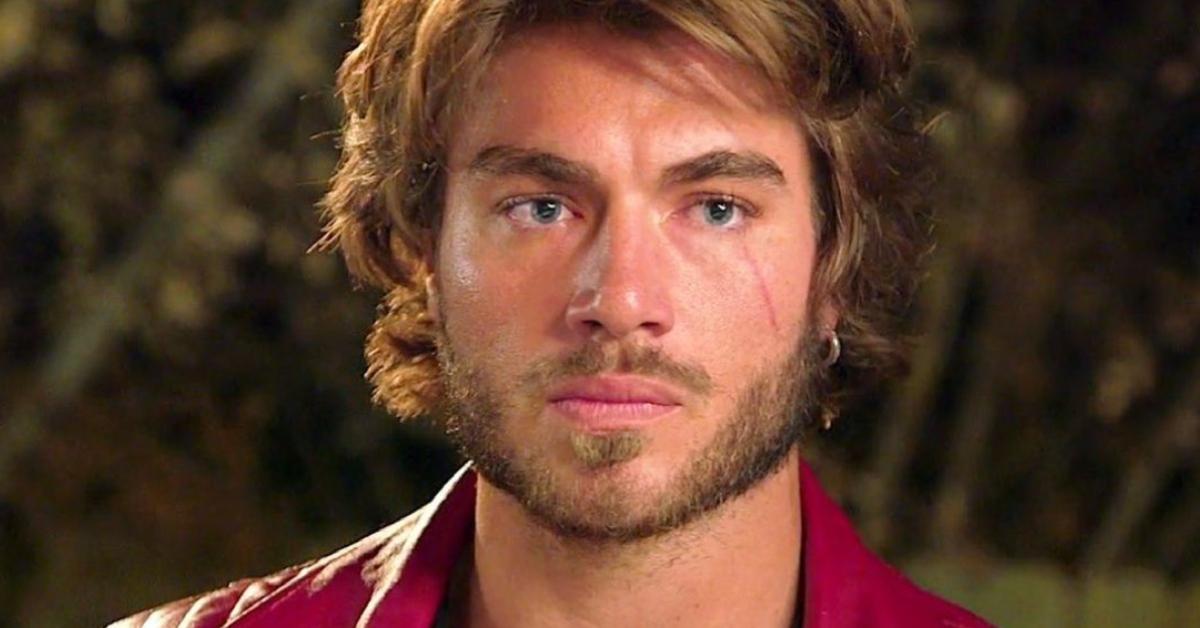 Season 4 of Floribama Shore premiered only recently, but there's been no shortage of explosive fights, mind-boggling drama, and controversies.
In an episode titled "On Thin Ice," Gus attacked not one, but two of his castmates, Jeremiah and Nilsa. His erratic behavior gave way to a range of fan theories, with many wondering about what might be the real reason behind his lack of composure. So, are the rumors anything to go by? Does Gus have a drug addiction?
Article continues below advertisement
Is Gus from 'Floribama Shore' on drugs?
"On Thin Ice" captured an outing to an ice skating rink. Things quickly took a new turn after Aimee, Candace, Gus, and others started screaming uncontrollably at each other. It appears that it was Gus who sparked the conflict. He likely wanted to have a one-on-one with Nilsa about a past rumor that ultimately brought his relationship with Lisa to an end.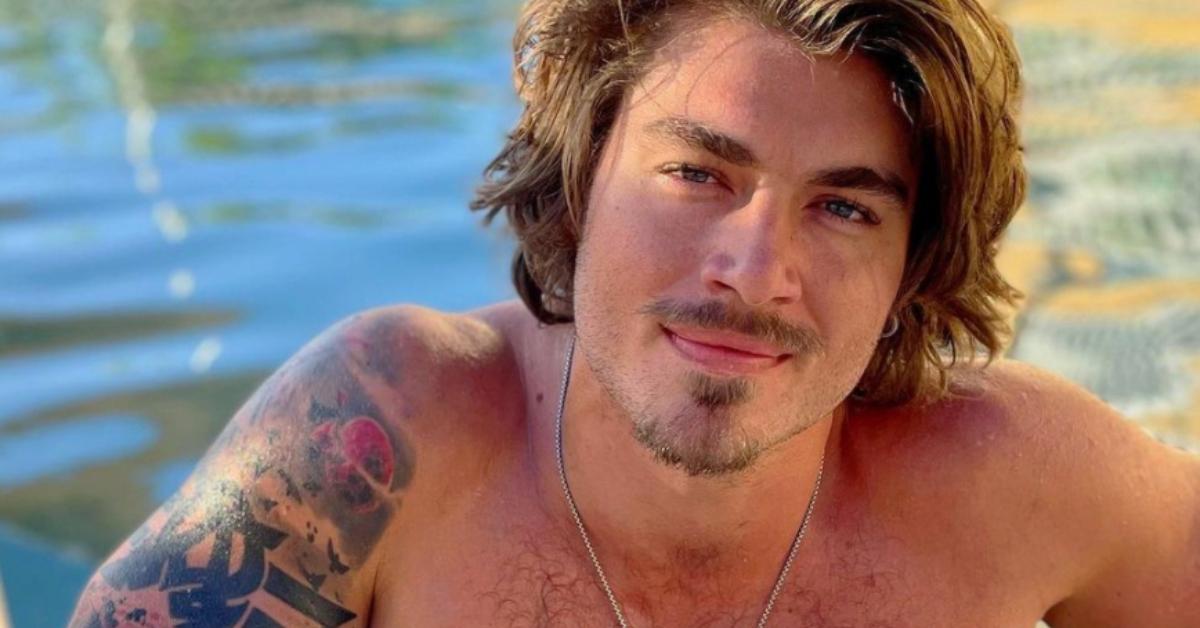 Article continues below advertisement
In an after-show special, several cast members called him out on his poor timing.
"Gus, it just wasn't the time and the place for that. That's why we, the ladies got mad," Candace told Gus in a clip titled "after shore - on thin ice."
To make matters worse, Gus also tried to start a fight with resident hunk Jeremiah in the same episode. Anxious fans flocked to Twitter to ask further questions about the potential reasons behind Gus's hotheadedness.
Article continues below advertisement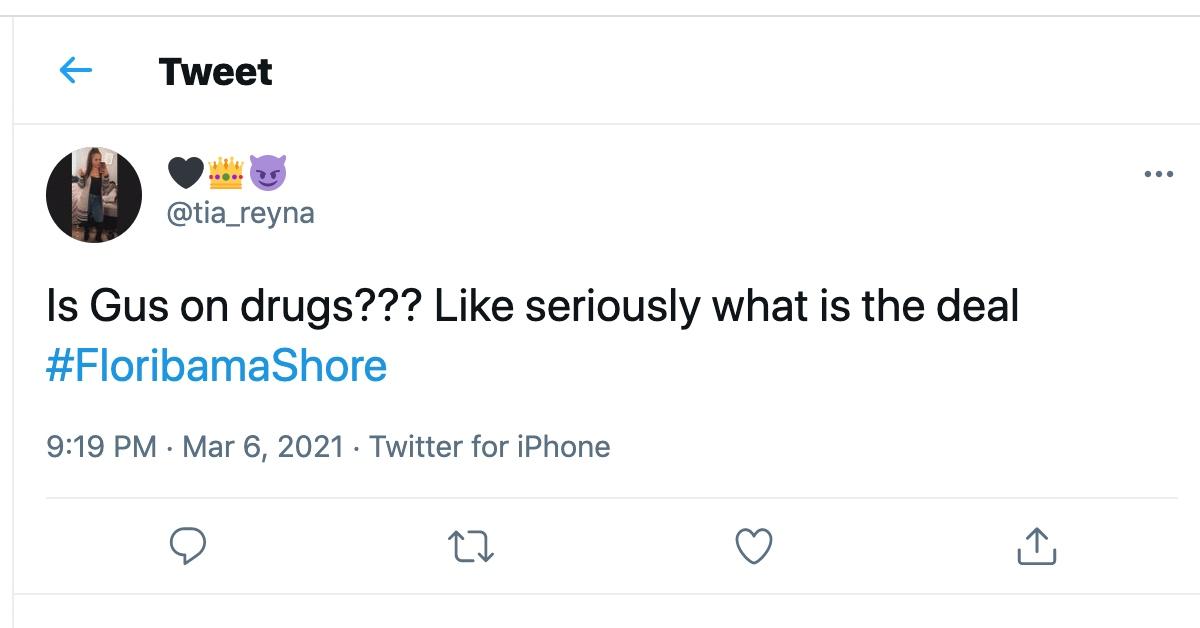 "Is Gus on drugs??? Like seriously what is the deal #FloribamaShore" tweeted @tia_reyna.
"I am 90% sure Gus is on some type of drugs or has some mental issues that need to get addressed! #FloribamaShore #MTVFloribamaShore," tweeted @texasgirl99.
"Y'all, I mean this in the sincerest way... is Gus on drugs? #FloribamaShore" tweeted @_MyLittleSecret.
Gus has yet to address the rumors. At present, there's little information available that could corroborate them.
Article continues below advertisement
Gus will likely face further challenges in the forthcoming episodes of 'Floribama Shore.'
"Dude, Where's My Hair Dryer?" is bound to feature other, equally tension-filled scenes.
As an episode preview reveals, the team will go on a sledding adventure. In another scene, Gus will have to take the heat for ostensibly stealing a hairdryer. As the 20-second-long clip shows, he will try to stand up for himself, which won't yield the desired results. In the end, Gus will opt for a different strategy, departing from the scene by means of running.
Article continues below advertisement
Gus is far from the only 'Floribama Shore' cast member who had to face drug abuse allegations.
Gus is far from the only cast member who has faced drug abuse allegations over the years. Some Floribama Shore viewers previously alleged that Jeremiah was using steroids to further improve his otherwise astonishing physique.
Likewise, some believed that drugs were the real reason behind Kortni's prolonged health struggles. At one point, some fans even doubted her tonsillitis diagnosis and claimed that she went to the hospital for other reasons.