Facts Versus Rumors — Is Mark Ramsey Really Leaving 'Moonshiners'?
Is Mark Ramsey leaving "Moonshiners"? The distiller could be taking a step back from his role in the distillery and in the Discovery Channel series.
Despite the illicit activities featured in Moonshiners, the Discovery Channel has managed to create a reality series about the alleged "criminals" who make their own moonshine. One such distiller is Mark Ramsey, who works alongside his pal, Digger Manes at their co-owned distillery, Sugarland Distilling Co. Now, however, fans are worried that Mark could be leaving Moonshiners.
Article continues below advertisement
Between reports of Mark taking a step back from his distilling duties and recent difficulties with the law, we wouldn't be too surprised if both Mark and Digger decided to leave the series, but we would be heartbroken. So, is Mark Ramsey leaving Moonshiners or is there hope for his future on the series?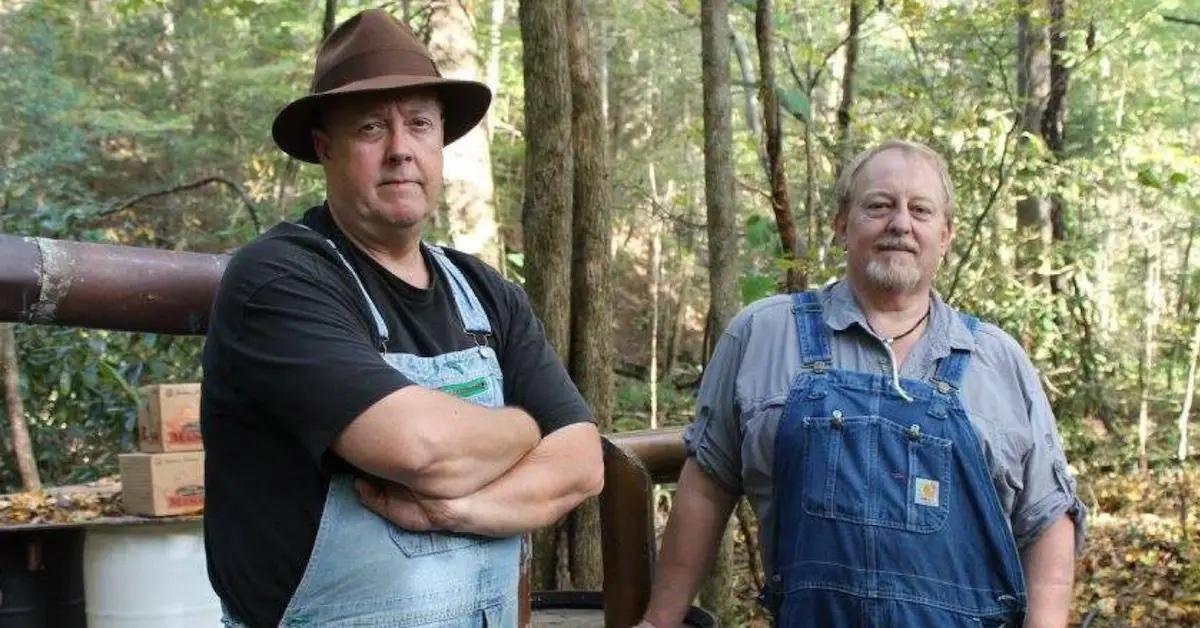 Article continues below advertisement
Mark Ramsey could be leaving 'Moonshiners' after Season 12.
As of now, Mark isn't going anywhere. While rumors of fellow distiller Mark Rogers leaving have begun circulating, the rumors of Mark Ramsey leaving have also been held to the flame. In both cases, however, there's a chance that the rumors could be true. As far as Mark Ramsey is concerned, in Season 12, Episode 12, "Above the Law," he talks about taking a step back from his partnership with Digger as they bring in Beaz.
Last season, Mark and Digger faced some difficulties with the law. In 2021, Mark told Pop Culture that the police raid that forced them to set up a new location, "took the damn wind out of [his] sails… We're about too old to do anything else, and Digger's too pretty to go to jail," he joked.
Article continues below advertisement
Even still, ahead of Season 12, Discovery teased about Mark and Digger, "The Tennessee shiners face a determined law enforcement officer hellbent on halting their operation as they battle sky-high prices for raw materials, such as corn." So perhaps they could run up against more trouble with the law than Mark would like to deal with by now.
Article continues below advertisement
It seems like Mark is priming Beaz to take his spot in the operation, and on Mark's IMDb, he only has episodes listed through Season 12. Not only that, but Mark's stepmother, Wilma, recently passed away, as announced by the Sugarlands Twitter account. At this point, there's no way of confirming if Mark is leaving Moonshiners for good, but it does seem like he has one foot out the door.
Article continues below advertisement
What is Mark Ramsey's net worth?
Mark and his wife, Sally Jane Clark, co-own the Sugarlands Distilling Company alongside distilling partner Digger. While Sally hasn't appeared on Moonshiners, she's still a major off-screen part of making the business a success. Mark and Digger run the day-to-day operations, while other series regulars, such as Mark Rogers, Steven Tickle, Jim Tom Hedrick, and more participate in making it all come together.
Even still, as the co-owner of a distilling company and a reality television star, Mark Ramsey's combined net worth with distilling partner Digger is estimated to be just around $300,000. Luckily, as one of the great fathers of modern-day distilling, we imagine Mark will stay well-off throughout the rest of his life, whether he continues on in Moonshiners or not.
Tune into new episodes of Moonshiners every Wednesday at 8 p.m. EST on the Discovery Channel.