Teeter Was Asked to Leave the Bunkhouse in a New Episode of 'Yellowstone' — What Now?
Is Teeter leaving 'Yellowstone'? Teeter has been a crucial character on the show since Season 3. We've just gotten used to her accent. Is she leaving?
Seasoned soap actress Jennifer Landon landed Teeter's role in Yellowstone in 2019, immediately earning accolades for her exceptional portrayal of the pink-haired, swearing-prone ranch hand.
But some fans believe that Jen's few-season run on Yellowstone is about to come to an end. Teeter was ordered to leave the bunkhouse in Season 4, Episode 6. Meanwhile, Jen landed a new role on FBI: Most Wanted in January 2021, and she doesn't seem to be credited on the new Yellowstone episodes. What's going on?
Article continues below advertisement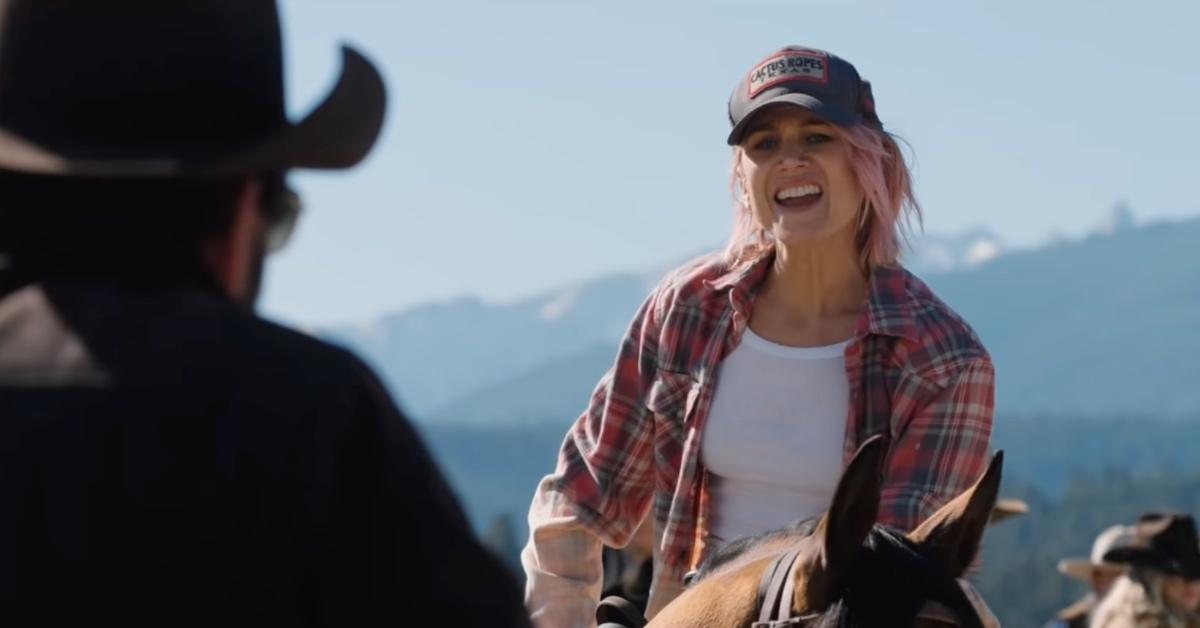 Teeter got kicked out of the Dutton ranch in Season 4, Episode 6 of 'Yellowstone.' What does this mean?
Sweeping changes might be underway for the women working on the Dutton family ranch. The barrel racer girls, including flirtatious Laramie (Hassie Harrison), got kicked out following the latest altercation between Lloyd Pierce (Forrie J. Smith) and Walker (Ryan Bingham).
The ranch hands started competing for Laramie's heart in Season 3 of Yellowstone. Laramie stirred up heated conflict by choosing Walker over Lloyd. Now, it seems that every girl will suffer.
Article continues below advertisement
Several Yellowstone viewers rushed to Twitter to point out that Teeter got the boot because of her gender — which doesn't send out the most progressive message. Let's not forget that Teeter agreed to get the Duttons' initials burnt into her chest a handful of episodes ago. It seems that the sacrifice didn't mean that much after all.
"How is Yellowstone going to send Teeter packing like that?! She took the brand ... or did they forget?" tweeted @mumofshepherds.
"They better not get rid of Teeter for good. As it is I could never get enough of her. Plus, she took the brand! They owe it to her not to get rid of her. Where [is] their loyalty? Yellowstone, please keep Teeter." tweeted @Gloria39020259.
"I feel bad for Teeter. I was kinda hoping she beat up the blonde. She kinda let me down," tweeted @whatthedealyyo.
Article continues below advertisement
It's uncertain if Jen is about to leave Yellowstone once and for all. She did, however, land a recurring role in FBI: Most Wanted only recently. What's more, her name doesn't appear on the credit list for the forthcoming Yellowstone episodes.
Article continues below advertisement
Teeter took the branding iron in Season 3 of 'Yellowstone.'
Jen made her debut in Season 3, Episode 2 of Yellowstone, portraying the adventure-hungry ranch hand on a mission to prove that women can be enviably tough too. Teeter first laid eyes upon fellow ranch hand Colby (Denim Richards) soon afterward, but they started dating much later.
Article continues below advertisement
As loyal Yellowstone fans are bound to recall, Teeter and Colby exchanged their first kiss shortly following enemy rancher Wade Morrow's (Boots Southerland) ruthless attack. The lovebirds went skinny-dipping in Season 3, Episode 8, only to get trodden on and whipped by Wade and his evil gang. Teeter and Colby recovered from their injuries and took the branding iron a few episodes later.
Catch new episodes of Yellowstone every Sunday at 8 p.m. EST on Paramount Network.