TikToker Jack Wright's Impression of Jeffrey Dahmer Draws Backlash
TikTok user Jack Wright drew backlash on the platform for his impression of infamous serial killer Jeffrey Dahmer. Here's the situation.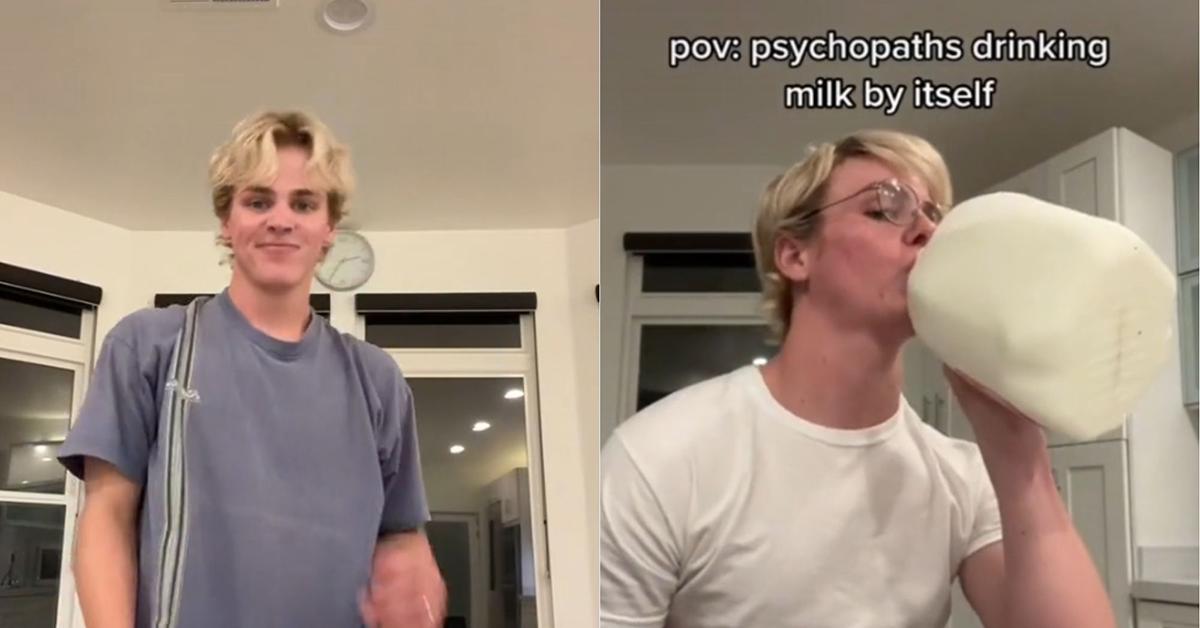 It seems that there's always another story to tell about Jeffrey Dahmer. The serial killer and violent sex offender who killed more than 17 victims has been the subject of biopic and documentary after biopic and documentary. Most recently, Jeffrey was portrayed by Evan Peters (X-Men films series, WandaVision) in Netflix's 10-part crime drama Dahmer — Monster: The Jeffrey Dahmer Story. But even for someone as monstrous as Jeffrey Dahmer, people are bound to find some humor on the internet.
Article continues below advertisement
Whether it's the spirit of Halloween or people's odd obsessions with serial killers that fuel this trend, people love to poke fun or talk about serial killers as part of a societal norm.
On platforms like TikTok, people have started contributing to the ongoing conversation surrounding Dahmer. Take Jack Wright, for instance. This TikToker drew some internet infamy for his jokes about Jeffrey Dahmer. Here's the situation surrounding his controversy.
Article continues below advertisement
Who is Jack Wright? This TikToker received backlash for his Jeffrey Dahmer videos.
As a TikToker, Jack Wright has more than 11 million followers with 701 million likes on his videos. His many posts include dance trends, popular memes, and general life updates. But while he still maintains considerable popularity on his profile, not all of his videos have gone over so well.
In a now-deleted video chronicled by outlets like Insider, Jack dressed up as Evan Peters' Dahmer wearing a white shirt, glasses and parting his hair.
The video showed Jack in costume drinking milk with the caption: "pov: psychopaths drinking milk by itself." Jack also used a song by rapper DaBaby, who is known for his homophobic remarks.
Despite the video having already been deleted, Jack Wright has already drawn plenty of backlash from other TikTokers. Many of them have stitched the original video to their own reactions.
One user stated that the video "reeks of evil," criticizing everything from the theme to the music to the milk he drinks.
Article continues below advertisement
Many were confounded by Jack's personal choice to cosplay as a serial killer and sex offender. Jack has previously come forward about being a victim of sexual assault himself in a shocking YouTube video. In his January 2022 video, he accuses influencer Sienna Mae Gomez of touching him inappropriately without his consent. As of this writing, the video has nearly 22 million views.
Article continues below advertisement
Despite Jack having shared his trauma on social media, his recent Jeffrey Dahmer video has people scratching their heads over his content. Jack has continued posting regular videos since, but many fans are commenting asking him to address the controversy directly.
One person writes, "the more you ignore it, the more it's gonna bite you back. Just acknowledge it, bro. That's literally the least you could do."
Many others simply ask him to "apologize."
As of this writing, Jack has not responded to the backlash in any way.