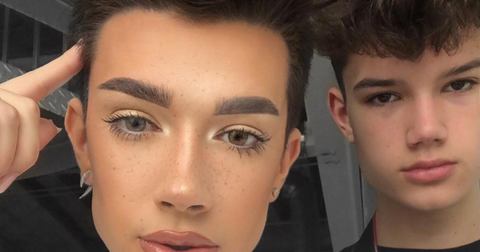 James Charles Explains What His Brother Was Tweeting About (And It Makes Jeffree Star Look Bad)
By Gina Vaynshteyn
By now, you've probably heard about the James Charles scandal, unless you live in a hole in the ground with no WiFi. If that's the case, here's a super quick summary: James Charles, a beauty YouTuber and the first male face of CoverGirl, betrayed Tati Westbrook, another major beauty YouTuber. In a 43-minute video, Tati, who was James' mentor and close friend, describes why she no longer can support James.
Since the video was uploaded six days ago, millions have unsubscribed from his YouTube channel and unfollowed his Instagram account, including celebs like Miley Cyrus and Kylie Jenner. Many have even accused the beauty influencer of being a predator. But at least one person was thought to be defending him: James Charles' brother, Ian Jeffrey. Here's what we found.
Ian Jeffrey posted a vague tweet that is now deleted
According to Seventeen, on May 12 Ian tweeted "Why does everyone act so tough on the internet?" right after Westbrook uploaded her video to YouTube and the internet turned on James. In a tweet that's now deleted, Jeffree Star responded, "Why is your brother a predator? Why'd you really move back to NYC? Exactly. Shut the f**k up."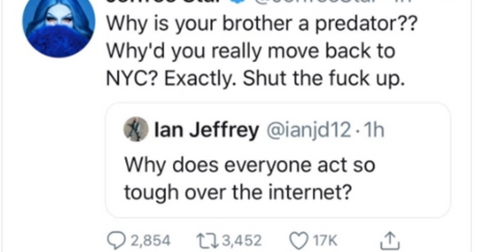 But now we know that Ian Jeffrey wasn't tweeting about his brother, according to James Charles' new explainer video, "No More Lies."
In a 41-minute YouTube video, James Charles basically annotates Tati's video, giving an explanation for everything she's accused him of. It's intense, but if you've been following the drama, it's worth the watch. In it, he explains that Ian Jeffrey actually wasn't tweeting about James. He was tweeting about a hometown bully, and Jeffree Star just assumed Ian was defending James.
James' brother apparently deleted his tweet sometime after Star attacked him, because no trace of this conversation can be found on Twitter. Yikes. The last tweet from Ian Jeffrey is one from May 10 that simply says "Shine bright in a world so dark."
So, who is Ian Jeffrey exactly?
We know that Ian is 17 years old, and has his own YouTube channel with over 870,000 subscribers. He only has 10 videos though, and only a couple videos made it past two million views (not too shabby, but certainly not as viral as his big bro). In his most recent video (posted two months ago), Ian talks about the future of fashion for about 18 minutes.
Ian's more successful videos include one where he describes his morning routine in detail, a baking video with James, and his first video which is called "STEALING JAMES CHARLES CAREER," in which he describes why he is now making YouTube videos. Before creating his own YouTube channel, Ian appeared in some of James' beauty tutorials, like the one below from 2017:
While we don't know a lot about Ian Jeffrey, we do know that both brothers were raised in New York and went to Bethlehem Central High School (Ian graduates soon). According to Ian's Twitter, he lives in Los Angeles (but if we're to believe Jeffree Star, Ian allegedly moved back to NYC—maybe to finish high school?). Along with having Twitter and YouTube accounts, Ian has an Instagram with 2.2 million followers. The feed is pretty much just selfies and photo shoots that show Ian is really into fashion, likes pizza and bubble gum soda, and probably makes a living by posting sponsored content (like this ad for Goat shoes). While James was famous for his makeup skills in high school, Ian was on the school's football team.
However, Ian recently posted to Twitter that he's still figuring things out.
Which is totally normal for someone who is about to graduate high school.
We do know that Ian dated Loren Gray
Loren Gray is a singer and YouTuber with over 3.4 million subscribers. Apparently Ian Jeffrey and Loren Gray dated in late 2018, and made their relationship Insta official in December.
However, Loren took to Twitter in March of this year to share that she and Ian are no longer dating.
Since Ian's personal brand revolves around fashion, it makes sense that he helped James out his brand, Sisters Apparel.
Ian's contributions include hoodies that say "Brothers" on them.
It's unclear why Ian Jeffrey deleted his initial tweet in support of his brother, but we suspect he probably just wants to steer clear of the drama. For someone who is about to graduate high school, that feels totally understandable.