Jimmy Garoppolo Is the Internet's Newest Obsession — Read the Best Thirst Tweets
Former 49ers player Jimmy Garoppolo and his thirst traps have the internet in the chokehold. Here are the best thirst tweets on the internet right now!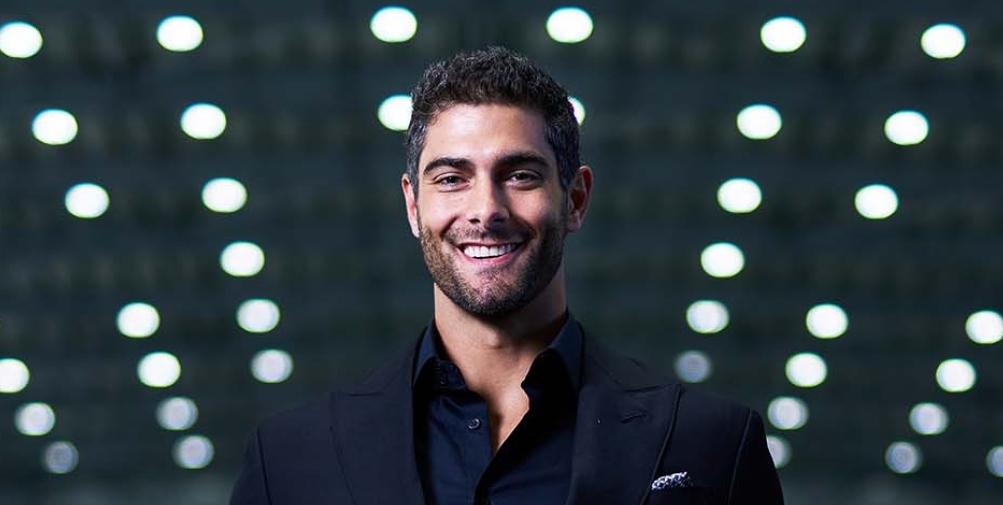 Football is cool and all, but for us non-sports fans, a touchdown means nothing. It's the pro athletes who run up and down the field in those teenie-weenie tights that have our attention.
The latest NFL player that has the internet swooning is Jimmy Garoppolo. At the start of his football career, Jimmy played for the New England Patriots. Later, he signed a contract with the 49ers, and most recently, the Raiders.
Article continues below advertisement
Since he made the transition, Jimmy has been a hot topic on social media. The internet can't seem to get over how hot he is and the thirst is real! Read on for the best tweets about Jimmy on the internet right now.
Here are the best Jimmy Garoppolo thirst tweets on the internet right now.
It's safe to say that Jimmy is everybody's type, and these thirst tweets prove it. In August 2023, an influx of Garappolo thirst traps surfaced on our timelines and the girlies aren't mad about it. Their boyfriends, on the other hand, are probably a different story!
Guys better watch out for Jimmy "Mr. Steal Your Girl" Garoppolo.
According to this guy, his girlfriend is Jimmy's newest number-one fan. "My girlfriend just saw what Jimmy Garoppolo looked like for the first time and I swear I saw her soul leave her body," @mikeystephens81 tweeted.
The thirst is *SO* real that we're dehydrated.
We'd all like a piece of Jimmy Garoppolo, it's OK to admit it. Just ask @GERALYNTHEGREAT — there's no shame in her game. The user wrote on Twitter: "If Jimmy Garoppolo ever reads thirst tweets I want him to know that I am severely dehydrated."
Article continues below advertisement
Even football fans are trading teams.
"In case anyone was wondering…I'm a Raiders fan now," the Sip List Podcast tweeted along with a TikTok edit of one of Jimmy's videos. Can you blame 'em?
Article continues below advertisement
Jimmy Garoppolo may or may not have just broken the babe barometer.
"Jimmy Garoppolo has no d--n business being so d--n fine," @VehementDaze said, and we see no lies. Why he thought it was OK to look that good is beyond me.
Article continues below advertisement
Football isn't Jimmy Garappolo's true calling — thirst traps are.
@Molllllusk believes Jimmy may have missed his true calling. Instead of playing the field, he should be setting thirst traps.
·"Jimmy Garoppolo shouldn't be a football player he should be a chef making thirst trap pasta recipe TikToks," they wrote.
Like it or not, it's clear that Jimmy's got the girlies in a chokehold.