Kate McKinnon Is Reportedly Working on a Scripted Series Based on Joe Exotic
If you already watched 'Tiger King,' definitely keep a lookout for Kate McKinnon's upcoming scripted series based on the infamous Joe Exotic.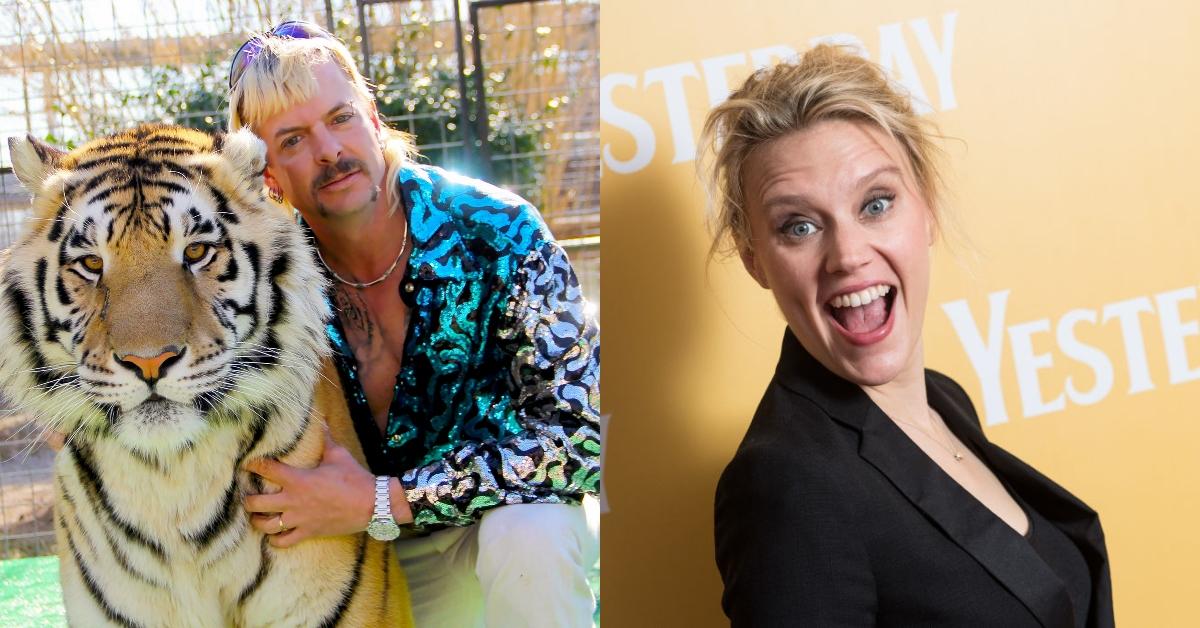 If you haven't already watched Tiger King several times over, the mind-blowing docu-series on Joe Exotic's infamous and sinister escapades, let me bring you up to speed: basically, an Oklahoma man found solace in raising wild cats and adopted the nickname Joe Exotic, became arch nemeses with a cat conservatory owner named Caroline Baskin, and eventually was arrested for conspiring to kill her.
Article continues below advertisement
While this story is inexplicably polarizing for quarantined viewers like you and me, it's also drawn interest from a variety of big Hollywood names. In fact, Kate McKinnon is currently working on a scripted series about Joe Exotic right now. Here is everything we know about the upcoming TV series so far.
First, though, watch the trailer for Netflix's docu-series to get the gist below.
Article continues below advertisement
Kate McKinnon's scripted iteration of 'Tiger King' is going to be truly incredible.
Long before the release of Netflix's Tiger King docu-series, Joe Exotic's story was apparently recounted on Wondery's Joe Exotic: Tiger King podcast. And according to Bustle, the podcast ultimately inspired a scripted series brainstormed last fall, which was several months before Netflix's iteration of the story came to life.
The scripted series is being executive produced by Kate McKinnon in tandem with Universal Content Productions. She will also be acting in the show, playing the role of Caroline Baskin, who was Joe Exotic's mortal enemy.
Article continues below advertisement
Kate McKinnon's highly-anticipated scripted series is still in development, though, and has not been picked up by a network as of yet, according to TV Line. Many believe that Netflix would be a sensible home for the series, because the streaming service created the original docu-series, but nothing is confirmed as of right now. Either way, though, we're seriously psyched.
Article continues below advertisement
Good news — there may also be a second season of 'Tiger King' in the works.
Based on how popular Tiger King proved to be, Rebecca Chaiklin is considering releasing more footage in a second season, according to Entertainment Weekly. Apparently, the producers have more unused footage, and since the story is still unfolding with Joe Exotic's wild story, there is definitely room for some sort of "follow up."
This wouldn't be for well over a year, however, and because Kate McKinnon's show doesn't have a definitive network (and is probably stalled due to the coronavirus), that definitely won't come into our lives for quite a while. However, if you're truly dying for more Joe Exotic footage, just listen to the podcast — it gives additional crazy insight into the mind-blowing story.
Article continues below advertisement
Here are other docu-series to watch:
Once you've torn through Tiger King, Don't F*** With Cats is an equally bone-chilling story, as is Ted Bundy Tapes. Those looking to delve into something more light-hearted, however, should consider watching Cheer or Salt, Fat, Acid, Heat — both are basically guaranteed to make your heart swell.
It may be a little while before Kate McKinnon's scripted series comes out, but at least we have a few different kinds of Joe Exotic content to tear through in the meantime. His story is just too good.