Joey Chestnut Once Got Engaged Right Before a Hot Dog-Eating Victory
Does Joey Chestnut have a wife? Well, he proposed to his then-girlfriend in 2014. Read more about the competitive eater's love life.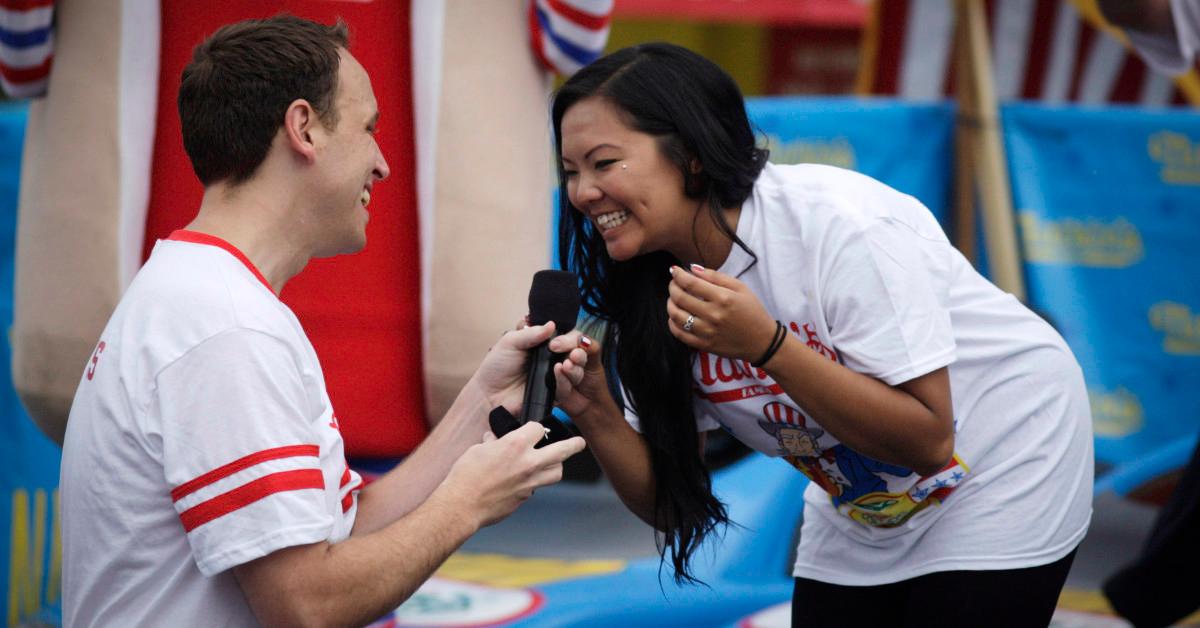 Article continues below advertisement
But even if he wins — and even if he breaks his own world record of 75 hot dogs consumed in 10 minutes — this year's contest probably won't be as jubilant as the 2014 competition, when Joey asked a woman to be his wife.
Joey Chestnut proposed to Neslie Ricasa just before he won his eighth Mustard Belt.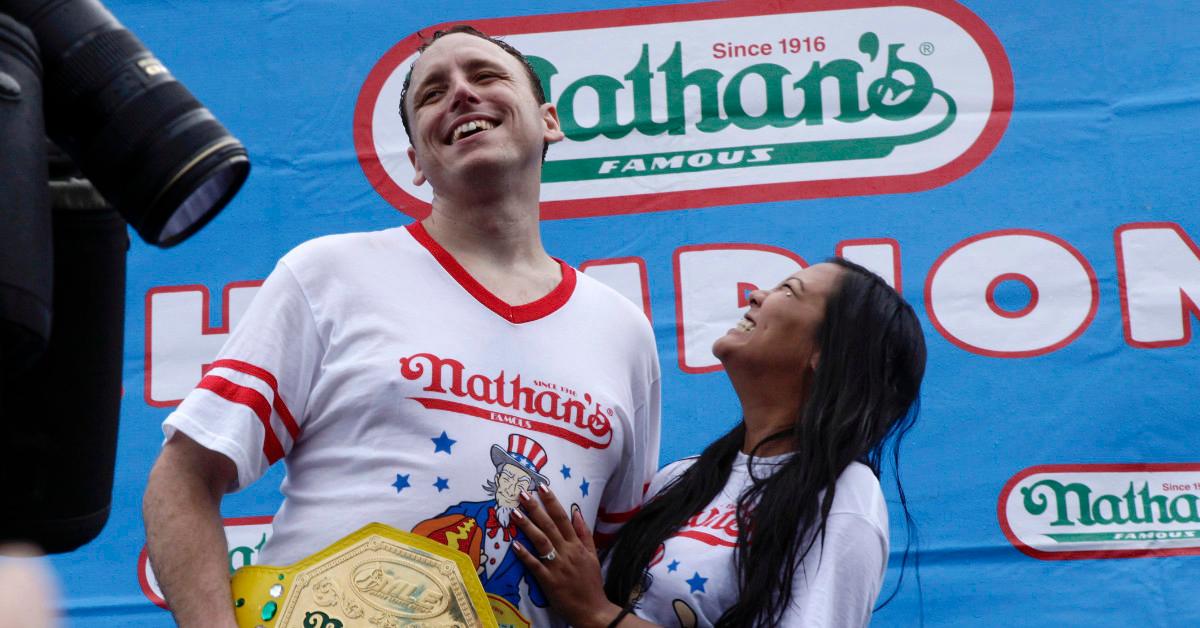 On the Fourth of July in 2014, Joey eked out his eighth Mustard Belt win at that year's Nathan's Famous Hot Dog-Eating Contest, narrowly beating competitor Matt Stonie.
For a while, Matt was in the lead, and with little more than a minute left on the clock, he and Joey were tied at 53 dogs. But then Joey pulled ahead, finishing the event with 61 dogs to Matt's 56. "I could never find my rhythm, so it was just a dogfight the whole time," Joey said afterward, per USA Today.
Article continues below advertisement
But before the competition, he pulled out a ring box, took the microphone, and got down on one knee to propose onstage to girlfriend Neslie Ricasa, who clapped her hands to her mouth in surprise.
"Baby, these have been the best three years of my life, and I can't live without you," Joey told her, as the crowd cheered. "You make me better. Will you marry me?"
And she said yes!
Article continues below advertisement
He and Neslie split the following year, and he moved on with a woman named Brie.
In July 2015, the New York Post revealed that Joey and Neslie had broken up that April, with just weeks to go before their wedding date. Joey told the newspaper that his competition schedule put a strain on the relationship. "I definitely would say it was traveling. I was gone quite a bit," he said. "It was mutual. It just didn't work."
But being a single man gave him "more reason to focus on this competition," he added, explaining that he thought it might be hard to return to the scene of his proposal for the that year's Nathan's Famous Hot Dog-Eating Contest.
"I thought it would be bittersweet," he said. "I'm not going to let it hurt me. … Last year, the whole engagement affected me. This year, I will definitely have [fewer] distractions."
Article continues below advertisement
And in August 2019, Joey posted an Instagram photo of himself cozying up to a woman named Brie. (That's all we know about her, though: Her Instagram is set to private.)
"Oysters, the beach, and my amazing babe," he wrote in the caption. "My last weekend at home for a while. I have a bunch of contests coming up. Gyoza in L.A., pizza in New Orleans, wings in Buffalo! I love traveling and eating, but I sure do enjoy giving my stomach a break and spending time with the people I love."
The 2021 Nathan's Famous Hot Dog-Eating Contest aired live on Sunday, July 4, at noon EST. on ESPN. ESP3 will simultaneously air a live feed of Joey's progress as he tries to break his world record.