Details on Prime Minister Justin Trudeau and His Wife Sophie Grégoire Trudeau's Three Kids
In August 2023, Justin Trudeau and Sophie Grégoire announced their separation. Here's everything we know about the three children they share.
In 2023, more than a few celebrities have called it quits.
To name a few: The Bear's Jeremy Allen White and Addison Timlin, Sofia Vergara and Joe Manganiello, and Ariana Grande and Dalton Gomez also went their separate ways. But one of the most surprising couples to hop on the breakup bandwagon is Prime Minister Justin Trudeau and his wife, Sophie Grégoire Trudeau.
Article continues below advertisement
On Wednesday, Aug. 2, the two announced that they were separating after almost two decades of marriage, but before they split up, they took the crown as one of Canada's cutest couples. During their marriage, the two welcomed three children together — here's what we know about them.
Article continues below advertisement
Justin Trudeau and his wife Sophie Grégoire Trudeau share three children — Xavier, Ella-Grace, and Haiden.
Justin and Sophie welcomed their first child, Xavier, in 2007, two years after they jumped the broom at Sainte-Madeleine d'Outremont Church in Montreal. Later, the two welcomed their first and only daughter, Ella-Grace, who is two years younger than their eldest son. Hadrien, the youngest Trudeau sibling came along later in 2014.
The prime minister opened up about being a dad in author Tessa Lloyd's 2019 book, Forty Fathers: Men Talk About Parenting. While early in life, he thought that having kids was "the most important thing" for him, later, his perspective shifted — largely thanks to his relationship with his own parents.
Article continues below advertisement
"It wasn't just about being a dad, it became about being a good dad," he said (per Today's Parent).
"To me, being a good dad means shaping the world around my kids in whatever way I can. I owe it to them to try to make this place that they inhabit better, safer, and more just," he added. "This core belief, I know for sure, I inherited from my parents."
Article continues below advertisement
But his parenting style isn't the only thing Justin has in common with his parents. Much like his father, former Prime Minister Pierre Trudeau, Justin's marital problems have been highly publicized.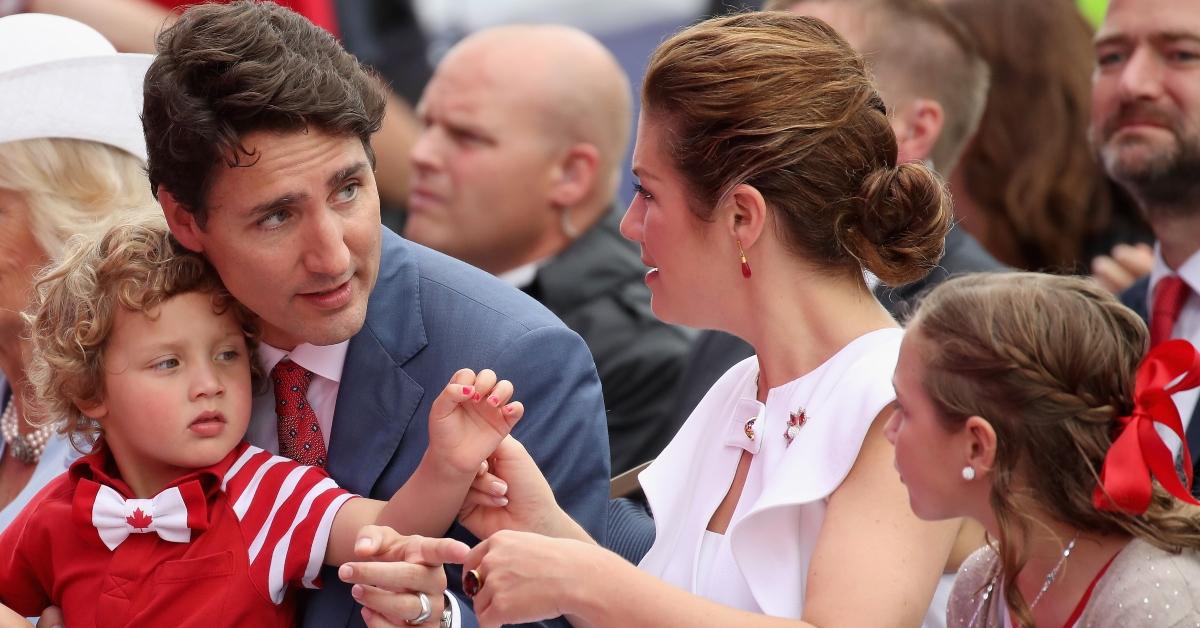 Article continues below advertisement
Justin Trudeau and Sophie Grégoire Trudeau announced their split in August 2023.
Justin is only second to his father in the history of prime ministers to separate from their wives during their term in office — emphasize on separate. As of now, Justin and Sophie have only confirmed that they're taking some time apart. But do you think they'll actually get a divorce?
Justin's entry in Forty Fathers also spoke of his mom and dad's relationship. According to the politician, he made efforts to be more "emotionally engaged" with Sophie than his father was with his mom.
"When I met her, I knew pretty quickly I had found the right woman to be the mother of my children," he said.
Rumors suggest that Justin may have had an affair during their marriage, though, both he and Sophie denied it.