Yes, Kendall Jenner Is a Major Horse Girl — Here's What We Know About All of Her Horses
'The Kardashians' star Kendall Jenner is an avid equestrian who is believed to have at least four horses. Here's what we know about her equines.
When you think of a horse girl, you think of a zany, middle-school-aged girl who is obsessed with horses. Maybe she professionally competes in horse shows every weekend or maybe she has a bit of a gallop and her favorite movie is Black Beauty.
Article continues below advertisement
Model and TV personality Kendall Jenner isn't someone you'd take for a former horse girl. But her eyes light up whenever she gets on the subject of horses. She's been an avid equestrian for years.
"I gravitate towards everything horse. They're like very, very interesting, like, beautiful spiritual beings," she said during Season 3, Episode 4 of The Kardashians. "They're, like, telepathic," she added.
During the episode, she took her sister Kylie Jenner for a ride at her ranch, revealing in an aside that they used to ride horses together as kids. "We would go to Wyoming every summer and ride and go up on the mountains," Kendall said. But as they grew up, Kylie hopped off the saddle.
So, how many horses does Kendall actually have? And where is her horse ranch located? Here's what know.
Article continues below advertisement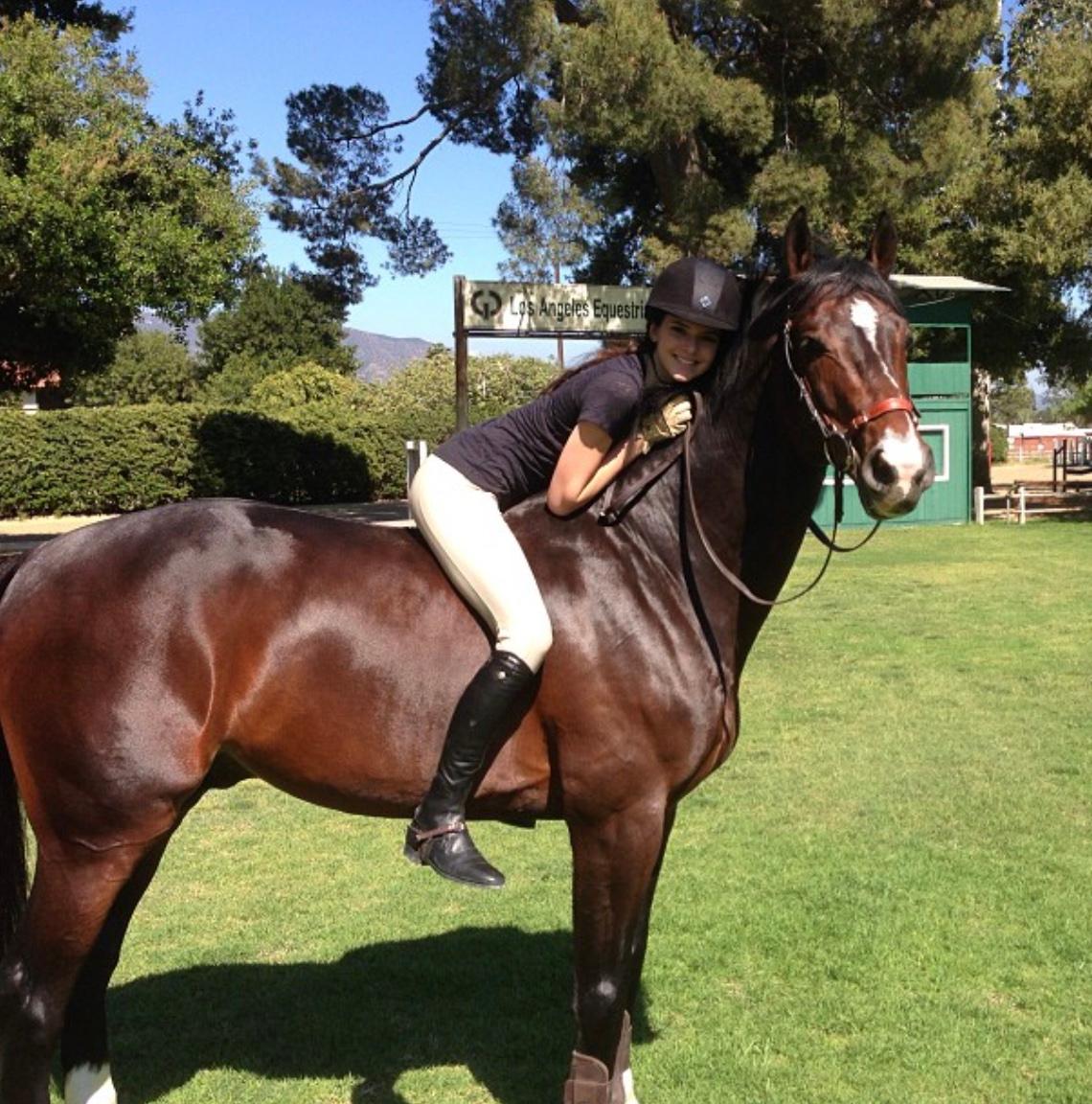 How many horses does Kendall Jenner have?
Kendall is currently believed to have four horses with a baby horse on the way, per Celebrity Pets.
One of her horses is Little Joe, a gorgeous white stallion. It is unknown how long Kendall has hid him, but Little Joe was previously seen during an episode of The Kardashians when Kendall brought him to True's fourth birthday party. Half-sister Kim Kardashian later posted a photo on her Instagram Story of the stinky present Little Joe left in the yard.
Article continues below advertisement
Kendall also has an American Paint horse named Arizona. Kendall shared photos of Arizona on her Instagram Story in 2022.
Article continues below advertisement
In 2018, Kendall also acquired two European Warmblood mares named Dylan and Belle. We don't hear too much about Belle, but Dylan definitely is talked about.
In fact, there was some drama with Dylan in the get-go as Kendall began referring to her as "Dragon." This was problematic at the time as Kourtney Kardashian's ex Scott Disick was dating Sofia Richie, whose horse also named Dragon passed away. Fans weren't sure if Kendall was referring to Dylan as Dragon intentionally.
Article continues below advertisement
But that's not all we know about Dylan. In a November 2022 episode of The Kardashians, Kendall announced that Dylan was having a foal (aka a baby horse). "We're doing it via surrogacy, which is really interesting," she noted before adding, "Baby daddy [the foal's father] is really sexy" and that the stallion has competed at the Olympics."
Kendall has yet to update fans on if Dylan had her baby, but fingers crossed that she'll share more during Season 3.
Where does Kendall Jenner keep her horses?
During The Kardashians Season 3, Kendall said that she had her own barn for her horses. She previously told Vogue in 2018 that she keeps her horses Belle and Dylan in a show barn, called Huntover in Bell Canyon, Calif. The owner of the barn, Mark Bone, has trained with her since she was 13 years old.
However, when Kendall isn't at Huntover, she's been spotted riding at Hidden Hills Equestrian Ranch in Bonsall, Calif. She was even photographed riding there once with her alleged boyfriend Bad Bunny.