Kim Kardashian's Backyard Play Houses Prove That the Wealthy Are Just Built Different
Kim Kardashian has a big enough backyard that she built an entire town of play houses for her kids, because wealthy folks truly have nothing to do.
Plenty of our favorite movies these days satirize the rich people of their world and their absurdly affluent lifestyle. Glass Onion put the quirks of eccentric and over-privileged tech billionaires on blast. The Menu is a stylishly crafted revenge story against the 1 percent that's about as subtle as dressing people up as s'mores and setting them on fire.
"Eat the rich" stories of that nature usually tend to poke fun, but shockingly enough, they're not that far-fetched when it comes to celebs like Kim Kardashian.
Article continues below advertisement
The hyper-popular American socialite has built her reputation as a reality show personality and has become one of the world's most famous and influential businesswomen. In 2022, her net worth was estimated at over $1.8 billion, and she's achieved this level of fame and notoriety almost entirely for simply ... being famous.
She isn't afraid to flaunt her wealth, either. In fact, she's so rich that she's built an entire little town of play houses in her backyard for her kids.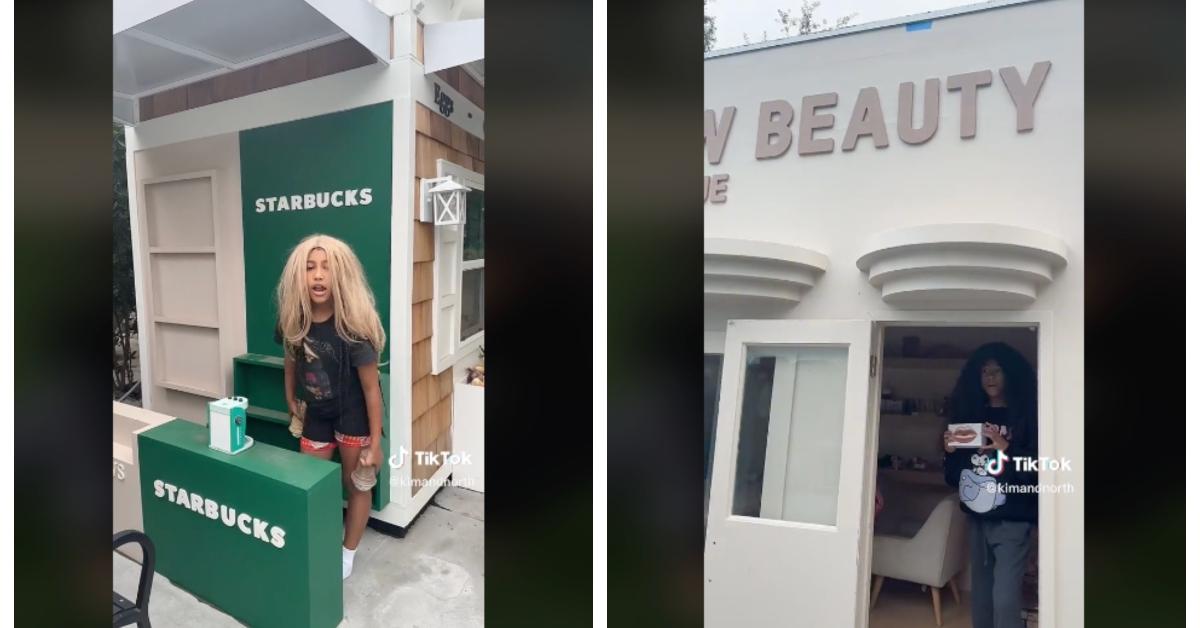 Article continues below advertisement
Kim Kardashian built large play houses in her backyard for her kids.
When the average person thinks of playing in a backyard, you might think of a simple playground with swings and a slide. Some may have grown up with a see-saw or even a modest one-room no-frills playhouse. The last thing you might think of is a Starbucks or a stocked mini-supermarket. But considering that the Kardashians exist in a plane of reality separate from us normal people, they've got all that going on and more in their backyard.
Outlets like Buzzfeed have previously reported on pictures from X17 Online showing off the mini-town that Kim has built for her kids in her backyard. Labeled by its own town sign as "Lil' Hidden Hills" (a reference to the gated community in which they live), this town has mini-versions of actual stores. These include a KKW Beauty store, a Starbucks, the West Diner, a stocked mini supermarket that could double as a functional kitchen pantry, an ice cream castle, and even a fake ATM among other things.
Article continues below advertisement
People on social media have been quick to point out the financial and social disparity between the Kardashian family and us normal folks.
One person on Twitter commented, "It's funny. Most kids play aspirationally, like they pretend to be doctors or astronauts or whatever. These kids pretend to be peasants. The rich are a totally different species."
Another person joked, "Transferring to work at the Kardashian backyard Starbucks."
Article continues below advertisement
On TikTok, user @kardashian_kolloquium did a "deep dive" into the uncanny valley between the Kardashian lifestyle and literally anyone else's.
"Let's take a moment to notice that there's corporate branding even in this backyard play city," they comment, pointing to the mini Starbucks in Lil' Hidden Hills. They also point out Kim's necessity to add her own brand to the tiny town as a baffling design choice.
Just as the rich tend to detach themselves so far from reality with their affluent spending, so too must they subject their own kids to the idea that our everyday lives amount to their playtime.