Woman Says Little Caesars Employee Gave Her Pizza to Wrong Customer but Didn't Offer Refund
After ordering a pizza from Little Caesars online, one woman was shocked to find out that it had been given away, and she was seemingly at fault.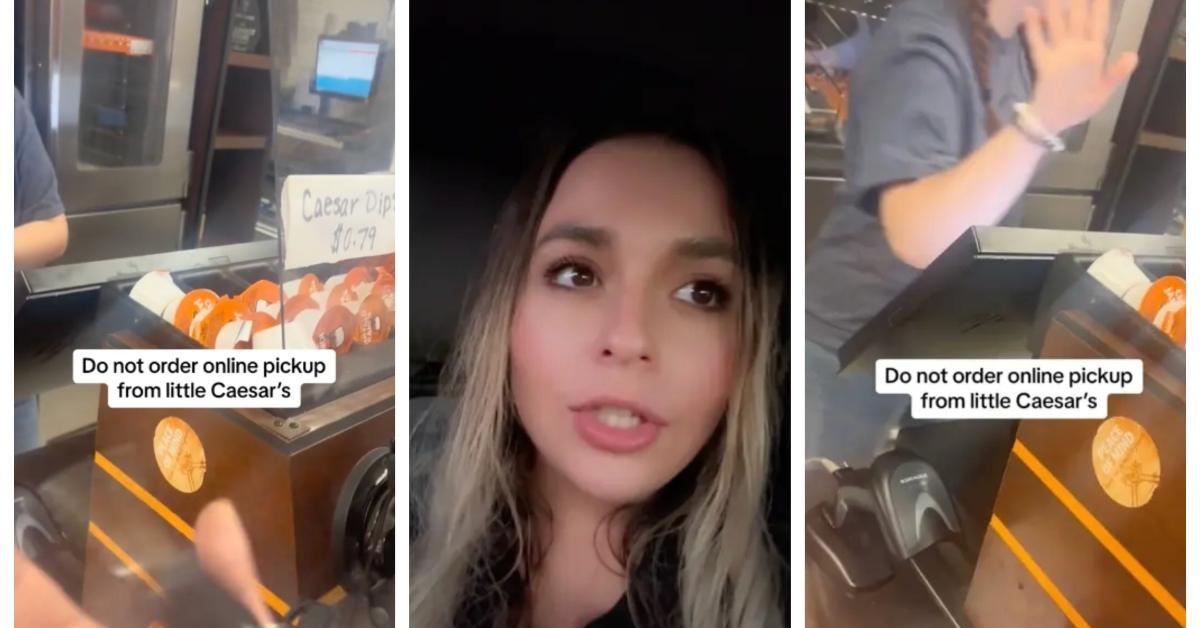 Do you ever order food online, go to the restaurant to pick it up (because who can actually afford delivery fees these days?), and then have to wait a few minutes because the restaurant is still preparing it? The wait feels like pure agony, but it always makes the food taste so much better once you get it.
Article continues below advertisement
But imagine rolling into the restaurant to pick up your order, asking a worker what the status of your order is, and being informed that your food has already been picked up. Excuse me, but what?
That's a little awkward and a lot infuriating. Well, that just happened to one woman who arrived at Little Caesars to find out her pizza had already been picked up. What's even worse is that the worker didn't appear to be that accommodating.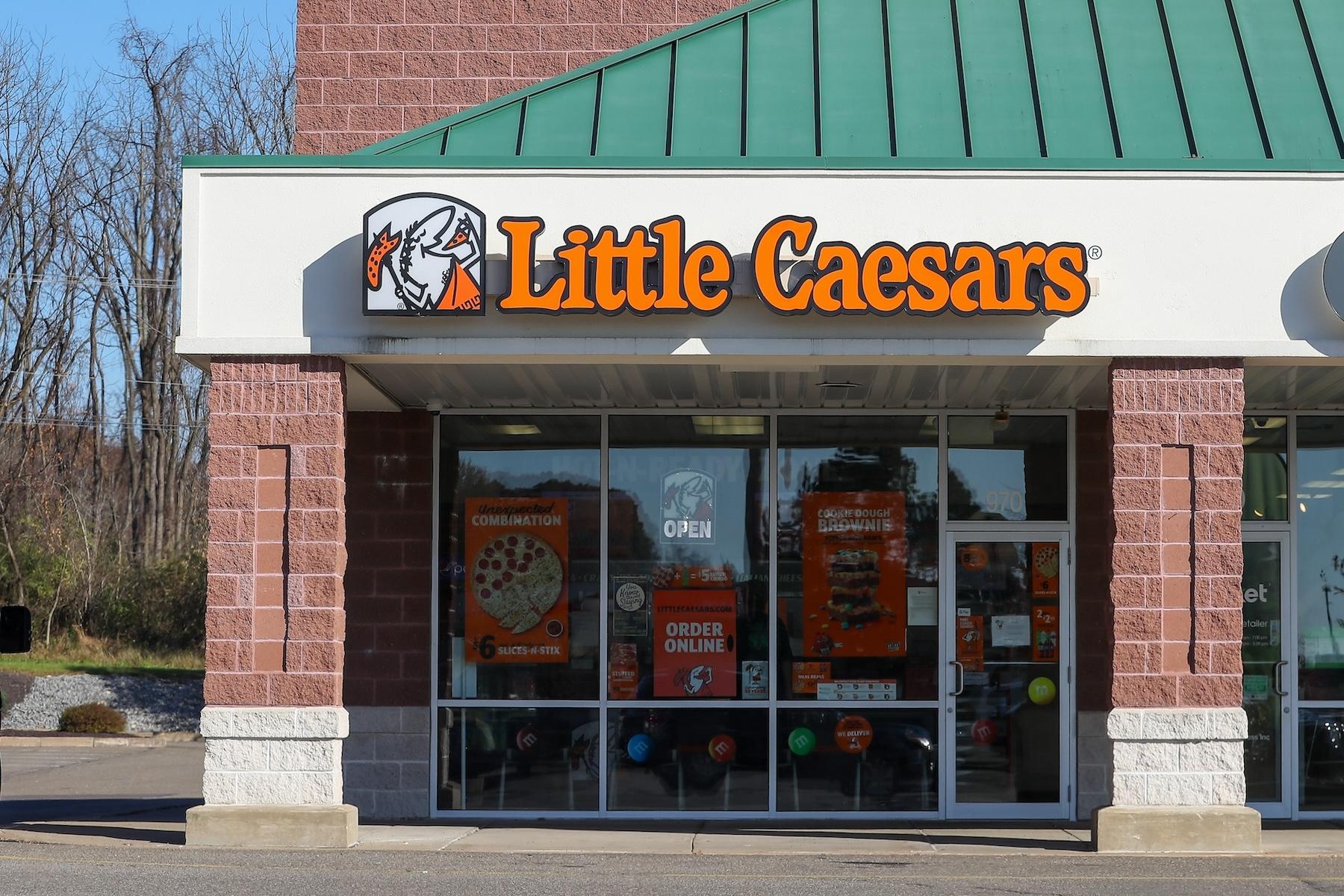 Article continues below advertisement
A woman goes to pick up the Little Caesars pizza she ordered, only to learn that someone else had walked away with it.
TikToker Clarissa Reece took to the platform to describe an unfortunate encounter she had at Little Caesars.
As her video begins, you can see she is at the register of a Little Caesars restaurant talking to an employee about her order. "So somebody came and picked up my pizza and used my name? And I can't get a refund?" Clarissa is heard asking in the video.
The Little Ceasars employee is silent for a few seconds before answering, "It says that it was picked up around 5:30."
Clarissa responded that when she ordered the pizza online, she scheduled her order to be ready at that time.
However, the employee maintained that someone came in and picked up the order under her name.
Article continues below advertisement
When Clarissa asked for details about this person, she was told it was a man.
Clarissa explains to the Little Caesars employee that she doesn't even know anyone in the area, hinting that if someone did pick it up, they were a stranger and it wasn't rightfully theirs. The worker then tells Clarissa that she can talk to one of her higher-ups, but on the phone, since they are not there at the moment.
As the worker goes to the back to make that phone call, she gives Clarissa a hand to the face.
Article continues below advertisement
In the comment section of the video, TikTok users started making claims about what really happened to her pizza.
"I bet the guy walked in at 5:30 and the lady goes 'Hey, are you picking up an order for blank' and he went 'yes,'" suggested one user.
Another user opined that the worker is at fault, not Clarissa. "They let a random person pick up your order without confirming your confirmation number. She's not doing her job correctly," they wrote.
Article continues below advertisement
Many users argued that the employee should have just made Clarissa's pizza over from the get-go.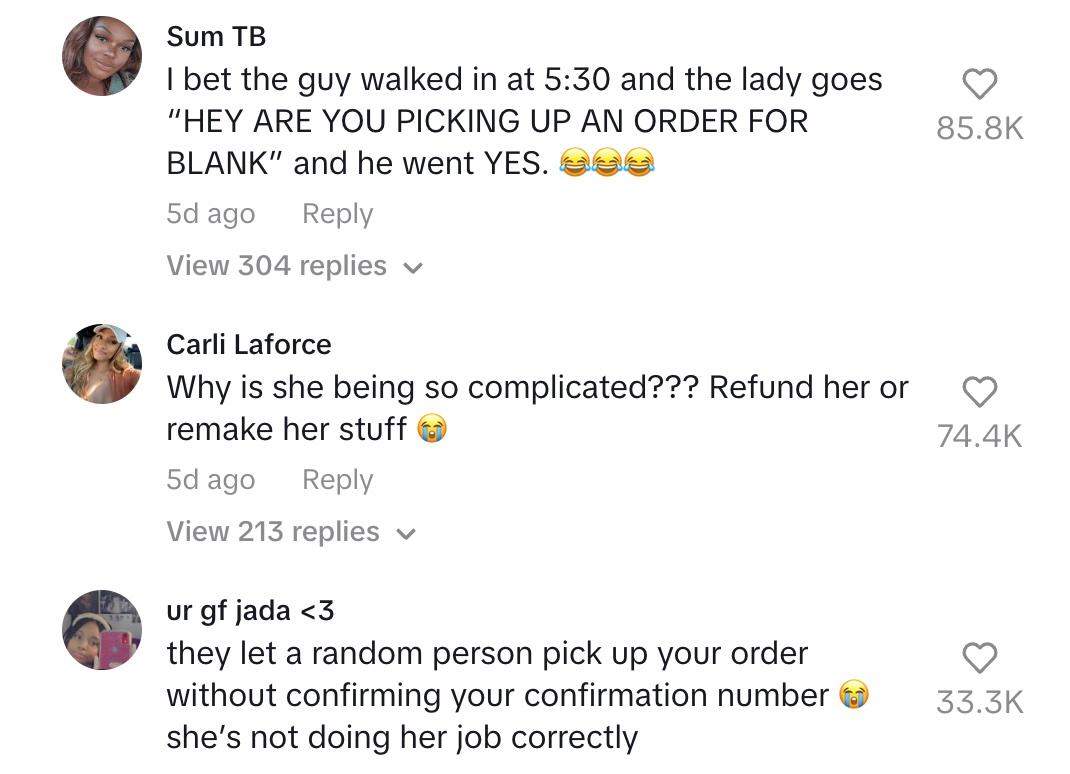 Article continues below advertisement
In a follow-up video, Clarissa shared more details about the encounter, explaining that she and the worker had been trying to hash out the situation for a few minutes before she took her phone out. "The way she was talking to me is why I started recording," Clarissa said.
Article continues below advertisement
Clarissa noted that the employee did eventually offer to make the pizza after their filmed confrontation, so she let her. But by this point, Clarissa said she was too upset to eat the pizza.
Clarissa also said that after she posted the video on TikTok, the employee reached out to her, asking her to take it down. However, Clarissa claimed she would not be doing that.