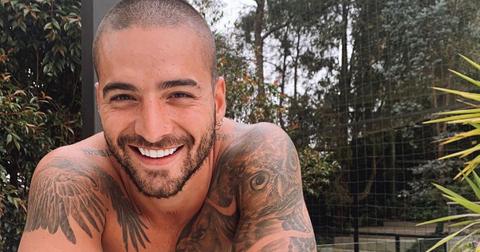 Maluma's Tattoos Each Have a Special Meaning for the Colombian Singer
By Anna Quintana

Updated
Since his breakout hit "La Temperatura," Maluma's collection of tattoos has been quickly growing. The Colombian singer has over 20 tattoos all over his body — and it's hard for fans to keep track of all his ink.
Article continues below advertisement
According to Maluma (real name: Juan Luis Londoño Arias), each of the tattoos, which take up real estate on his arms, chest, and neck, has a special meaning. Fun fact: he got his first tattoo at the age of 14.
"I've always been open-minded since I was very young," he told GQ of his extensive body art. " I always wanted to get a tattoo and I got it when I was 14 years old. I got it here on my left leg... My mom got super mad at me."
However, don't expect Maluma to ever get a tattoo on his face, calling it "too hardcore." Whew! Keep scrolling for a look at Maluma's tattoos and the meaning behind all the ink.
Maluma's "Maluma" Leg Tattoo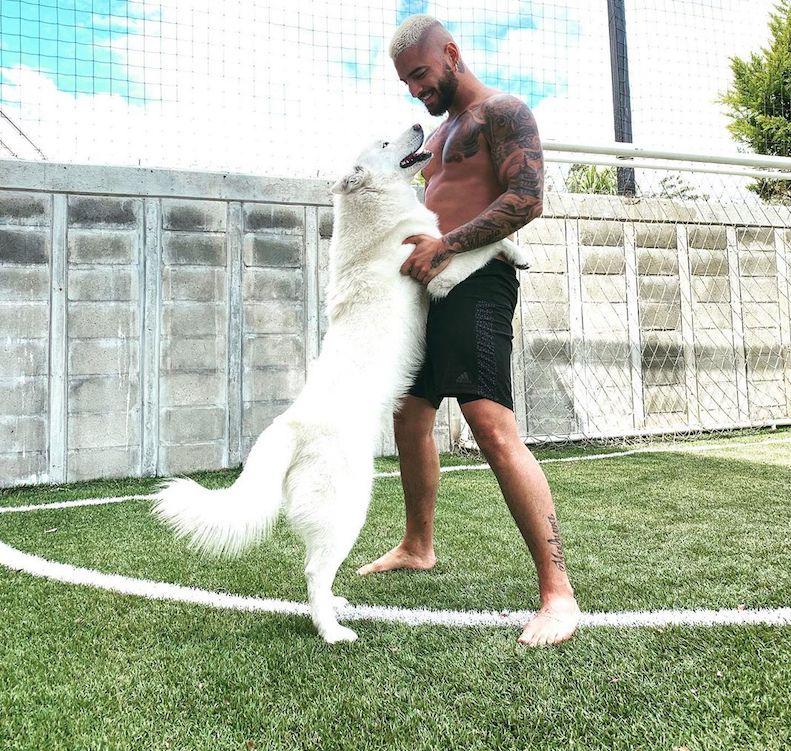 His very first tattoo was his stage name on his left leg, which pays tribute to his family: mom (MArgie), dad (LUis) and sister (MAnuela).
Article continues below advertisement
Lion Tattoo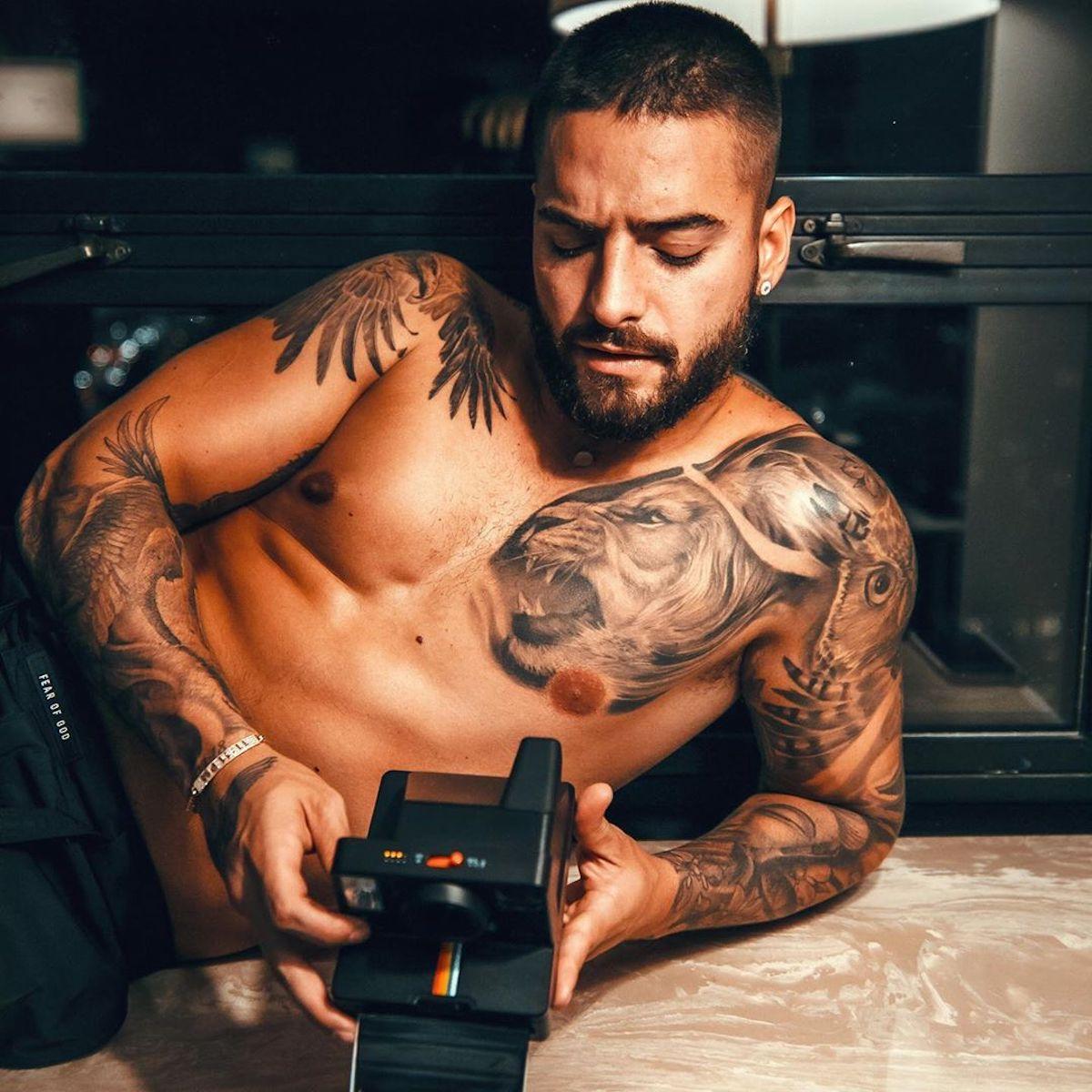 Probably one of Maluma's most recognizable tattoos (behind the crown on his neck), the lion represents strength.
"I was having a very difficult time in my life and I was very young," Malum said of the piece inked by artist Cesar Leonardo Gomez on his left pec. "I needed some strength, so that is why I got it."
Article continues below advertisement
Crown Tattoo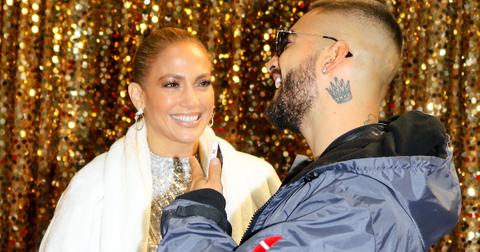 Maluma explained the meaning behind his crown tattoo on Instagram, writing, "This crown is my thanks to the people who with their loyalty accompany me on my career and my steps "
Article continues below advertisement
Neck Tattoos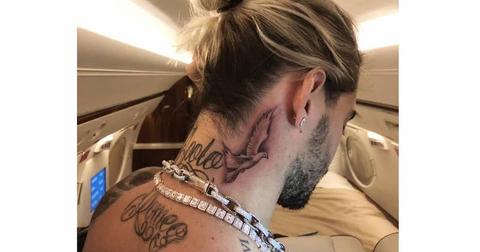 Peruvian tattoo artist Stefano Alcantara has done several pieces for Maluma, including this dove, which was inked 43,000 feet in the air in Maluma's private plane.
"The dove means peace. The first idea that he wanted was for it to represent piece, but it was also flying so it was a coincidence that we did it in the air," Stefano told Inked magazine. "We were talking about it while we were tattooing that the sky's the limit, which has a deeper meaning in his career. It was a great moment to get that tattoo."
Article continues below advertisement
On the back of his neck, Maluma also has the names of cousins Romeo and Apolo.
Medellin Chest Tattoo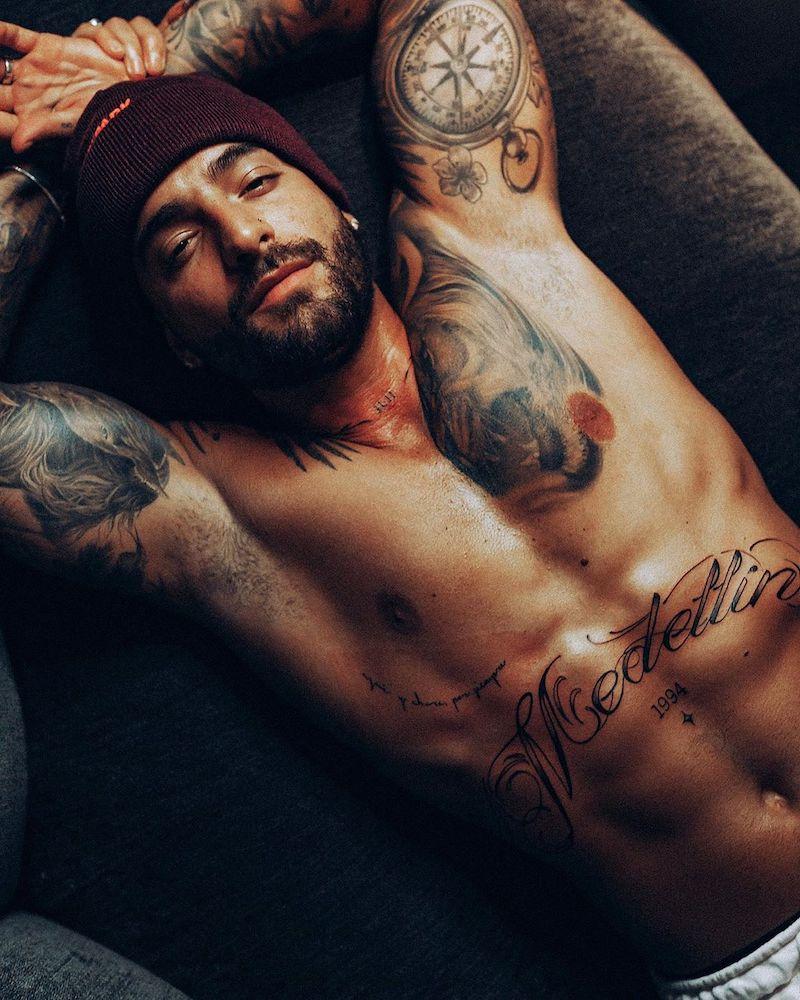 Need more proof Maluma loves Colombia? He tattooed the name of his hometown, Medellín, on his chest.
"Jamás me olvido de donde vengo, MEDELLÍN, ciudad de soñadores," he wrote on Instagram, which translates to, "I'll never forget where I come from, MEDELLÍN, city of dreamers."
His birth year, 1994, and a small star are tattooed directly below it.
Article continues below advertisement
Left Arm Sleeve Tattoo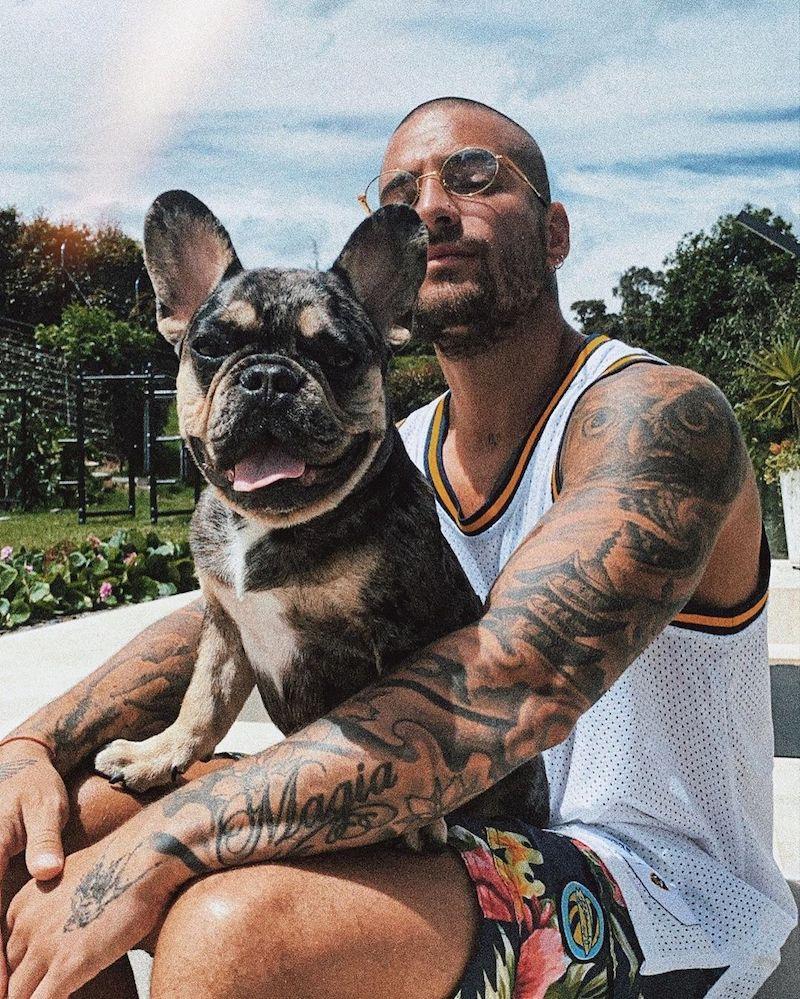 Maluma's left sleeve came courtesy of Bogota-based tattoo artist Cesar Leonardo Gomez. The first tattoo he got on that arm was the word "Magia," which translates to "Magic" in English, and is also the name of his very first album.
Article continues below advertisement
There is an owl for wisdom, which Maluma calls one of his most important pieces. "This tattoo is super spiritual too because it's kind of protection," he explained. "I feel like this tattoo helped me a lot."
His left arm also features a Japanese sanctuary, surrounded by lotus flowers and wind, to remind Maluma of home.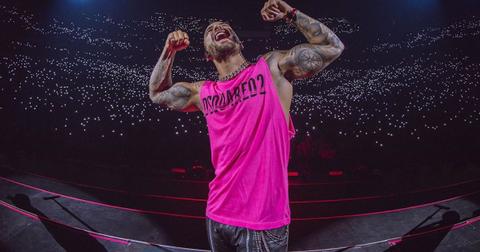 Maluma's first "big" tattoo is the Buddha image on his left inner forearm, and even though he is technically Catholic, he got the image because he "loves taking the best things of every religion."
On the right arm, you can see Maluma's compass tattoo, which represents being oriented in your life.
Article continues below advertisement
Right Arm (Partial) Sleeve Tattoo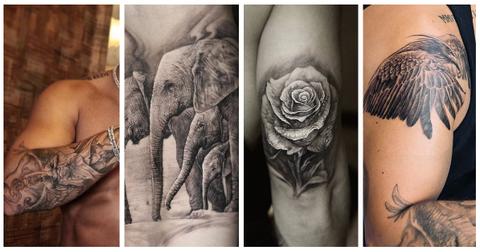 Then, when he met Stefano Alcantara in Miami, they collaborated on his right arm. As of now, the arm features four elephants, another reference to his family, a guardian angel, a rose, which represents respect for women, and an eagle.
Article continues below advertisement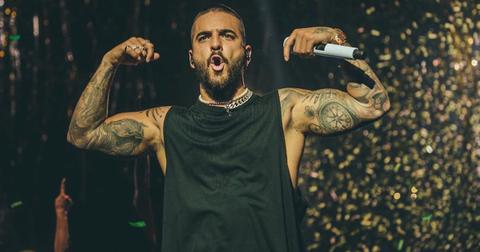 Stefano is also responsible for the large portrait of Maluma's first horse Hercules on his right bicep.
On the left, you can see Maluma's tattoo of a compass, a reference to being oriented.
Article continues below advertisement
Right Hand Tattoos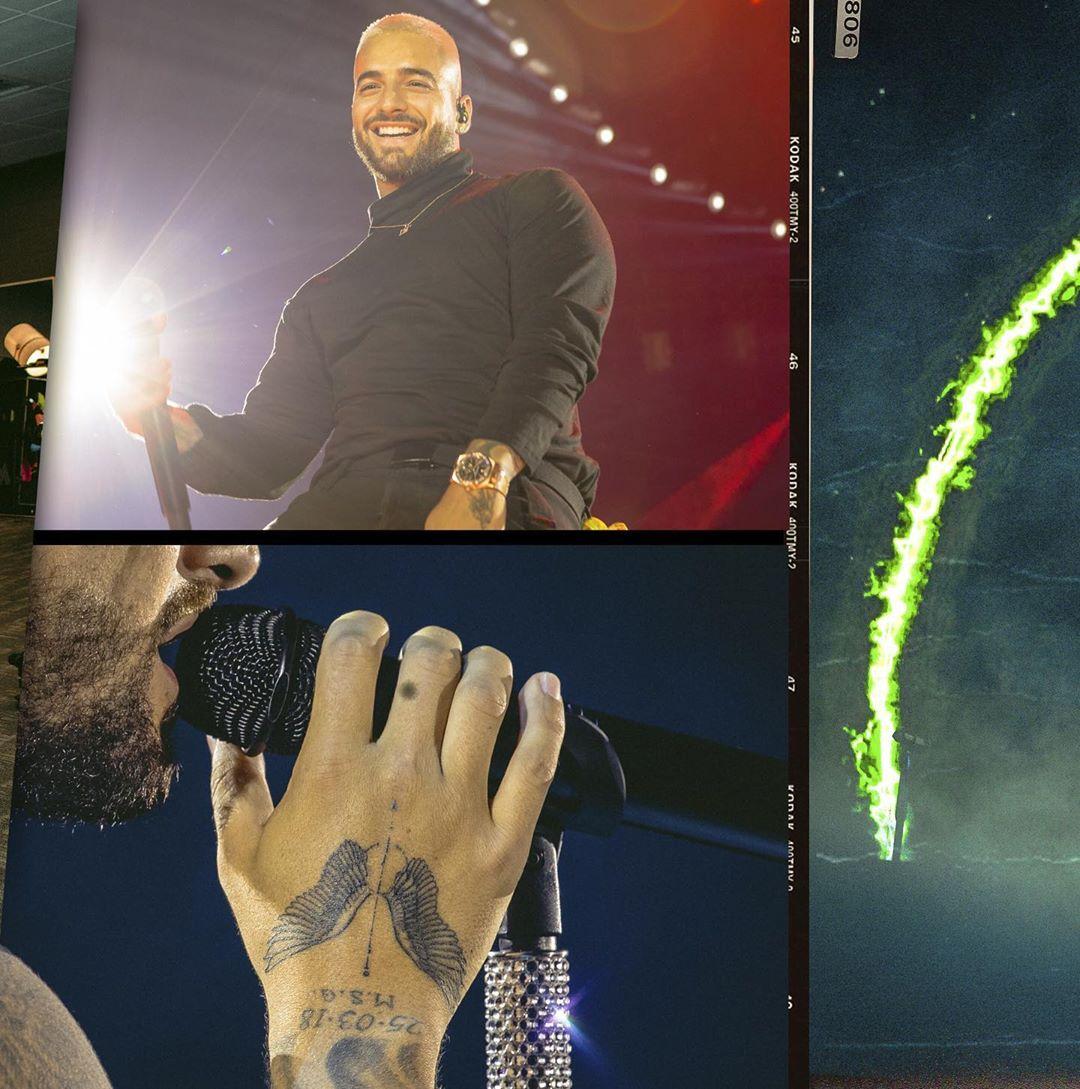 Maluma honored his March 25, 2018 performance at Madison Square Garden with the date and the initials of the venue on his right hand, right above his tattoo of angel wings.
Article continues below advertisement
Left Hand Tattoo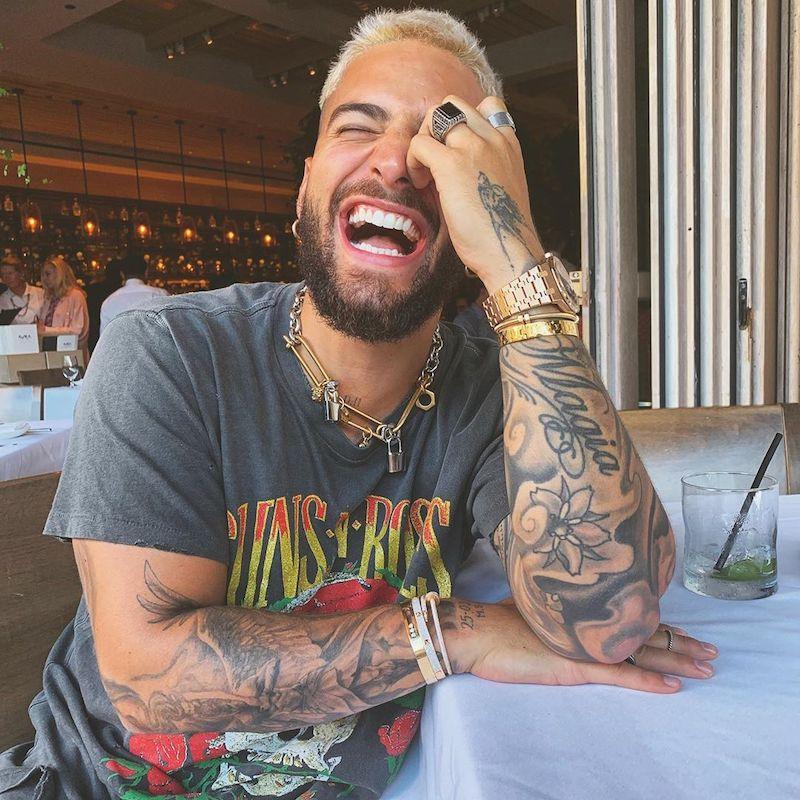 The tattoo on his left hand is simply that of a flying bird.
Article continues below advertisement
Roman Numerals Tattoo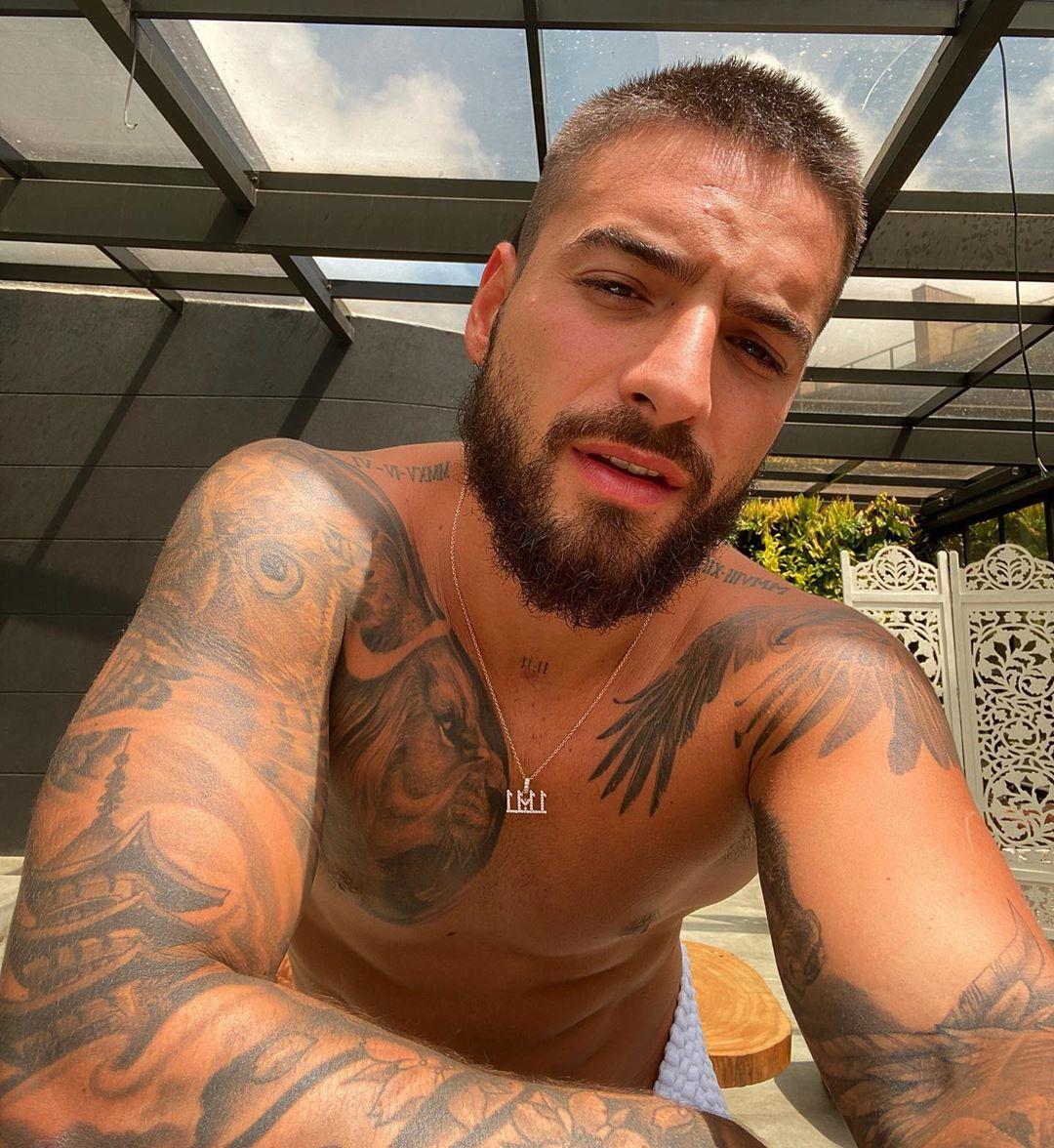 There are two sets of roman numerals on Maluma's shoulders. On the right side he got the date December 16, 2018, inked and on the left is the date for June 4, 2015. While we don't know what happened on those dates, Maluma revealed on Instagram, "Dates that change your life."
There are also the numbers 11:11 on his neck, which is the name of his fourth studio album. The number 11 is also said to bring luck.
Article continues below advertisement
Infinity Tattoo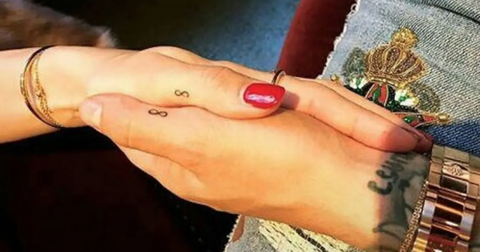 Article continues below advertisement
"Pies en la tierra" feet tattoo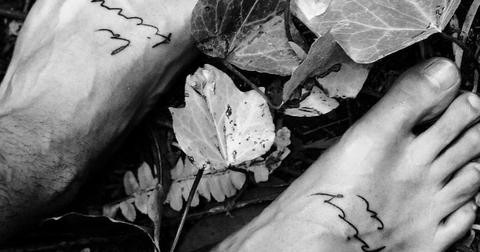 The tattoos on his feet read, "Feet on the ground," which is pretty self-explanatory.
Which of Maluma's tattoos is your favorite?