What Are Martha MacCallum's Politics? What to Know About the Co-Moderator of the First GOP Debate of 2023
What are Martha MacCallum's politics? The Fox News anchor was announced as co-moderator of the first Republican debate of 2023. Here's what we know.
With all eyes on the first 2024 Republican presidential primary debate — held on Aug. 23, 2023 — we take a look at one of the people responsible for keeping things relatively civil: Fox News anchor Martha MacCallum, the co-moderator of the debate alongside Bret Baier.
Article continues below advertisement
Martha, a two-time recipient of the Gracie Award for Women in Journalism, has been with Fox News since 2004, which might tell us a bit about her political leanings — but surprises certainly can happen. What are Martha MacCallum's politics? Let's get into it.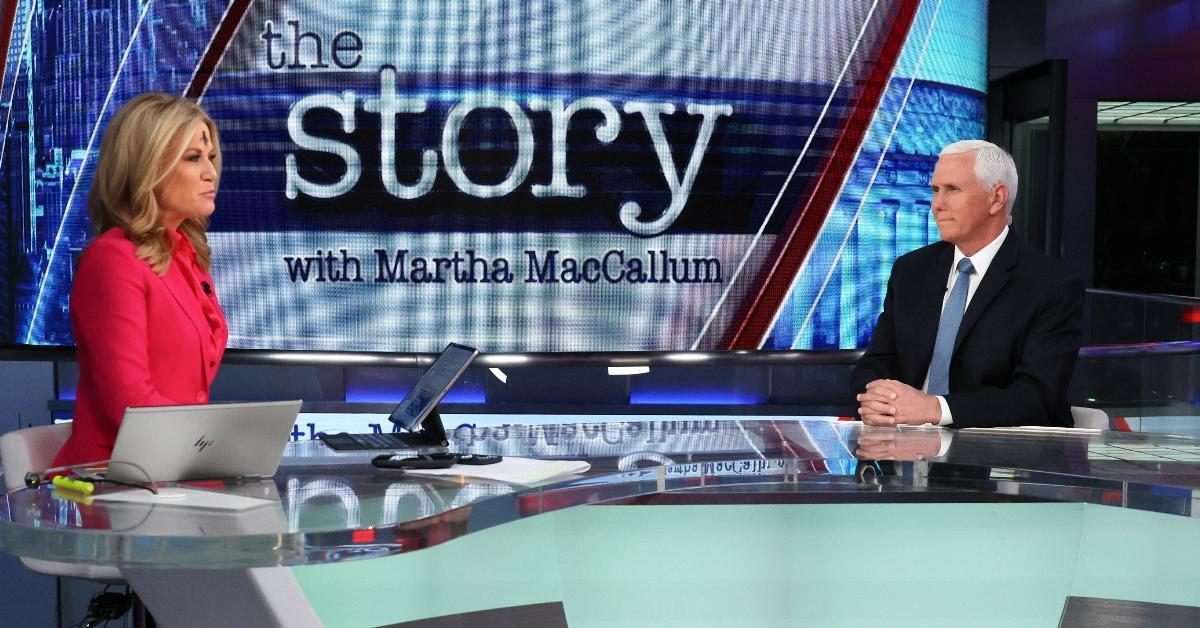 Article continues below advertisement
What are Martha MacCallum's politics? She is a Fox News anchor.
By all accounts, Martha MacCallum cares deeply about journalism and remaining unbiased, which in theory is a necessity in that job. In a conversation with Ellen Sherberg for Bizwomen in August 2023, Martha said, "If you were to look at my résumé, you'd see the journey that led me to become a news anchor at Fox was certainly not typical." Despite graduating from St. Lawrence University with a degree in political science, Martha dabbled in acting for a couple of years.
She acted, performed, and directed the classics but was "offered a position as a freelance researcher for Corporate Finance Magazine and decided that I would pursue my parallel interest in writing and journalism," she said. When the magazine was sold, Martha ended up at an Australian publication but left when one of the executives offered to share with her his favorite "dumb blonde jokes."
Article continues below advertisement
Soon she got a position as a production assistant at Wall Street Journal Television, which she says led to other producing and reporting jobs. The Wall Street Journal is often considered by many as a centrist publication, though her next company was definitely liberal-leaning. She was a co-anchor of CNBC's Morning Call and was the anchor of the same network's evening news show Checkpoint before leaving in 2003, per Variety.
Article continues below advertisement
In November 2018, ahead of co-anchoring Fox News's live election-night coverage, Martha openly admitted to The Philadelphia Inquirer that obviously "Fox News overall and in our opinion sections leans right, there's no doubt about that. Just like CNN and MSNBC lean left," but she then added, "I think we have terrific reporters across the board. And I think we have really strong panels and we have really strong political coverage. There are a lot of different voices here."
Martha has certainly done some things her fellow Fox News anchors might not. For example, while interviewing then–Supreme Court nominee Brett Kavanaugh after his sexual assault allegations came to light, she asked him hard-hitting questions that did not suggest this was a puff piece. Although she's Catholic, Martha "devotes significant airtime to stories involving the #MeToo movement and abuses in the Catholic Church," wrote The Philadelphia Inquirer.
Article continues below advertisement
Martha MacCallum prepared well for the GOP primary debate.
Ahead of the debate, Martha discussed some of her strategies. "One of the things that you really want to accomplish here is to give people a chance to share with the audience what they would do to make the country better," she told Fox News. She went on to say the next move is to "get at what they say from a political angle," as they all fight to end up on top against Trump.
Her goal is to help viewers get to know these candidates and, in particular, open their eyes to "one or two of them that they want to hear more from." Martha also touched on how important it is to really listen to the answers given by the candidates. Part of her job is to make sure the "viewers and the voters, who are the most important part of the evening, are actually getting an answer to the question."