Metul Shah and Naomie Olindo Split up, and Some Fans Think He Cheated on Her
After three years together, Metul Shah and 'Southern Charm' star Naomie Olindo have called it quits. Some fans are wondering if Metul cheated.
After three years of dating, Southern Charm star Naomie Olindo recently confirmed that she had split from Metul Shah. The news comes just weeks after they announced that they were moving to New York City, and Naomie is saying that a "betrayal" was involved in the breakup. As a result, many fans are wondering whether Metul cheated on his long-time girlfriend.
Article continues below advertisement
Was Metul Shah cheating on Naomie Olindo?
In text shared via her Instagram Story, Naomie offered more of her thoughts on the breakup. "Nothing will be worse than losing my dad but this is a close second," Olindo wrote. "Betrayal is never easy for anyone and I'm just so sorry to anyone else that has stumbled across those terrible messages. I'm absolutely positive I will regret posting this tomorrow but so many of you have reached out saying you're feeling a similar pain. I'm so so sorry."
Article continues below advertisement
What messages did Metul Shah send?
Naturally, many fans were curious about exactly what messages Naomie was referring to. Some clever fans were able to put together the pieces though, and believed that she was referring to messages that were also referred to in a recent post by celebrity gossip account Deux Moi. Deux Moi had claimed that Metul had been cheating on her for more than a year with his ex, and that the two were talking regularly.
Although the logic of these conclusions is fairly sound, all of this is mere speculation. Naomie has not confirmed that Metul cheated, and Metul hasn't said anything publicly about the breakup at all yet.
Naomie clearly feels betrayed, though, and she was more than willing to make that particular detail known, even if she didn't offer a full explanation of her reasoning.
Article continues below advertisement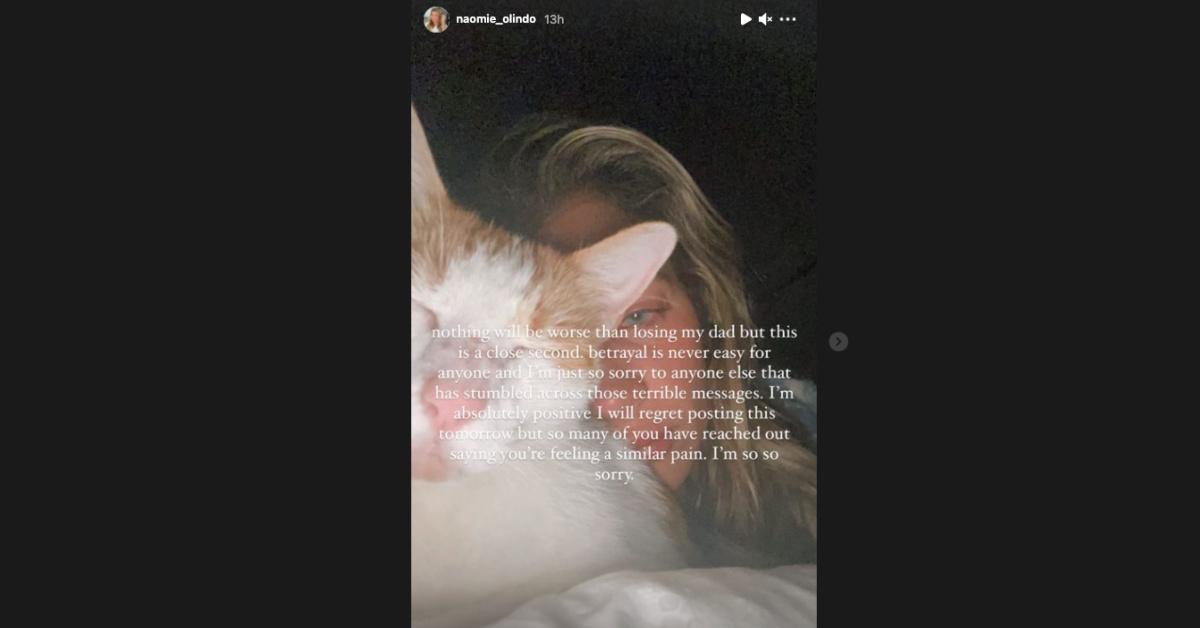 Fans are taking Naomie's side in the split.
Although fans may not be totally clear on the details of what happened in the breakup, most have decided that Naomie's side is the right one to be on.
"Surprised. They were doing so much traveling and she moved to NYC," one fan wrote.
"It always seemed like she was more into him than he was into her," another added.
"Metul I was rooting for you. We were all rooting for you. How dare you," another added.
Article continues below advertisement
Metul is only well-known as a result of Naomie's role on Southern Charm. Naomie was a guest star on three seasons, and then officially joined the cast for the show's sixth season. She would ultimately quit the show at the end of that season after drama with co-star Kathryn Dennis. Metul appeared on the show only sporadically, and only as the boyfriend of Naomie.
Now that neither one of them is on Southern Charm, it's very possible that Metul will fade from the public eye. He was definitely the less well-known half of the relationship, and if the cheating allegations around him turn out to be true, it could be a problem for him. Of course, it's also possible that he doesn't want to live in the spotlight.