Minnie Mouse Officially Enters Her Girlboss Era With a Brand-New Pantsuit
Disney recently unveiled a pantsuit outfit for Minnie Mouse, and the situation has already entered meme culture. So, here are our favorite memes.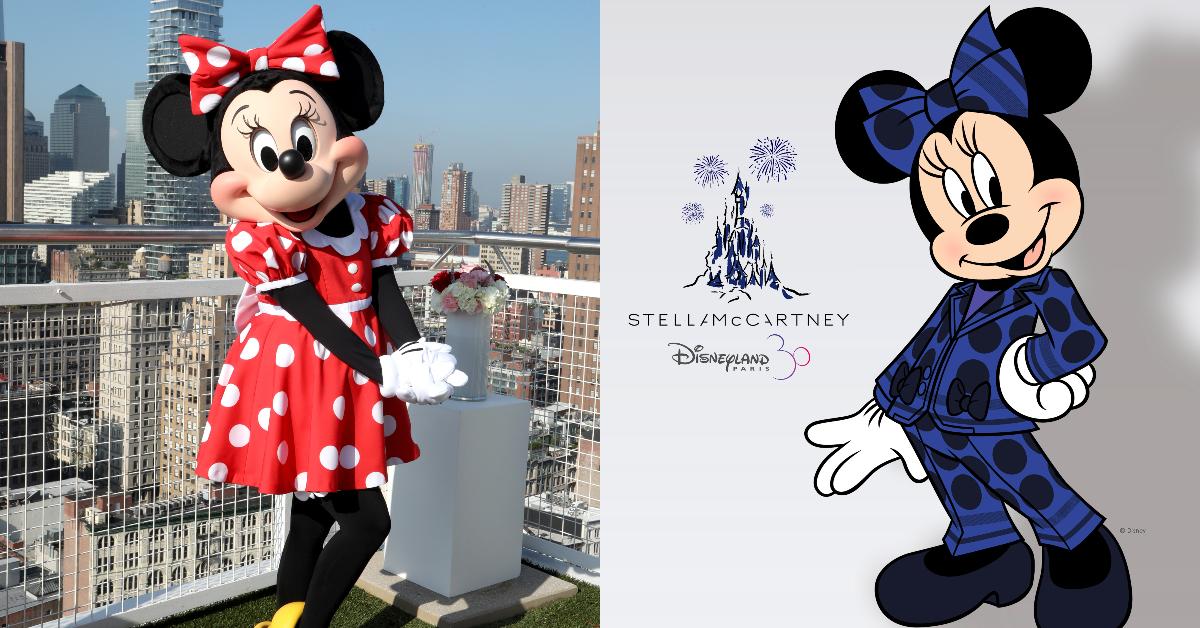 One of the most iconic faces of Disney, Minnie Mouse, is stepping out in a Stella McCartney power pantsuit. So, say farewell to her trademark polka-dot dress (for now) and give a warm welcome to the blue tuxedo getup. The outfit will make its official debut during Women's History Month in March 2022.
Article continues below advertisement
Of the collaboration, Stella McCartney spoke with D23 and expressed how thrilled she is to work with Minnie Mouse:
"I have designed a custom outfit for her in celebration of the 30th Anniversary of Disneyland Paris. ... What I love about Minnie is the fact that she embodies happiness, self-expression, authenticity, and that she inspires people of all ages around the world. Plus, she has such great style!"
With that being said, many are delighted to see a more modern take on Disney's sweetheart; however, others are throwing fits and having meltdowns. Of course, this makes for perfect meme potential, and Twitter has come to play with some of the most peculiar memes. Check out our favorites below.
Minnie is stepping out with a fresh look and we're here for it.
Minnie Mouse is ready to step out in her new fresh pantsuit and take over the world. Mickey who? We don't know him; we only know his professional counterpart, who isn't letting anyone get in the way of climbing up the clubhouse order.
Article continues below advertisement
OK, but will Winnie-the-Pooh ever wear a pair of pants?!
OK, but will Winnie-the-Pooh ever get pants? He's been walking around bottomless for the last 90 or so years now — why doesn't he get a slight style touch-up? While we're at it, maybe add a pair of pants for Donald Duck as well.
Article continues below advertisement
First world problems, right?
Any time something as minuscule as a fictional character getting a style update surfaces on the internet, all hell breaks loose. When the green M&M lost her, might we say, iconic high-heeled boots, folks worldwide took to social media to rant about the change.
Now, the same thing is happening with Minnie Mouse and her pantsuit. So, it seems like nothing has changed in 2022, and we're on track to continue our unnecessary meltdowns.
Article continues below advertisement
"Riddle me this, Mickey..."
In response to Minnie's new pantsuit, one Twitter user claimed it would look better in green — the replies to their edit are top-tier meme quality. One person commented that it's "Riddler Minnie." Move over, Paul Dano, because there's a new Riddler in The Batman, and her name is Minnie Mouse.
Another person added that Minnie's fake green pantsuit reminds them of "old Gangster versions of cartoon characters that [were] popular in the early 2000s," and we wholeheartedly agree.
Article continues below advertisement
Ah, hypocrisy at its finest.
Is this real? The irony of Candace Owens openly criticizing and complaining about Minnie Mouse's new pantsuit lies in the fact that she herself is wearing a pantsuit. Honestly, it doesn't get any better than this.
Also, it must be a slow news day if this is the most meaningful story to report on — it's not like we're in the middle of a global pandemic or anything!
Article continues below advertisement
Minnie is really to gaslight, gatekeep, and girlboss her way through 2022.