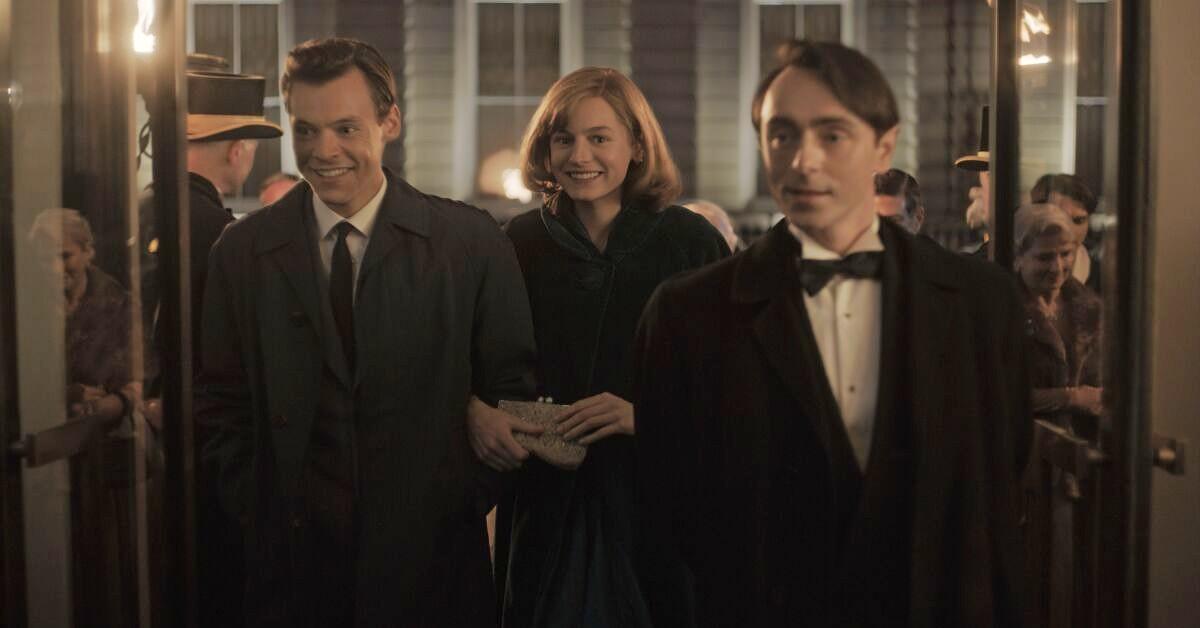 Queer Romance Film 'My Policeman' Is Loosely Based on an Unconventional Love Tale
Prime Video's 'My Policeman' highlights a love triangle between a policeman, a teacher, and a museum curator. Is it based on a true story?
From Sebastián Lelio's Disobedience to Guillermo del Toro's The Shape of Water to Catherine Hardwicke's Twilight, indulging in forbidden love always makes for a memorable love story. In Michael Grandage's 2022 romance film My Policeman, a love triangle between a policeman named Tom (Harry Styles), a schoolteacher named Marion (Emma Corrin), and a museum curator named Patrick (David Dawson) emerges in 1950s England.
Article continues below advertisement
Though Tom Burgess seems happily in love with his wife, Marion, things change when his friendship with Patrick crosses a romantic line. Unable to resist temptation, the two men engage in a passionate affair in spite of homosexuality being unlawful at the time.
Present-day versions of the trio — played by Linus Roache, Gina McKee, and Rupert Everett — are forced to rehash the intense and painful events of 40 years prior.
And while the aforementioned works are not reality-based, My Policeman is loosely tied to a true story.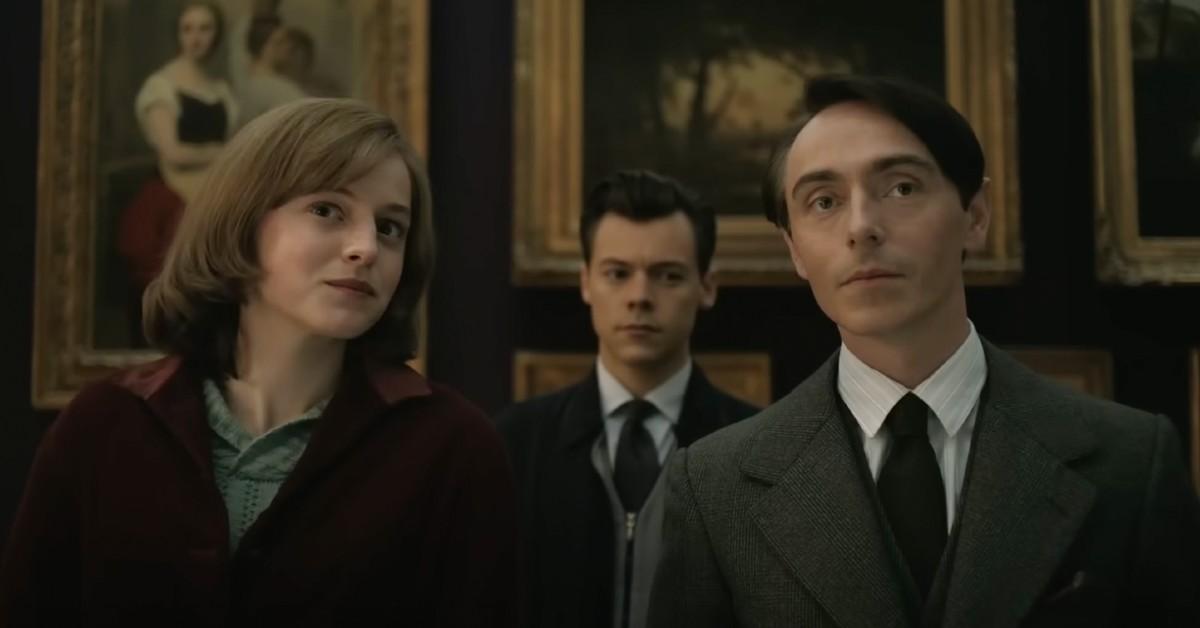 Article continues below advertisement
Is 'My Policeman' a true story? It's inspired by a true 1900s literary romance.
Technically, My Policeman is an adaptation of Bethan Roberts's same-titled 2012 novel, but the book itself is based on truth.
As mentioned by Penguin Books U.K., Bethan Roberts was inspired by the romantic relationship between English author E.M. Forster and married policeman Robert Buckingham.
The 28-year-old policeman met the 51-year-old author at a party thrown by J.R. Ackerley in 1930, as detailed by Bethan's 2012 article for The Guardian. This initial meeting was before Robert Buckingham met his girlfriend-turned-wife, May Hockey, a nurse.
Article continues below advertisement
Though E.M. Forster and Robert Buckingham's passionate relationship ebbed and flowed over the years, things changed when May was diagnosed with tuberculosis in 1935.
Interestingly, when May was sick in the hospital, E.M. made a (somewhat selfish) deal with her: If she sent her son, Robin (E.M.'s godson), to her sister, E.M. would spend time with Robert and check in with her every so often. Through countless letters and gifts, E.M. and May developed a wholesome, unexpected bond. He called her a "very decent sort" and a "friend in her own right."
Article continues below advertisement
After May recovered, the three lovers came to a stable and oddly progressive agreement.
"A functioning triangular arrangement was firmly established, with the two of them sharing their beloved Buckingham; the long weekends were for May, the short ones for Forster. Such an arrangement may only have worked in conditions of complete silence about the true nature of Forster's relationship with Buckingham; but it did, at least, work," Bethan wrote.
Article continues below advertisement
When E.M.'s mother passed in 1945, he unintentionally leaned on May. And when May's son, Robin, died of Hodgkin's disease in 1962, she leaned on E.M. Their resentment for one another slowly dissolved over the years.
Just like in My Policeman, May was often a nursemaid to E.M., as he suffered a series of strokes in the mid-'60s. It was in 1970 that E.M. Forster passed in Robert and May's home.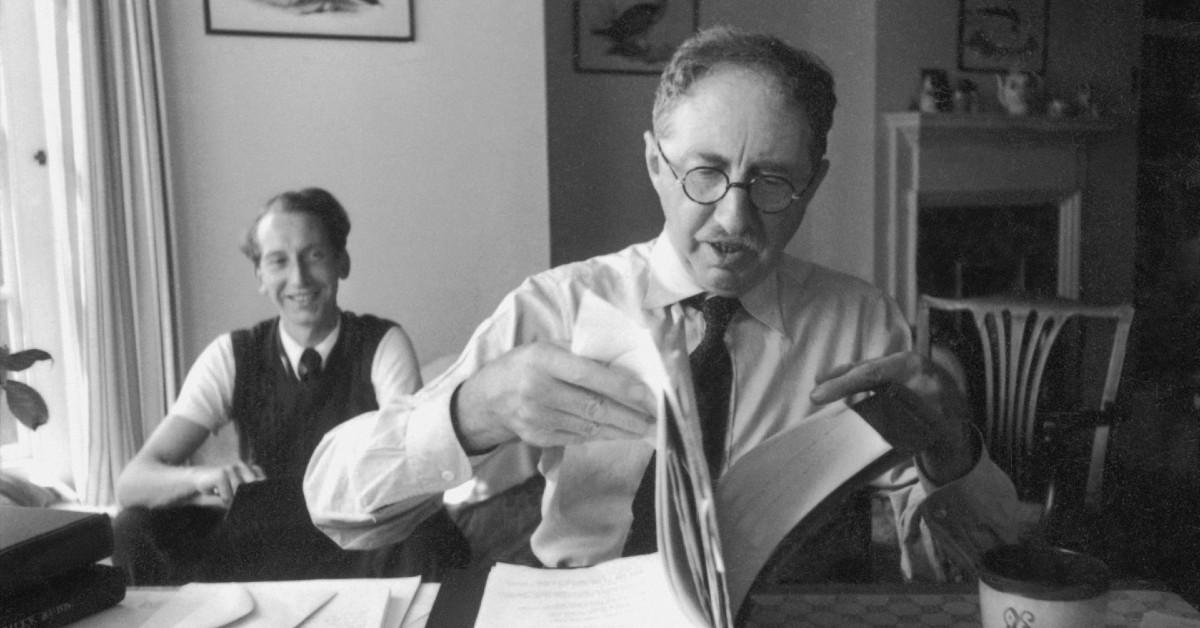 Article continues below advertisement
"I now know that he was in love with Robert and therefore critical and jealous of me and our early years were very stormy, mostly because he had not the faintest idea of the pattern of our lives and was determined that Robert should not be engulfed in domesticity," May wrote after E.M.'s death.
"Over the years he changed us both and he and I came to love one another, able to share the joys and sorrows that came."
The love triangle is neither as civil nor as understanding in My Policeman, but its origin story is a surprisingly sweet one.