Nafeesah Terry Made Her Reality TV Debut Before Season 5 of 'Temptation Island'
Nafeesah Terry is one of the singles on 'Temptation Island' who may be here for more than a good time. Let's get to know her outside of the reality series.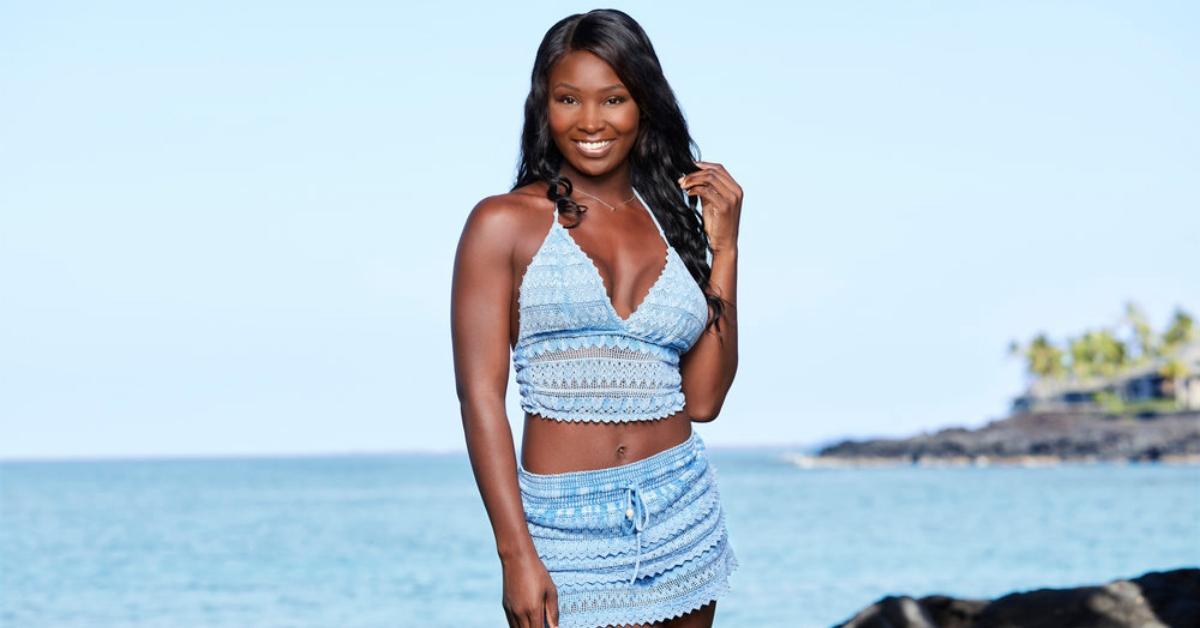 Just because the singles on Temptation Island have the potential to break couples up for good, it doesn't mean they have ill intentions on the USA reality show. Many of them, including Nafeesah Terry from Season 5, go into the experience with the hopes of finding a person ready for commitment who they can connect with.
Article continues below advertisement
And, as viewers see in the first couple of episodes, that's what Nafeesah starts to find with one of the men, Nzuechukwu "Great" Ezihie. But who is Nafeesah on Temptation Island and where is she now, after filming for the fifth season ended? This isn't her first rodeo when it comes to reality television.
Article continues below advertisement
Who is Nafeesah Terry on 'Temptation Island'?
According to her Temptation Island bio, "Nafeesah knows how to get men riled up, make them fall in love and then leave them wanting more." But that isn't necessarily why she's here. She hopes to find someone to help her build a "family legacy" like the one her parents built. And, regardless of whether or not she ends up with someone else's partner in the process, that's the risk everyone runs when they sign up for the show.
Outside of Temptation Island, Nafeesah has a pretty busy life, with a real estate career, another job as a model, and brand partnerships on Instagram. She was already verified with more than 600,000 followers prior to coming on the show, which proves that Nafeesah was already making an impact on people well before the USA series cast her.
Article continues below advertisement
Nafeesah was on another reality show before 'Temptation Island.'
Nafeesah may look familiar to you from another reality show. According to her on Twitter, Nafeesah is a "Wild 'N Out girl" for the long-running VH1 and MTV series. And she's still part of it, so you might have seen her on it before she joined Temptation Island. And Jersey Shore star Vinny Guadagnino follows her on Instagram, so clearly, Nafeesah makes a lasting impression on those she meets in the reality TV space.
Article continues below advertisement
Outside of reality TV, Nafeesah is a mental health advocate and she appears to value her family relationships a lot. Which makes sense, given her desire to find a relationship like her parents' and build a life with someone.
Article continues below advertisement
Nafeesah has her sights set on Great.
Although Nafeesah may have come on Temptation Island for romance more than drama, she gets the first official date with Great, which comes with drama. Not long after he asks her on their date, Great cozies up to another single, Tamie Lawson. This doesn't sit well with Nafeesah, but she seems unlikely to back down from a little competition. Being a real estate agent and model will do that for you.
It's not clear how far Nafeesah and Great get as a couple. However, it looks like Nafeesah is here to get to know Great and get closer to him rather than simply have a good time.
Watch Temptation Island on Wednesdays at 9 p.m. EST on USA.