Here's an Update on the 'Temptation Island' Season 4 Couples — Is Anyone Still Together?
Despite the fresh-faced contestants in the latest installment of the reality series, fans haven't forgotten about Season 4's drama-fueled cast.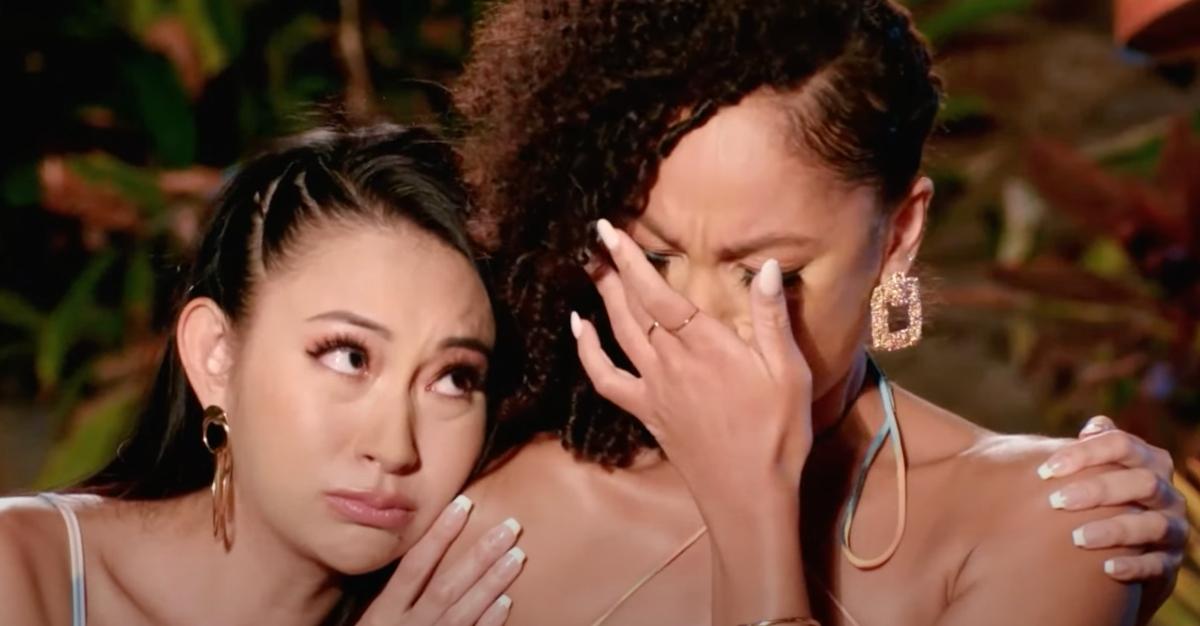 Now that The Ultimatum: Queer Love is over, it's time for another messy reality romance experiment to grace our screens.
With Season 5 of Temptation Island debuting on June 14, four new couples on the brink of breaking up will do everything to resist the temptation of smokin' hot singles around every corner.
Article continues below advertisement
But despite the fresh-faced contestants in the latest installment, fans haven't forgotten about Season 4's drama-fueled cast. Here's what the Temptation Island Season 4 couples are up to now.
Gillian Lieberman and Edgar de Santiago
During the fourth season of Temptation Island, it became almost immediately apparent that Gillian and Edgar had outgrown each other.
Despite dating in college, the reality stars quickly discovered they wanted more out of life and love after graduating. During the series, Gillian and Edgar explored different options and ultimately went their separate ways.
Article continues below advertisement
Since then, Gillian has built quite a name for herself as a luxury realtor in South Florida, while Edgar has dedicated his time to acting, writing, and creating. He has even dipped his toe into fashion by spearheading clothing brands such as Personal Growth.
Article continues below advertisement
Ashe Lamiroult and Hania Stocker
Ashe and Hania's Temptation Island story was quite a rollercoaster.
From Hania wanting an open relationship with his partner to ultimately proposing when Ashe had already moved on with someone new during the series, it's unsurprising that their relationship didn't withstand the test of time.
Article continues below advertisement
However, Ashe couldn't be doing better in 2023. The queer creator dedicates their time to perfecting their craft as a burlesque dancer — documented on @helfreh — and creates modeling content on Instagram.
As for Hania, he's kept a low profile on his social media — maybe he's focusing on expanding his Northern New Mexico Gardens company?
Iris Jardiel and Luke Wechselberger
Unlike co-stars Gillian & Edgar and Ashe & Hania, Temptation Island Season 4 ended swimmingly for Iris and Luke. After becoming engaged in the series, the duo appeared happier than ever.
So much so that they posted their engagement photos on Instagram following the show. However, Iris and Luke's relationship took a turn for the worst when they briefly broke up in 2022.
Article continues below advertisement
Fortunately, the couple managed to overcome their differences and are now enjoying life together as they travel the world.
While Luke and Iris rarely feature one another on their respective Instagram feeds, they recently spent Luke's 30th birthday in Thailand, with Iris documenting a romantic dinner shared by her and her beau on the beach.
Article continues below advertisement
Ashley Rodriguez and Lascelles Lagares
If there is one word to describe Ashley and Lascelles's Temptation Island experience, it's messy.
After being together for seven years, Lascelles dropped his partner almost immediately upon meeting Trace Winningham. However, after leaving the show, their connection ended almost as soon as it began.
Fortunately for Ashley, she's met a new person who treats her with the love and respect she's always hoped for. In addition, Ashley's career has reached unprecedented heights as a model, podcast co-host, and juice business owner.
As for Lascelles, he currently works in New York City as a firefighter while bolstering his modeling portfolio.
Season 5 of Temptation Island airs Wednesday, June 14, 2023 at 9 p.m. EST on USA Network.