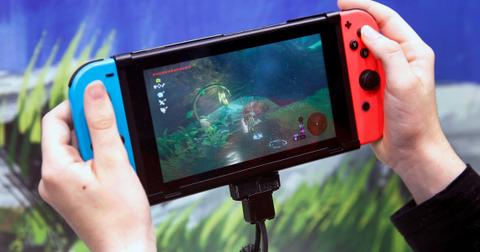 An Upgraded Nintendo Switch Is Expected to Be Released by the End of 2021
By Sara Belcher

Mar. 23 2021, Published 3:15 p.m. ET
In 2020, more people than ever before swarmed to video games as a way to fill the absurd amount of free time they had, and thanks to the mainstream popularity of many games, especially titles like Animal Crossing: New Horizons, the Nintendo Switch found its way into countless homes.
The original Nintendo Switch was released in 2017, featuring the option to play games in a handheld format or by docking it to play on the television.
Article continues below advertisement
The Switch's smaller, more portable companion, the Nintendo Switch Lite, was released in September 2019 to similar success, as many saw it as a cheaper alternative to the regular Switch.
But it looks like Nintendo is gearing up to release yet another console — and potentially very soon. The company will reportedly be releasing a second model of the Switch, tentatively dubbed the Nintendo Switch Pro, in 2021. Here's what we know.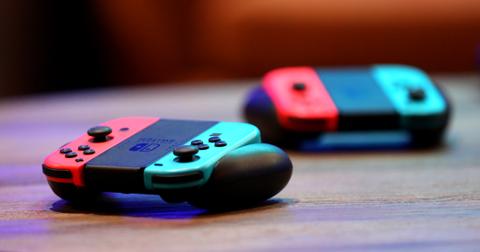 Article continues below advertisement
What do we know about the Nintendo Switch Pro?
After months of rumors and speculation as to what a new Switch model could look like, Bloomberg released a report in March detailing more concrete plans for an upgraded console. The outlet reported that Nintendo has contracted Samsung to produce bigger OLED touch-screen displays, measuring seven inches with 720p resolution.
This confirmation rebuts the rumor that a new Switch model would not be handheld.
In September 2020, Nintendo asked game developers to create more 4k-ready games before the news of this new console had been released. A follow-up report from Bloomberg confirmed that the new Switch will have an upgraded DLSS chip, offering better graphics, better CPU, and increased memory.
While this model has often been referred to as the "Nintendo Switch Pro," no name has been confirmed for the console. Neither Nintendo nor Samsung has commented publicly on the new console.
Article continues below advertisement
Nintendo Switch Pro release date, price, and more.
The rumors often suggested the new Switch model would be released sometime in 2021, and the Bloomberg report further suggests we'll see it hit shelves before the holiday season. The new screens produced by Samsung will reportedly be shipped for assembly by July, suggesting a release timeline of late 2021.
This news comes right on time, though many suspected an official announcement would come on the four-year anniversary of the Nintendo Switch, which was March 3, 2021.
Article continues below advertisement
Previously, Nintendo's president Shuntaro Furukawa was asked about the rumored Nintendo Switch Pro. When questioned when we might see the console announced, he responded: "Not anytime soon," IGN reported.
The Nintendo Switch currently retails for $299, while the Nintendo Switch Lite costs $199. It's likely, given the increased specs and rumored increase to the battery life, a Nintendo Switch Pro will reportedly cost around $399.
You might also see a drop in price for the Nintendo Switch after the release of the Nintendo Switch Pro, so if you've been waiting to get your hands on the console, it might be worth it to hold out just a little bit longer.