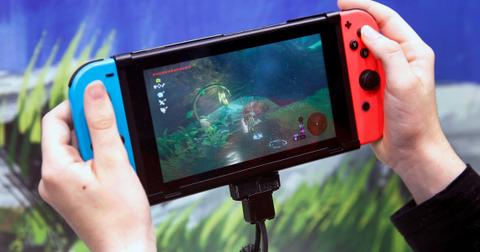 Nintendo Might Be Releasing the Nintendo Switch Pro This Year
By Sara Belcher

Updated
In 2020, more people than ever before swarmed to video games as a way to fill the absurd amount of free time they had, and thanks to the mainstream popularity of many games, especially Animal Crossing: New Horizons, the Nintendo Switch found its way into countless homes this past year.
The original Nintendo Switch was released in 2017, featuring the option to play games in a handheld format or by docking it to play on the television.
Article continues below advertisement
The Switch's smaller, more portable companion, the Nintendo Switch Lite, was released in September 2019 to similar success, as many saw it as a cheaper alternative to the regular Switch.
But it looks like Nintendo is gearing up to release yet another console — and potentially very soon. There are now rumors that the company will be releasing a second model of the Switch, tentatively dubbed the Nintendo Switch Pro, in 2021. Here's what we know.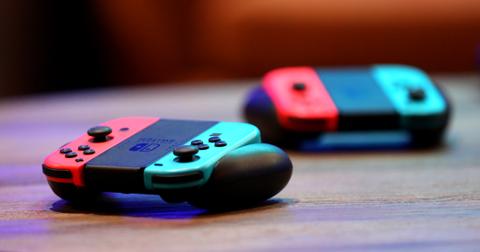 Article continues below advertisement
What do we know about the Nintendo Switch Pro?
Right now, the Nintendo Switch Pro is still in the rumor phases, meaning Nintendo has yet to confirm to consumers that they're working on an updated model. But according to PCMag, a few details have been uncovered about a particular project, codenamed "Aula."
This rumored hardware supposedly would support 4k visuals, though only when docked to a television (with a compatible television, of course). PCMag also reported it'll likely have a better battery life than the original Switch.
In September 2020, Nintendo asked game developers to create more 4k-ready games, so even though the rumors of the Nintendo Switch Pro aren't confirmed yet, there is a significant amount of evidence to suggest they're working on a new console.
Inverse reported that the newer model might also not offer the handheld capabilities of the current Nintendo Switch, meaning you could only play it while docked. Again, these specs have not been confirmed though.
Article continues below advertisement
Nintendo Switch Pro release date, price, and more.
As reported, all of the information about the Nintendo Switch Pro has not been confirmed by Nintendo, meaning there is no confirmed release date for the console at this time. That being said, many of the rumors suggest we could see the Nintendo Switch Pro hit shelves as soon as 2021.
The four-year anniversary of the Nintendo Switch is coming up in March 2021, leading many to believe this is the perfect time for a new console to be announced.
Article continues below advertisement
As many game developers are being asked to optimize their games for 4K compatibility, it's likely the release date will be sooner rather than later.
The Nintendo Switch currently retails for $299, while the Nintendo Switch Lite costs $199. It's likely, given the increased specs and battery life, that a Nintendo Switch Pro could cost around $399.
You might also see a drop in price for the Nintendo Switch after the release of the Nintendo Switch Pro, so if you've been waiting to get your hands on the console, it might be worth it to hold out just a little bit longer.