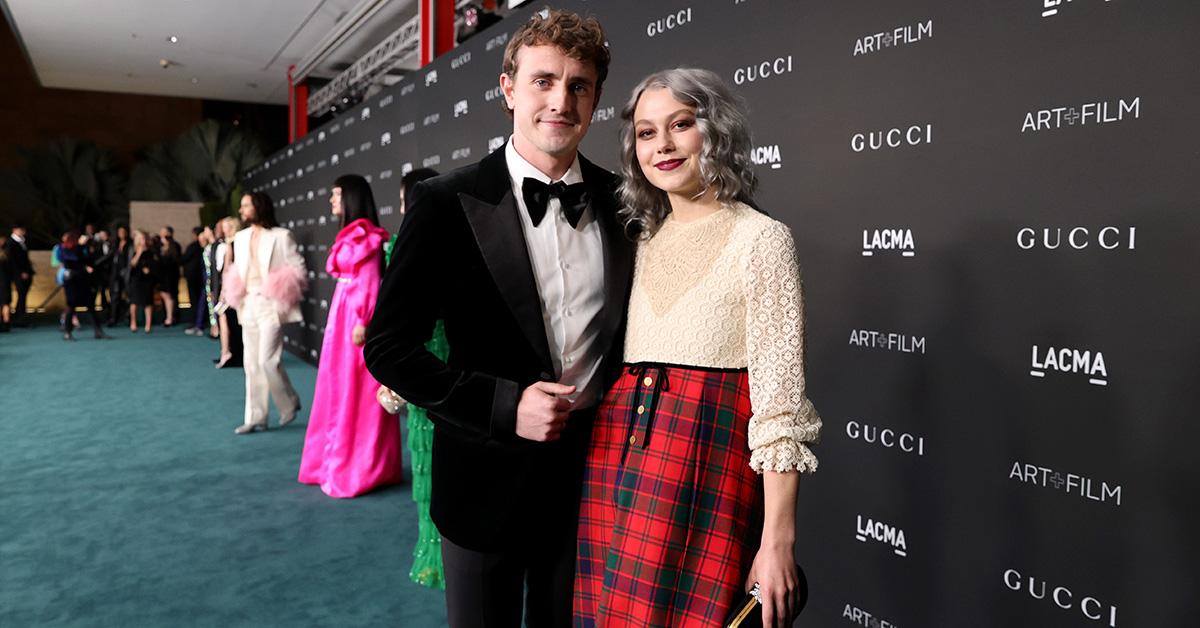 Paul Mescal and Phoebe Bridgers Are the Alt-Rock, Cool-Kid Couple of Your Dreams: Inside Their Relationship Timeline
Paul Mescal and Phoebe Bridgers have been dating for some time now. Many fans want a full timeline of their relationship with one another.
If you think you're too cool to be invested in celebrity relationships, you might find yourself tested by Paul Mescal and Phoebe Bridgers. The Normal People star has been dating the alt-folk singer for more than a year, and they are the definition of a cute indie couple.
Article continues below advertisement
If you want more details on exactly how they got together, check out this full relationship timeline. We have all of the details.
The relationship timeline began in 2020 when Paul and Phoebe linked up on Twitter.
On May 12, 2020, Phoebe tweeted about finishing Normal People. "Finished Normal People and now I'm sad and horny oh wait," she wrote.
"I'm officially dead," Paul replied, which led Phoebe to respond: "Nooo don't die you're so talented aha."
Article continues below advertisement
Paul and Phoebe hosted an Instagram Live together.
Just a few days after their first Twitter exchange, Paul and Phoebe hosted an Instagram Live together for Wonderland magazine. The two chatted about her music and his show, with Paul saying at one point: "I think it's well documented that I love your music." Phoebe then replied, "Well, that makes me blush." It's too cute!
Article continues below advertisement
Rumors started to swirl about Phoebe and Paul.
Shortly after those initial interactions, rumors began to swirl that Paul and Phoebe had started dating. Phoebe called Paul "cute" during a magazine interview, and she even appeared to fly to Ireland to hang out with him in July 2020. There's no photographic evidence from the trip, but a local cafe thanked the two of them for stopping by.
Paul started to tease about a mysterious "girlfriend" in interviews but he didn't provide any additional details on who she was. Shortly thereafter, he appeared in Phoebe's music video for "Savior Complex" in December 2020. It was possible, even then, that the two were simply engaged in a professional collaboration, but all signs began to point toward a more serious relationship.
Article continues below advertisement
Paul and Phoebe made their red-carpet debut in 2021.
In November 2021, Paul and Phoebe made things official when they stepped out on the red carpet for the first time as a couple. A month later, they went Instagram official, and Phoebe has been posting adorable pictures of the two of them ever since. They even showed up to the Met Gala together in May 2022, with Paul sporting a mustache and Phoebe looking radiant as always.
Article continues below advertisement
Are Paul and Phoebe engaged?
Rumors have been swirling for several months that Paul and Phoebe may actually be engaged. More recently, though, reporting seems to suggest that the rumors might be true. A profile of Paul in The Guardian seemed to casually assert that the two were now engaged, but the story has now been updated suggesting that they are "reported to be engaged."
Phoebe and Paul haven't confirmed the rumor themselves, which may be why the language got updated. Phoebe has been spotted on occasion with a rock on her hand, although that could be entirely coincidental. Whether they're engaged or not, it seems like the two are still very happy together, which is all that really matters.