We Finally Know the Final Evolutions of the 'Pokémon Scarlet' and 'Violet' Starters
The upcoming games Pokémon Scarlet and Pokémon Violet will give players yet another chance to become Pokémon Masters. Just as in the previous games, players have the chance to catch Pokémon from all over a new region, collecting data on the pocket monsters and learning all about them. This time, just like with each new game, there will be brand-new starters to choose from as part of the newest generation of Pokémon.
Article continues below advertisement
Fans have fawned over these starters since they were unveiled back in February, but with the game releasing on the Nintendo Switch soon, we have more information than ever — including their final evolutions and which starter is the best of the bunch.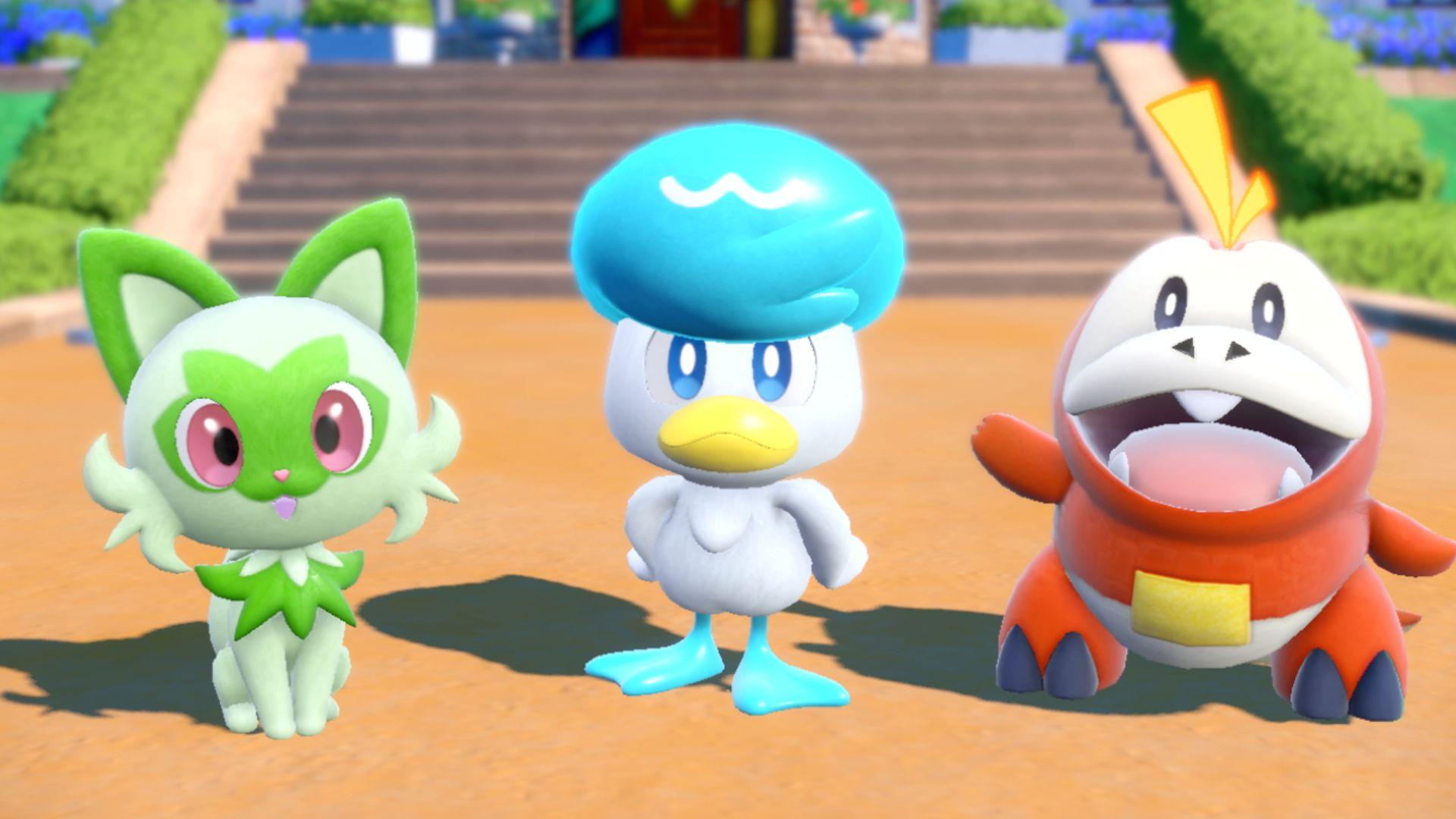 Article continues below advertisement
The 'Scarlet' and 'Violet' starters have had fans talking since their debut.
The starter Pokémon for Scarlet and Violet were some of the first from Gen IX to be unveiled. Just like in all Pokémon games, players will have their selection of the following Fire, Water, and Grass-type Pokémon.
Fuecoco: This fiery crocodile Pokémon kind of looks like an apple. According to Kotaku, this fiery fruit starts off with the ability Blaze and has a laid-back personality.
Quaxly: This water-type duck Pokemon starts out with the ability Torrent — plus, it has hair that looks like a hat. It could definitely pass for Mario and Luigi's third brother.
Sprigatito: This grass-type cat Pokémon that's called an "attention-seeking grass cat" starts off with the ability Overgrow.
Instantly, fans started theorizing what the final evolutions of these adorable starters could be – but thanks to some leaks that have come out on the internet, we finally have an idea.
Article continues below advertisement
The final evolutions of the 'Scarlet' and 'Violet' starters have already been leaked.
Nintendo has been trying immensely hard to crack down on the various in-game leaks that have already started circulating the internet before Scarlet and Violet come out on Nov. 18. But despite the company's best efforts, re-creations of the Pokémon's sprites are all over Twitter.
Known leaker @CentroLEAKS on Twitter has been one of the primary sources of these leaks, consistently reposting the various screenshots of the game before its launch.
Article continues below advertisement
While we don't have clear images of the starters, we do have the various images that have been reposted online.
Fuecoco will first evolve to Crocalor and then Skeledirge, a Fire and Ghost-type. Quaxley will become Quaxwell then Quaquaval, a Water and Fighting-type. Lastly Sprigatito will evolve to Floragato then Meowscarada, a Grass and Dark-type.
The stats for the final evolutions of these Pokémon are as follows, per @CentroLEAKS:
Article continues below advertisement
| Pokémon | HP | ATK | DEF | SPA | SPD | SPE |
| --- | --- | --- | --- | --- | --- | --- |
| Meowscarada | 76 | 110 | 70 | 81 | 70 | 123 |
| Skeledirge | 104 | 75 | 100 | 110 | 75 | 66 |
| Quaquaval | 85 | 120 | 80 | 85 | 75 | 85 |
Which starter is the best in 'Pokémon Scarlet' and 'Violet'?
As you can see from the stats above, Fuecoco's stats make it stand out as a starter with a significantly higher Special Attack, HP, and Defense stat. Though it's the slowest of the three, it seems that it will pack a powerful punch — and it has the added HP to help withstand the blows.
If you're looking to sweep all of the champions in Scarlet and Violet when it releases, you may want to start with Fuecoco, even if you're not a big fan of Fire-types.