"Stuff Isn't Gonna Make You Happy" — Online Shoppers Are Exposing Amazon Prime Day as a Scam
Online shoppers are exposing Amazon Prime Day as a scam by pointing out fake discounts on products all over TikTok. Here's what they found.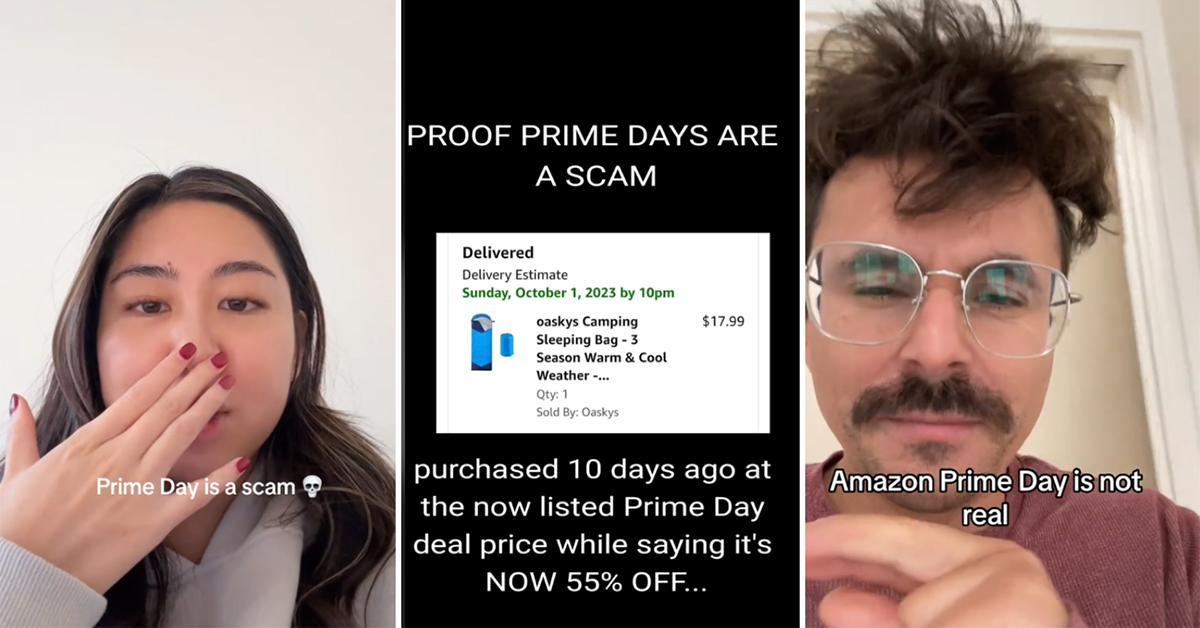 No two people can really agree on when holiday shopping should start. Some people wait until the last minute for the best deals while others shop one or two months in advance to beat the horrible shopping crowds. In my family's home country of the Philippines, they start preparing for Christmas during the summer and don't stop celebrating Christmas until the spring.
But for Amazon shoppers, holiday shopping may start any time Prime Day rolls around.
Article continues below advertisement
Prime Day was first started in 2015, during a time when millennials were firmly set up in their perpetual "treat yo' self" eras. It's a 48-hour period in which Amazon Prime members can check out some amazing deals on popular products.
Or at least, that's what it's supposed to be like. Throughout the October 2023 Prime Day shopping period, shoppers on TikTok have become convinced that the whole thing has become a scam. Here's what people found.
Article continues below advertisement
Online shoppers believe that Prime Day is a scam thanks to their recent findings.
Though Prime Day initially took place every year in July, Amazon added an October date starting in 2020. October Prime Days aren't as consistent, but they've sporadically provided shoppers with extra opportunities to take advantage of new deals. The fact that it's timed just before one of the biggest shopping periods of the year certainly doesn't hurt either.
For all intents and purposes, October Prime Days are just the same as the usual July Prime Days. At least, in theory.
But during the 2023 October Prime Day (which takes place across Oct. 10 and 11), shoppers have noticed some suspicious deals on their usual products. In fact, they're convinced that the whole thing is a scam, which for Amazon, seems pretty on brand.
Article continues below advertisement
"Prime Day is such a damn scam," one TikToker noticed while providing receipts (no pun intended).
Vivian on TikTok (@itsvivye) noticed that the discounted price of her preferred face cream didn't feel like much of a deal. It was supposedly 20 percent off at $25.59, marked down from its "typical price" of $31.99. But Vivian's little investigation blew the whole thing wide open.
Article continues below advertisement
After checking back on her order history, Vivian found the last time she ordered the same exact cream back in July. The price was exactly the same.
To be fair, the timestamps on the purchase suggest that she may have made the July order during that month's Prime Day period, which would explain the same exact price. At best, there's room for reasonable doubt there.
However, other folks have posted similar findings with more egregious results.
Article continues below advertisement
@jokesrjokes23 ordered a sleeping bag for $17.99, and the dates on their order likely indicate that they bought well outside either Prime Day period. However, the Prime Day price on the same exact product was exactly the same, with the site claiming that it's marked down by 55 percent.
Article continues below advertisement
Another TikToker makes the bold claim that Prime Day simply is "not real" and that the supposed deals aren't worth the money.
"The deals are not good and stuff isn't gonna make you happy," @rentandrepent declares. "The truth is, you're not gonna be happy, but at least don't be surrounded by a bunch of s--t you don't need."
Article continues below advertisement
Other TikTokers have posted even wilder theories while providing some evidence. Stefanny Alecon (@stefannyalecon) saw that a sweater she was eyeing on Prime Day was marked down from $52, but before Prime Day, the same sweater was marketed at $35. This would suggest that Amazon is artificially inflating prices and claiming greater discounts than they're actually offering.
Throughout its long history, Amazon is probably one of the closest things we can get to a flat-out evil corporation that you might see in the movies. The only difference now is that even dedicated Prime Day shoppers are wising up to their antics.