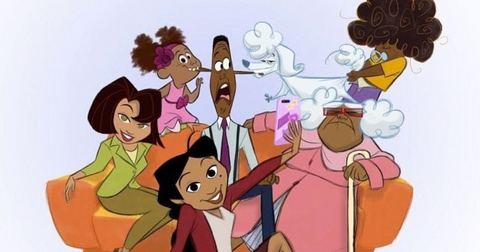 Here's What We Know About the 'Proud Family' Revival, 'Louder and Prouder' Release Date
By Gina Vaynshteyn

Updated
Back in February, Disney announced they'd be bringing back The Proud Family and that it'll be streaming on Disney+. And it's getting a new name: Louder and Prouder. The original cast, including Kyla Pratt who played Penny Proud, Tommy Davidson who played dad Oscar, Paula Jai Parker as mama Trudy Proud, Jo Marie Payton who played Suga Mama and Cedric the Entertainer who was the beloved Uncle Bobby Proud will be back in our lives. Plus, we're getting a new character: Keke Palmer is joining the crew and playing a new character called Maya Leibowitz-Jenkins.
"DREAMS COME TRUE!" actress Keke Palmer tweeted on August 6, reposting Disney Plus's original announcement about the reboot. "There's a new girl coming to town! Prepare to fall in love with 14-year-old activist Maya Leibowitz-Jenkins, voiced by @KekePalmer, from the upcoming Original Series, #TheProudFamily: #LouderAndProuder, coming soon to #DisneyPlus," Disney+ announced.
Disney describes Maya as "extremely mature for her age and will not hesitate to shut anyone down with her blunt honesty and wisdom. The adopted daughter of mixed race parents, Maya is new to town and initially disassociates herself from Penny and her crew because she is skeptical about what she perceived to be the superficiality of social cliques. However, Penny eventually gains her hard-earned respect and the two become good friends." We are *so* ready for the political and social commentary, as this opens up a dialogue to kids (and the adults who watched The Proud Family when they were kids themselves).
Do we have a Proud Family Louder and Prouder release date yet?
Considering all the delays thanks to the pandemic, it's not surprising we don't have much details yet. We're not even sure how far along the rebooted series is yet. For now, we don't have a release date, but according to Entertainment Weekly, the NAACP's Arts, Culture & Entertainment Festival went ahead and hosted a virtual reunion of the original Proud Family cast (it happened today at 3 p.m. EST). So, fret not, Disney+ wants this to happen just as much as we do.
And there's been plenty of Proud Family love on Twitter.
Everyone is especially excited that Keke Palmer will be playing a large role in the series comeback.
Keke Palmer went from getting her daytime show cancelled to getting a role on the Proud Family reboot. And getting to host the MTV VMA's this year. That's a legend for you right there. pic.twitter.com/RnrB3qswhq

— Johnny (@ItsJohnny05) August 6, 2020
Finally some GOOD animation news!

Close Enough has been renewed for a 2nd season.

A logo and new character for The Proud Family Louder and Prouder have been revealed.

The both of these sound exiting and I can't wait to see more! pic.twitter.com/FEAWlT4wWh

— MJHtv (@MJHtv23) August 6, 2020
One Twitter user wrote, "we getting moesha , girlfriends , the game , one on one , half & half , the parkers , sister sister AND the proud family reboot with keke palmer..... it's what we deserve and i love that for us," emphasizing on the fact that we're getting much-needed TV shows that focus on Black families and storylines.
we getting moesha , girlfriends , the game , one on one , half & half , the parkers , sister sister AND the proud family reboot with keke palmer..... it's what we deserve and i love that for us 🥺🤎

— queen of bad decisions 👑 (@majestysdiary) August 6, 2020
The Proud Family (which won and was nominated for numerous awards, like Outstanding Animated Series in the 2004 BET Comedy Awards and nomination for Favorite Cartoon at the Kids' Choice Awards in 2004), and originally aired on Disney Channel from 2001 to 2005, making a huge cultural impact and sparking impactful dialogue about race and family. We can't way for what Louder and Prouder has in store!