'Game of Thrones' Fans Create Petition To Convince HBO To Remake Season 8
It's fair to say that many Game of Thrones fans aren't happy with how Season 8 is going.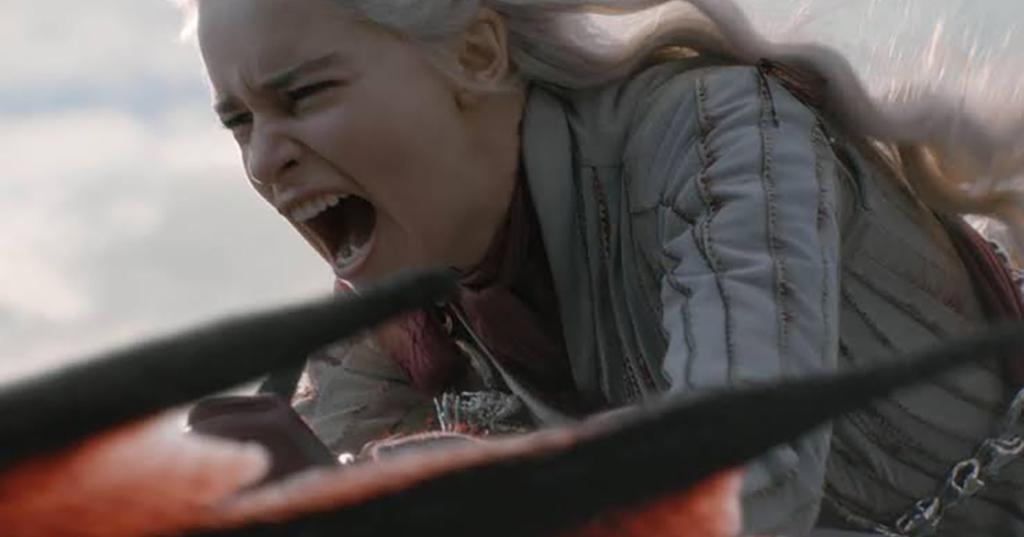 It's fair to say that many Game of Thrones fans aren't happy with how Season 8 is going. The last two episodes have earned pretty poor reviews on Rotten Tomatoes. Episode 4, "The Last of the Starks," received a rating of just 58% on the site. And with Episode 5, "The Bells," scoring even lower at just 47%, Season 8 is already the worst reviewed season of the show even before the finale airs.
Article continues below advertisement
Most of all, many viewers believe the writing in Game of Thrones has grown sloppy, and the handling of major characters has become puzzling and awkward. While we've been receiving hints that Daenerys was going to snap for a few seasons now, Daenery's snap into a mass murderer seemed sudden in a season many consider rushed.
Of course, there was the case of the coffee cup that made it into the final version of Episode 4, which many fans believe show just how rushed production was.
And even in episodes that have been received positively, such as Episode 3, "The Long Night," fans complained that the action was difficult to follow because of the decision to make the episode so dark.
Now, hundreds of thousands of fans are demanding that HBO remake Season 8 with "competent writers."
Article continues below advertisement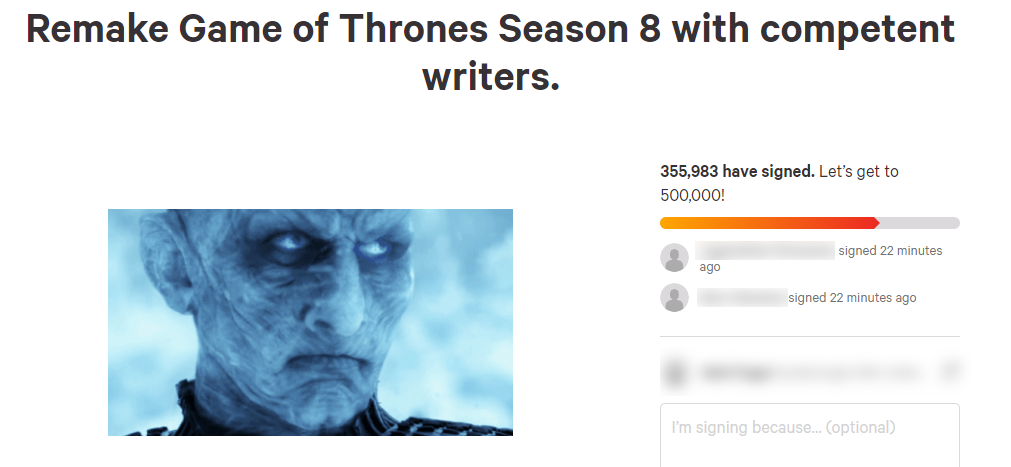 Dylan D, who started a protest on Change.org which has so far amassed over 330,000 signatures, writes:
"David Benioff and D.B. Weiss have proven themselves to be woefully incompetent writers when they have no source material (i.e. the books) to fall back on."
"This series deserves a final season that makes sense."
"Subvert my expectations and make it happen, HBO!"
Article continues below advertisement
The petition has also amassed hundred of comments from fans who are equally disappointed by the season.
One user wrote: "I don't want these two anywhere near Star Wars, either. This was abysmal."
Game of Thrones show-runners David Benioff and DB Weiss are set to direct their own Star Wars trilogy, and Season 8 has led many fans to worry that Star Wars could also suffer.
Another user added: "I understand it's GOT but don't trash 8 yrs of character building for what they think will shock and awe us. It sucks."
One commenter added: "I have spent 8 years as a fan and supporter of this show. Recommended it to all of my friends and family that would consider it. I hate the way D&D have ruined game of thrones."