Why the White Horse in 'Game of Thrones' Plays a Bigger Role Than You Realized
Get all of the details on what the white horse symbolizes in 'Game of Thrones' for Arya Stark and Daenerys Targaryen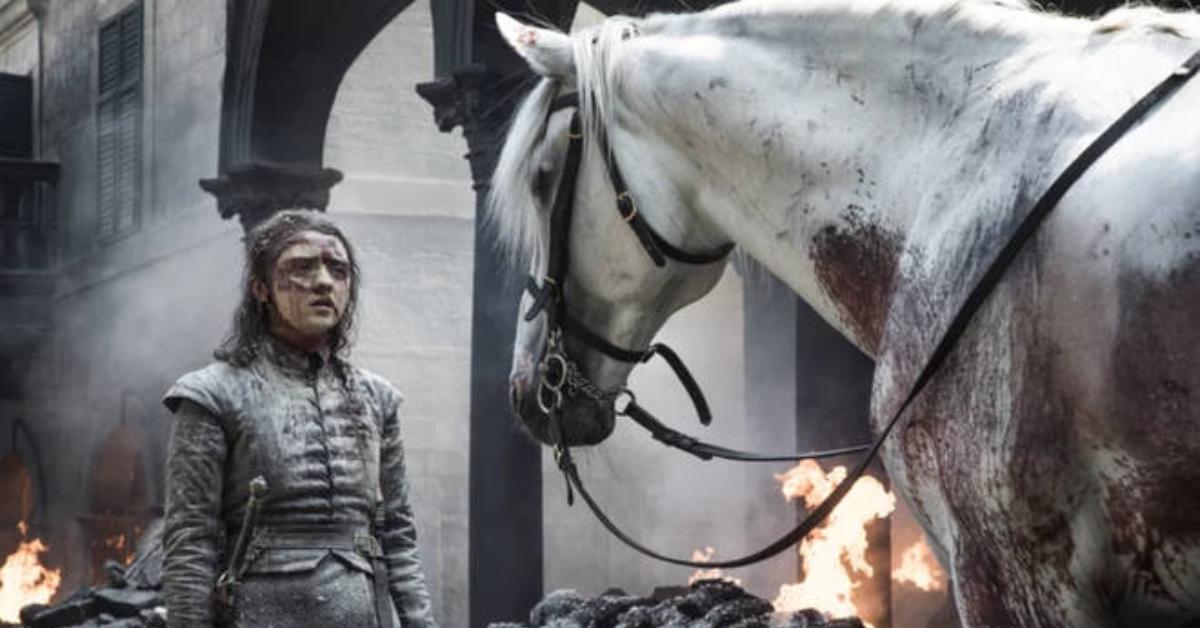 Warning: Major Game of Thrones Season 8, Episode 5 spoilers ahead.
"I will take what is mine with fire and blood." Daenerys Targaryen made sure of that on Episode 5 titled "The Bells," on Game of Thrones. The Dragon Queen stormed King's Landing with her army and laid waste to every civilian who was in her range of fire (pun intended). Yes, the "Mad Queen theory" has come true.
Article continues below advertisement
While many titular characters died in the penultimate episode, one character that survived after almost being buried under the rubble was Arya Stark. She initially entered King's Landing to act out her revenge plan against Queen Cersei (RIP), but rethought her decision after The Hound had a few last parting words. When she tries to escape, audiences watch as one of our favorite characters is running for her life amongst a crowd of burned bodies, slashed throats, and overall death and destruction at the hand's of Daenerys.
Finally, the Game of Thrones character emerges from the rubble and smoke to come across a white horse. With nothing but charred bodies and a ruined city, the young Stark mounts the steed and rides off, leaving her final destination a mystery.
So, what does the white horse symbolize in Game of Thrones? 
Article continues below advertisement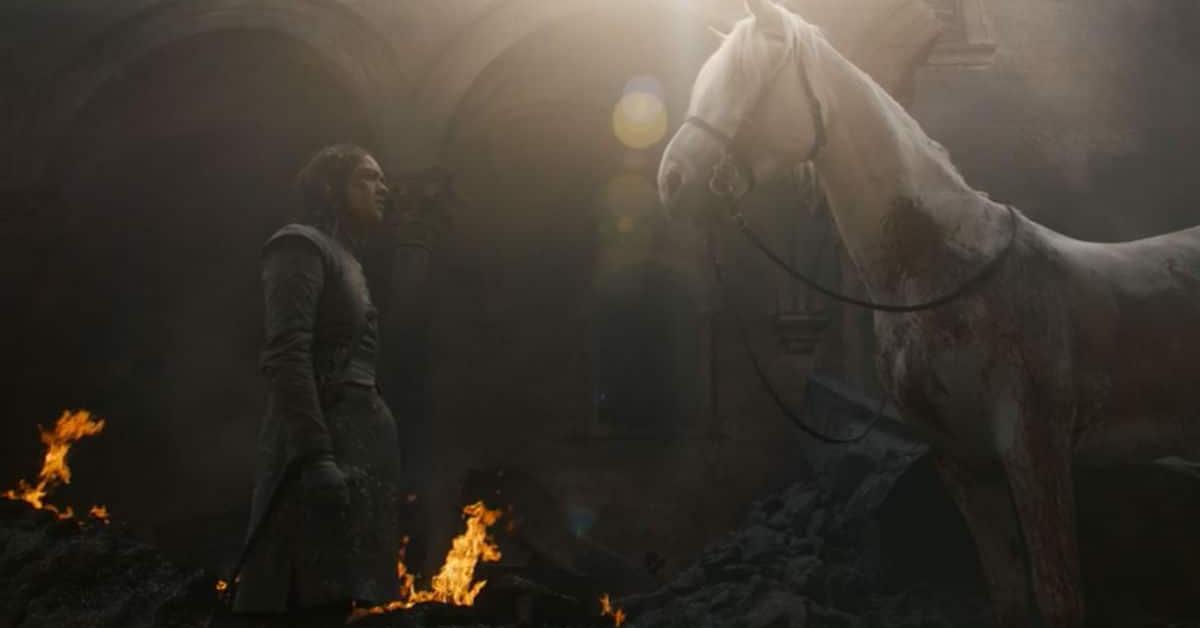 "All she's left with is the sound of burning people and the smell of burning flesh. And she sees a white horse because it's symbolic and beautiful and then she hops on and gallops off and makes it out of the city." actress Maisie Williams said during a behind-the-scenes clip. After watching this scene, some have predicted that the horse is a symbol of hope, even when surrounded by death and despair.
Article continues below advertisement
Fans also have predicted that maybe the horse was not just standing in the middle of King's Landing because Arya had luck on her side. Some viewers think her brother Bran Stark may have seen this outcome, and warged into the horse to help save her life.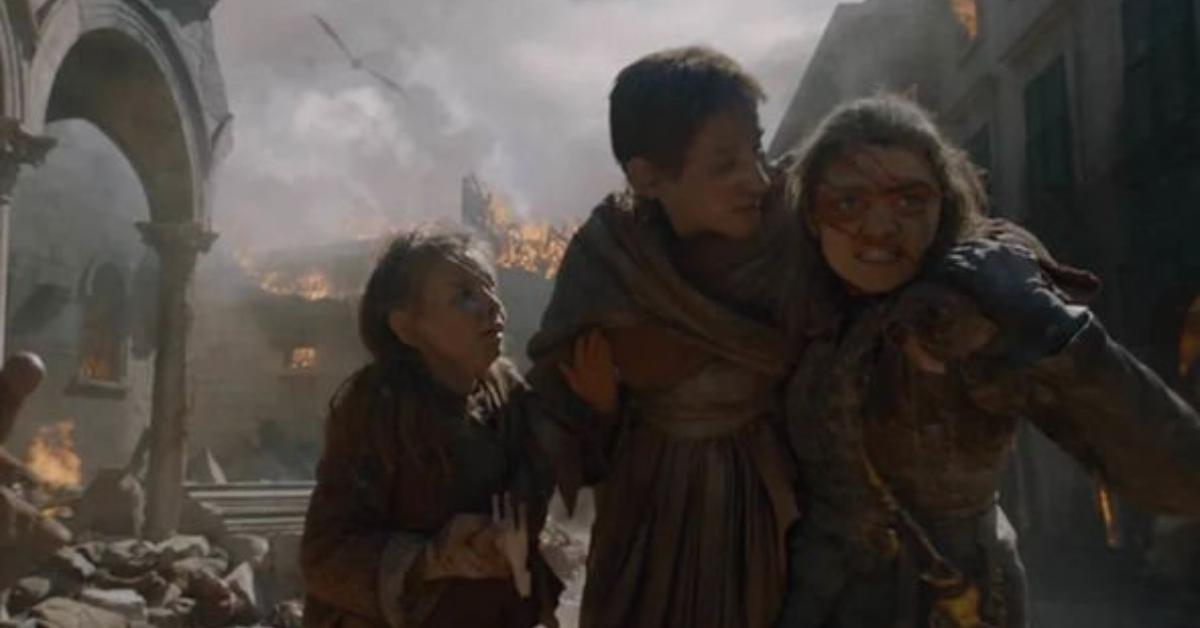 Article continues below advertisement
As we've seen throughout the series, the Three-Eyed Raven has the ability to see the past, present, and future. Bran may have known Dany's own self-destruction, which led to masses of innocent people being on the receiving end of her wrath. The young wolf then may have seen Arya still alive, and warged into the white horse to help her story arc continue.
While we don't know where she rides off to, some have predicted she will shut the eyes of Daenerys forever.
"Death rides a pale horse." 
Another big theory surrounding the concept of the white horse is that it symbolizes the Christian concept of the Four Horsemen of the Apocalypse. In the Biblical reference, Death rides a pale horse. Death has been synonymous with Arya's storyline, so it made sense that she was the one to kill the Night King. This reference has also seemingly symbolized that she will be the one to kill Daenerys.
Article continues below advertisement
In Season 2, Quaithe warns Dany about her fate in Essos, saying, "The glass candles are burning. Soon comes the pale mare, and after her the others. Kraken and dark flame, lion and griffin, the sun's son and the mummer's dragon. Trust none of them. Remember the Undying. Beware the perfumed seneschal."
While this quote makes mention of a few different figures, one that sticks out is the "pale mare," who we now know is a reference to Arya. Overall, look out, because the Dragon Queen just put her name on top of her kill list.
Catch the final episode of Game of Thrones on Sunday, May 19, at 9 p.m. ET on HBO.