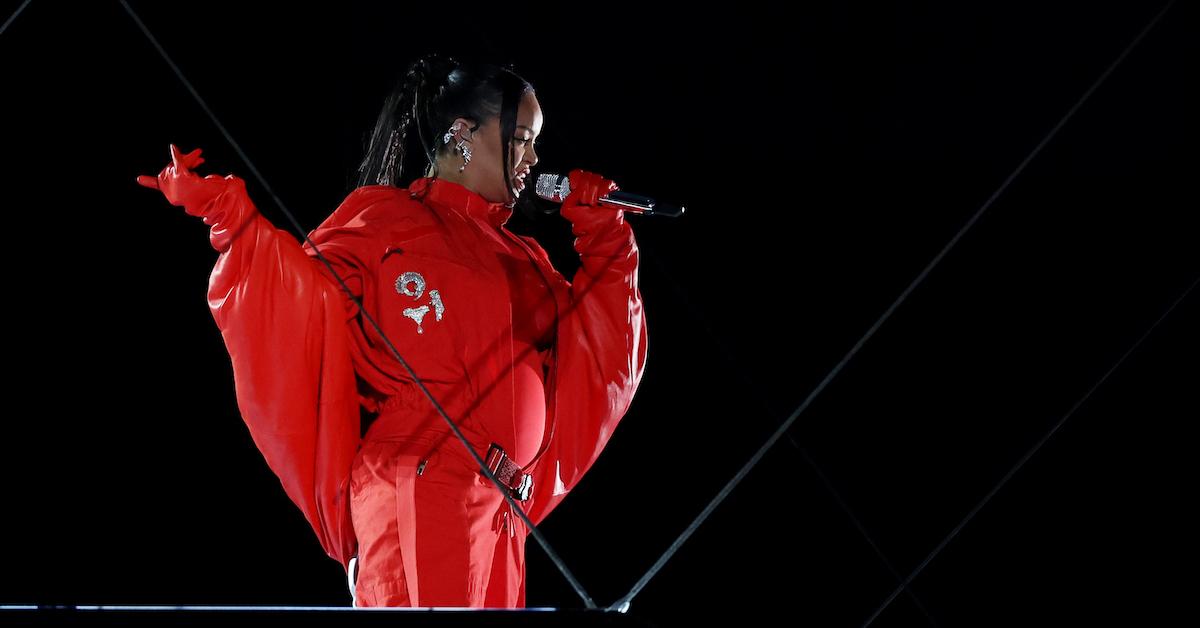 Rihanna's Comeback Came With a Big Announcement — Details About Her Second Pregnancy
What is Rihanna's due date? After her historic Super Bowl performance, we learned that Rihanna is pregnant with her second child.
It really does feel like Rihanna can do no wrong. So many of us found out about her talent through her music. But we may not have realized just how far her talent would reach. Although she hasn't released any new albums in almost seven years now (and she has hinted that R9 has been completed for some time), she has captured audiences through her fashion and various businesses under the Fenty name.
Article continues below advertisement
In January 2022, Rihanna broke the internet when we learned that she was pregnant with her and A$AP Rocky's first child, who was born on May 13, 2022. Now, she's done it again, by announcing her second pregnancy through hints during her 2023 Super Bowl performance. But when is Rihanna's due date?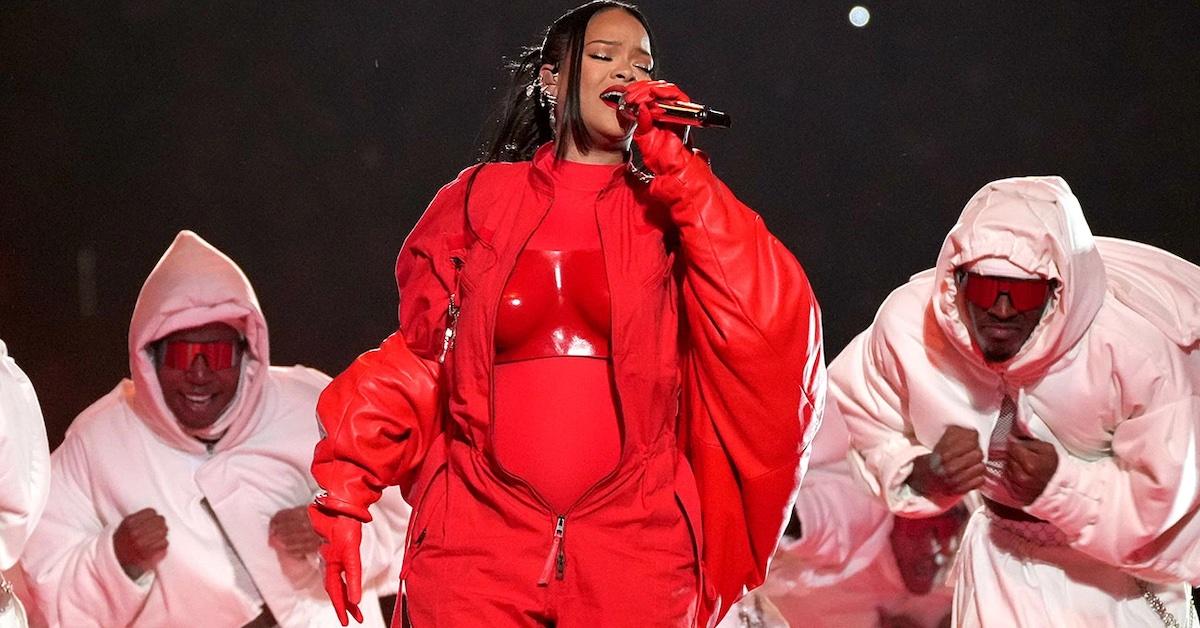 Article continues below advertisement
Rihanna is due to give birth to her second child, as confirmed shortly after the Super Bowl.
Throughout Ri-Ri's iconic Super Bowl performance, she wore a red jumpsuit that highlighted her new baby bump. While some fans speculated that she's just postpartum from her May-born baby boy, others thought that she could be hinting that she's pregnant again. Throughout the performance, she also rubbed her belly, signifying that something could be cooking in the oven.
Article continues below advertisement
Fans were quick to take to Twitter and speculate, and one fan astutely referenced Rihanna's recent interview on the podcast, The Process with Nate Burleson. After Rihanna didn't bring on a special guest, she put the pieces together: "So when #rihanna told @nateburleson there was gonna be a surprise guest at the halftime show, I'm betting that the BABY is the surprise guest." Nate himself responded, "Bingo."
Shortly after Rihanna's performance, one of her reps confirmed the truth behind the pregnancy rumors to The Hollywood Reporter. While some might think it's unbelievable to go up hundreds of feet in the air on a platform while performing at the Super Bowl, all while pregnant, Rihanna told THR ahead of her performance that she wanted her "son to see that."
Article continues below advertisement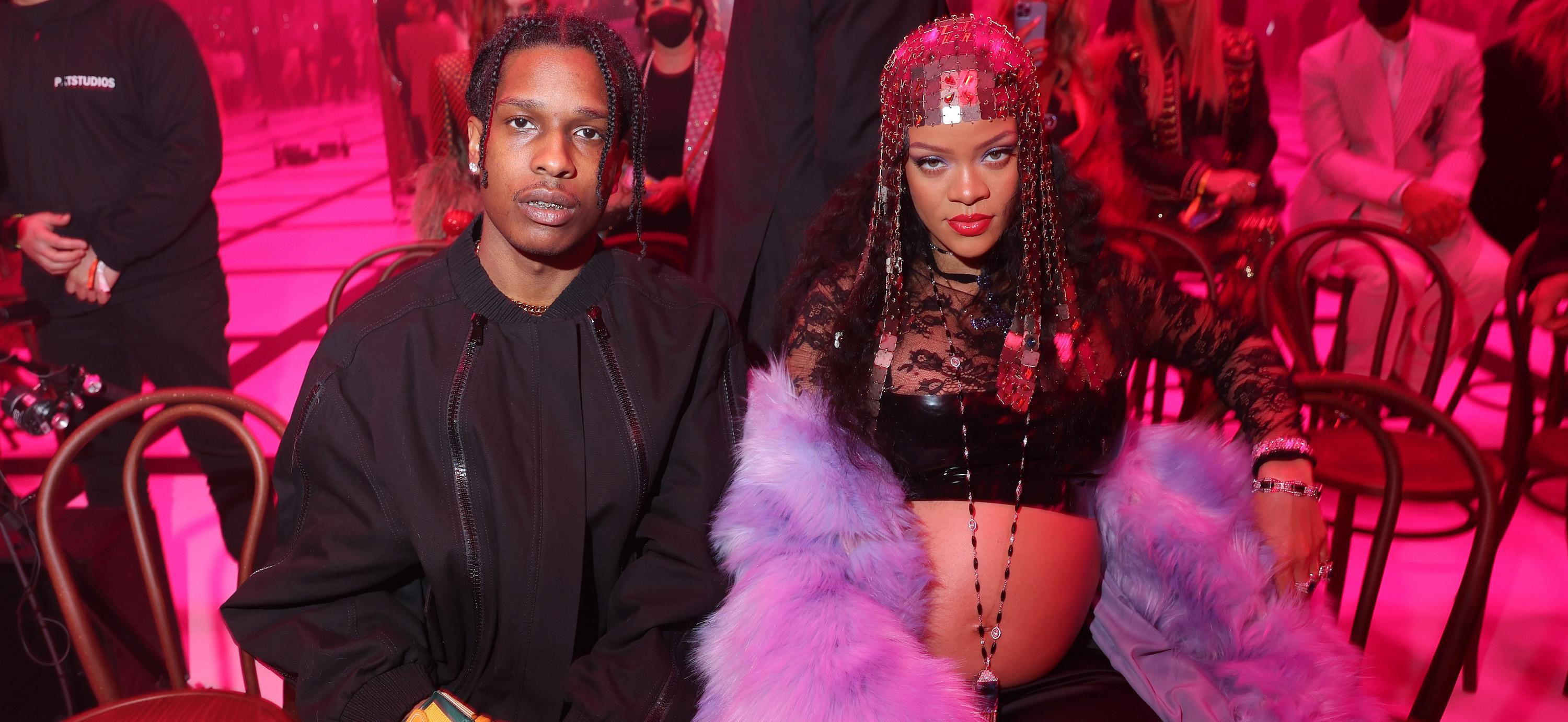 She explained, "When you become a mom, there's something that just happens where you feel like you could take on the world — you can do anything. And the Super Bowl is one of the biggest stages in the world, so as scary as that was... there's something exhilarating about the challenge of it all." It was definitely exhilarating for us too. Now fans are done betting on the Super Bowl, and are instead betting on Ri-Ri's due date.
Article continues below advertisement
When is Rihanna's due date? Fans are taking bets on what her baby's astrological sign will be.
As of now, Rihanna hasn't publicly said anything about her pregnancy, let alone her due date. She hasn't even confirmed how far along she is in her pregnancy or the sex of the baby. But thanks to simple math and knowing that people typically wait until they're at least 12 weeks along to announce, she will be giving birth to her second child some time in 2023. This lack of certainty hasn't stopped fans from guessing the details, though.
Using what we know from Rihanna's first pregnancy, fans are speculating that her second child will be born some time in the summer. A few fans have even guessed that the baby will be a little Leo, while others believe the baby's due date will be closer to their older brother's, some time in May. Others, however, joked that she performed like she'll be giving birth tomorrow. So for now, the due date bets are anyone's game!