Rihanna Announced Her Pregnancy at Super Bowl LVII — and Hilarious Memes Ensued
Rihanna Super Bowl halftime memes: The singer announced she was pregnant at the 2023 Super Bowl LVII on Feb. 12 — and fans reacted online.
For several months, Rihanna's fans, aka "The Navy," have been waiting for her Super Bowl LVII halftime performance. Since Rihanna confirmed the news with a single photo on her Instagram account, the anticipation of what songs she would sing to the fashion icon's wardrobe choice was palpable. On Feb. 12, 2023, RiRi gave us the show we were waiting for — but with a surprising twist.
Article continues below advertisement
After teasing that her performance would include a "special guest," before she hit the stage, the mother of one revealed she's about to become a mother of two! As the singer performed some of her hit songs at the halftime show, including "Umbrella," "Work," and "Wild Thoughts," she shared a pronounced baby bump, confirming she's pregnant again with A$AP Rocky's baby!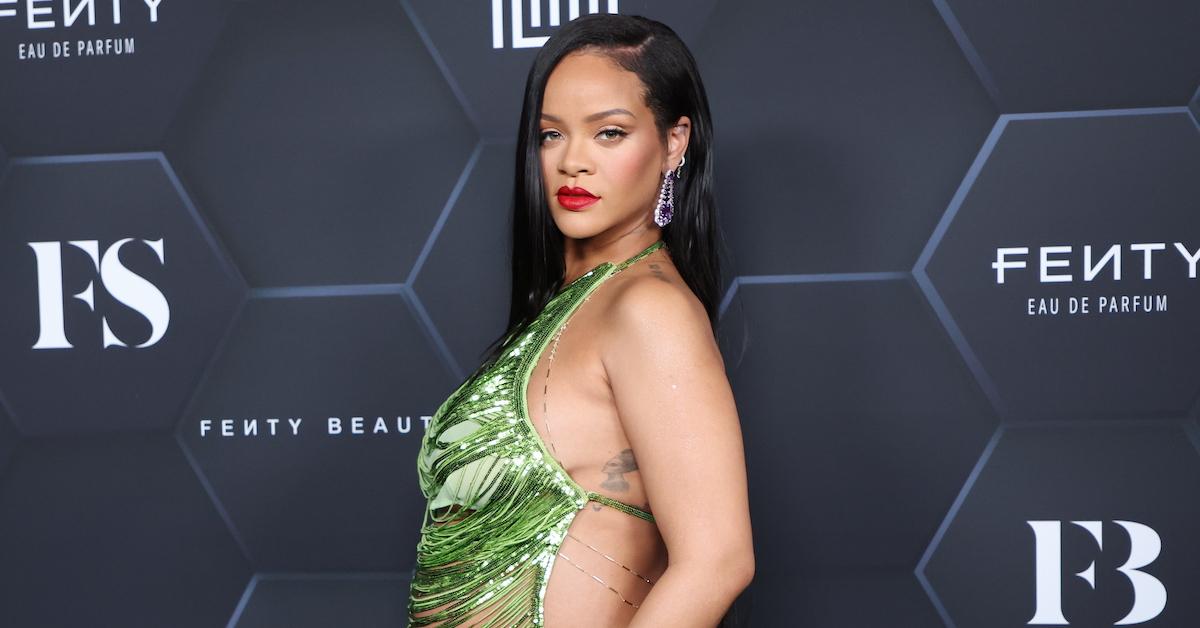 Rihanna Super Bowl halftime memes ensued.
Unsurprisingly, Rihanna's news had plenty to say about her pregnancy announcement and the artist's return to the stage. Below are the top 10 fan memes about Rihanna's Super Bowl Halftime Show performance!
10. Fans waited on Rihanna to confirm her pregnancy news to avoid being rude.
Although most fans noticed Rihanna's baby bump as soon as she started her Super Bowl halftime performance, many waited for an actual confirmation. This way, fans could avoid feeling rude for stating the "Rude Boy" singer is pregnant when she isn't. Thankfully, Rihanna's rep confirmed the news to The Hollywood Reporter shortly after the show.
9. Justina Miles' sign language performance was just as talked about as Rihanna's show.
While Rihanna was the Super Bowl LVII's headliner, fans couldn't keep their eyes off the performance's sign language interpreter. On Sunday night, Justina Miles went viral for her unique, hype way of interpreting Rihanna's hits. Justina, 20, is also deaf and was the first Black and deaf woman to perform an ASL interpretation at the Super Bowl.
Article continues below advertisement
8. Rihanna's male fan base wants a few words with A$AP Rocky.
Although Rihanna's entire Navy is sad over what her pregnancy could mean for her music career, her male supporters blame her baby daddy, A$AP Rocky. The couple confirmed their relationship in 2020 and are already on their second baby after welcoming their son in May 2022.
In addition to the news being a sign that we're not getting another album from RiRi, it also means her male fans really don't have a chance with her now (because that was totally an option for them pre-A$AP).
Article continues below advertisement
7. Sometimes, you just need to scream the bad news out.
While Rihanna's pregnancy news is excellent for the billionaire's personal life, most of the Navy believes the second baby will keep Rihanna away from us more than usual. Unfortunately, we will have to wait for Rihanna to deliver new music after she settles into being a mom of two.
Article continues below advertisement
6. Has anyone checked on Drake?
Like Rihanna's male fans, her exes are likely not taking her pregnancy news well. To some fans, this viral meme of the Philadelphia Eagles coach Nick Siranni crying during the National Anthem accurately portrays Drake's feelings about Rihanna building a family with A$AP. Ha!
Article continues below advertisement
5. Fans felt Rihanna gave the best performance she could under the circumstances.
After Rihanna's performance, many of the singer's supporters praised her for pushing through it while visibly pregnant. However, some critics felt she could've done more for such a momentous event and gave examples of other performers who kept their same choreographed moves even though they were with child. The comments from Rihanna's naysayers caused one fan to stand up for her with one of Family Guy's most ridiculous scenes.
Article continues below advertisement
4. Rihanna's Super Bowl halftime performance brought out a plethora of celebs.
While celebrities at the Super Bowl isn't a new concept, some A-listers had no qualms admitting they also considered the big game the #FentyBowl. Adele attended the event with her boyfriend, Rich Paul, and based on this video, the Grammy winner was only there to support a fellow musician.
Article continues below advertisement
3. Cardi B and Offset also didn't want to miss Rihanna's Super Bowl LVII halftime performance.
Like Adele, Cardi B wouldn't miss seeing Rihanna at the Super Bowl. Before RiRi's performance, a video surfaced of Cardi hilariously rushing her hubby Offset to the stadium in Glendale, Ariz. Luckily, the power couple made it to their seats to see her, as Offset recorded them enjoying the show.
Article continues below advertisement
2. Fans became concerned about Rihanna's second baby after her Super Bowl performance.
Despite the negative reviews Rihanna received regarding her Super Bowl halftime performance, she did dance alongside her background dancers onstage in front of millions of people. Due to such a high volume set, some fans joked that her baby's in-utero experience was an interesting one on Sunday night.
Article continues below advertisement
1. Rihanna is using music as an "extracurricular activity," according to fans.
There comes a time in every music lover's life when they must realize their fave's interests have shifted. Rihanna has slowly done this with her fan base by focusing on her companies Fenty Beauty, Savage X Fenty, Fenty Skin, and her LVMH brand, Fenty. Between her lucrative businesses and now two babies, it's safe to say music is strictly her fun time until she decides to give us a new album.
Article continues below advertisement
We will have to settle for her features or singles, like "Lift Me Up" and "Born Again," which the singer performed on the Black Panther 2: Wakanda Forever soundtrack.