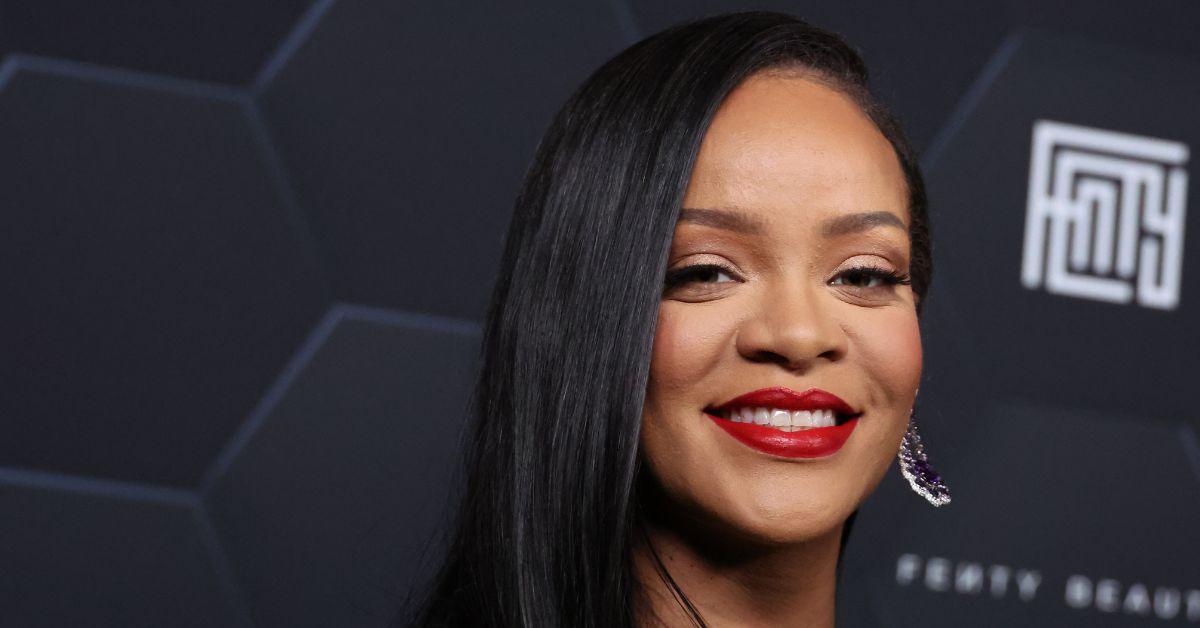 These Amusing Memes Show How Rihanna's Fans Reacted to Her Super Bowl 23 Halftime News
A typical Sunday afternoon soon became monumental for Rihanna's fans, aka "The Navy." On Sept. 25, the singer, actress, businesswoman, and new mom shared a single photo on her Instagram account. The snap showed Rihanna holding an NFL football and flaunting her signature wrist tattoo. Rihanna didn't give fans any context on her post, but many knew exactly what the photo meant.
Article continues below advertisement
Shortly after Rihanna's post, NFL and Rihanna's label, Roc Nation, confirmed that she would headline Super Bowl LVII in February 2023. The performance will be Rihanna's first in several years. As many fans know, the singer's last album, "Anti," debuted in 2016, and she hasn't released a musical project since it dropped.
Article continues below advertisement
Since her reveal, fans have shared their hilarious thoughts about her returning to music for one night only.
Here are the top 10 fan memes about Rihanna's Super Bowl Halftime Show performance!
Article continues below advertisement
10. Rihanna fans have a problem with the location of her Super Bowl performance.
Rihanna's Super Bowl performance won't just be legendary because of the Fenty Beauty CEO's presence. The 57th annual event, which airs on Feb. 12, 2023, will take place at the State Farm Stadium in Glendale, Ariz. No shade to Glendale, but it's a little different from the 2022 event, which took place in Inglewood, Calif., where Rihanna is likely more familiar with now.
Article continues below advertisement
9. Fans don't think Rihanna is looking forward to getting back on stage.
It's understandable why fans would think Rihanna has her own version of Miley Stewart/Hannah Montana's sad face when it comes to the Super Bowl. After "Anti," she focused on her brands, which allowed her to work on her own terms. However, as a temporary NFL employee, the songstress will be on the company's time on game day.
Article continues below advertisement
8. 'RuPaul's Drag Race' contestants are prepared for Rihanna's Super Bowl performance.
Does an announcement count as big news without a RuPaul's Drag Race meme? Apparently not, since many Rihanna fans mentioned the show on Twitter. One meme that circulated was of past Drag Race winners Alyssa Edwards going against Tatiana for a lip sync showdown of Riri's 2007 song "Shut Up and Drive." Many fans wouldn't mind seeing the stars battle it out on the Super Bowl stage.
Article continues below advertisement
7. A Tom Holland cameo is also required at the 2023 Super Bowl.
While some fans want to see Alyssa and Tatiana next to Rihanna, another option going around on the internet is Tom Holland. Zendaya's boyfriend showed off his affection for Rihanna's music when he went against his girlfriend on Lip Sync Battle. During the performance, the Spider-Man actor danced to Rihanna's "Umbrella" in a black bob wig, heels, and a black jumpsuit as an homage to Rihanna's 2007 music video.
Article continues below advertisement
6. Rihanna could use her Super Bowl halftime performance to promote Fenty Beauty, according to fans.
If there's one thing Rihanna knows how to do, it's promoting her fruitful cosmetics lines — Fenty Beauty and Fenty Skin. Since launching Fenty Beauty in 2017, Rihanna has received accolades for the lines' inclusivity and branding. However, branding is exactly what some fans think Rihanna will do at the performance instead of performing her music.
Article continues below advertisement
5. Some fans believe Rihanna might turn the Super Bowl into a product rollout.
In addition to promoting the existing Fenty Beauty line at the Super Bowl, some fans are convinced Rihanna will take it a step further on the night of her performance. Some wouldn't be surprised if Rihanna used the night as her Fenty commercial featuring her products for the following year. The hilarious thought included a meme of Rihanna's rumored ex Jake Gyllenhaal leaving an event.
Article continues below advertisement
4. Rihanna's Super Bowl halftime performance could overpower the newer female pop stars.
Several new artists have developed their fan bases throughout Rihanna's musical hiatus. But, with Rihanna, Beyonce, and Nicki Minaj making power moves simultaneously, it's feeling pretty early 2010s around here!
Article continues below advertisement
3. Rihanna's fans are seriously questioning if they will remember her songs during Super Bowl LVII.
As we previously explained, Rihanna has been away from music for a while now. So, it's unsurprising that some fans are worried they might not remember her songs. There's been a lot going on since "Anti," including a pandemic, two new presidents, and everything in between. Due to this, some fans may want to refresh their memory of the singer's past projects.
Article continues below advertisement
2. Even spectators can't deny Rihanna has plenty of songs to choose from at the Super Bowl.
Amid the Rihanna criticisms, some users pointed out that Rihanna has more than a decade of music under her belt. Although she hasn't recorded an album in years, there's no denying that the Grammy winner worked tirelessly on her music in the early 2000s. She released a new album nearly every year from 2006-2012 and only took off four years to create "Anti."
Article continues below advertisement
1. Rihanna's Super Bowl Halftime performance will be a "holy night."
Rihanna's fans continued to keep the laughs going with this post of her doing a fan's makeup. While we're not confirming (nor denying) the Jesus resemblance, the fans looked as if Riri blessed him with a dazzling makeup look at one of her Fenty Beauty events.