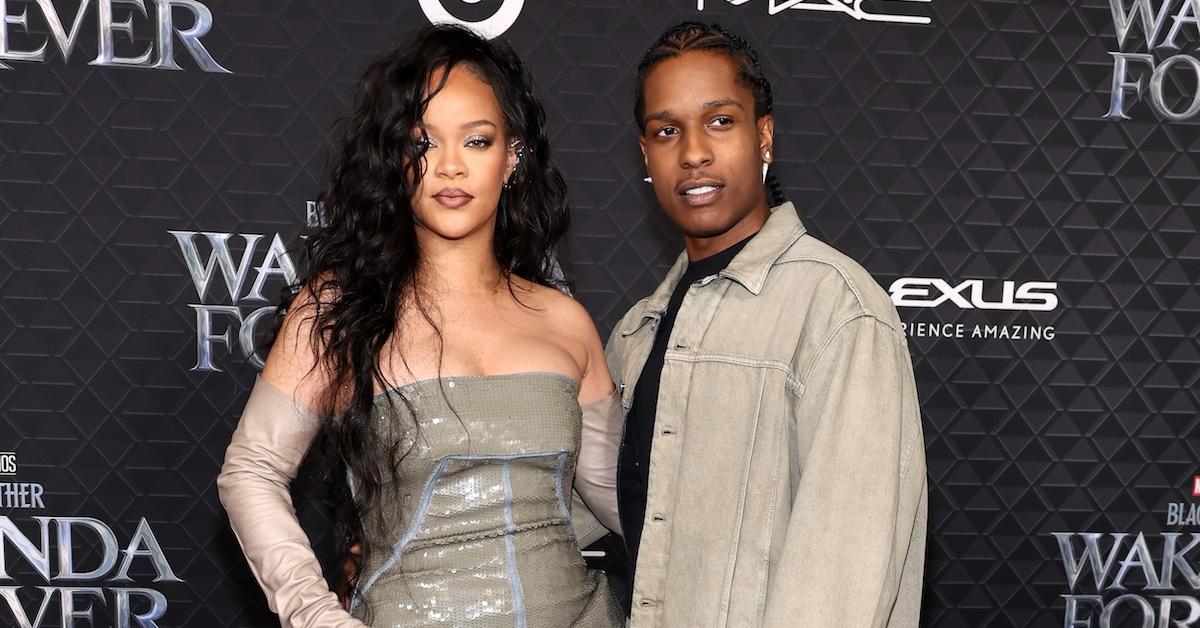 From Friends to Lovers: A Timeline of Rihanna and A$AP Rocky's Relationship
Viewers who tuned into Super Bowl LVII got the news of a lifetime. Aside from the Kansas City Chiefs reigning supreme in a super-close match against the Philadelphia Eagles, the halftime show still has social media in shock.
Rihanna took the stage to entertain the audience with a medley of some of her greatest hits. And while RiRi dazzled, folks couldn't get past her guest — her baby bump.
Article continues below advertisement
Yes, you read that correctly! RiRi is pregnant. Now that RiRi and A$AP Rocky are rolling ahead with building their family, fans want the tea on their relationship.
Here's the scoop on Rihanna and A$AP Rocky's relationship timeline.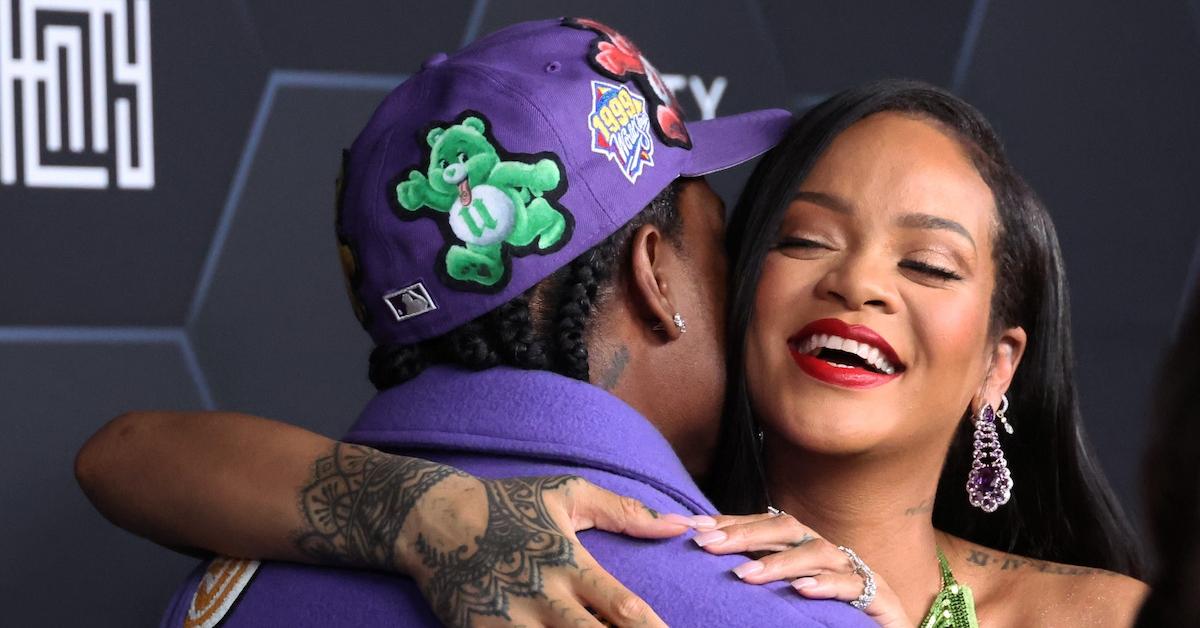 September 2012: Rihanna and A$AP Rocky share a steamy VMAs performance.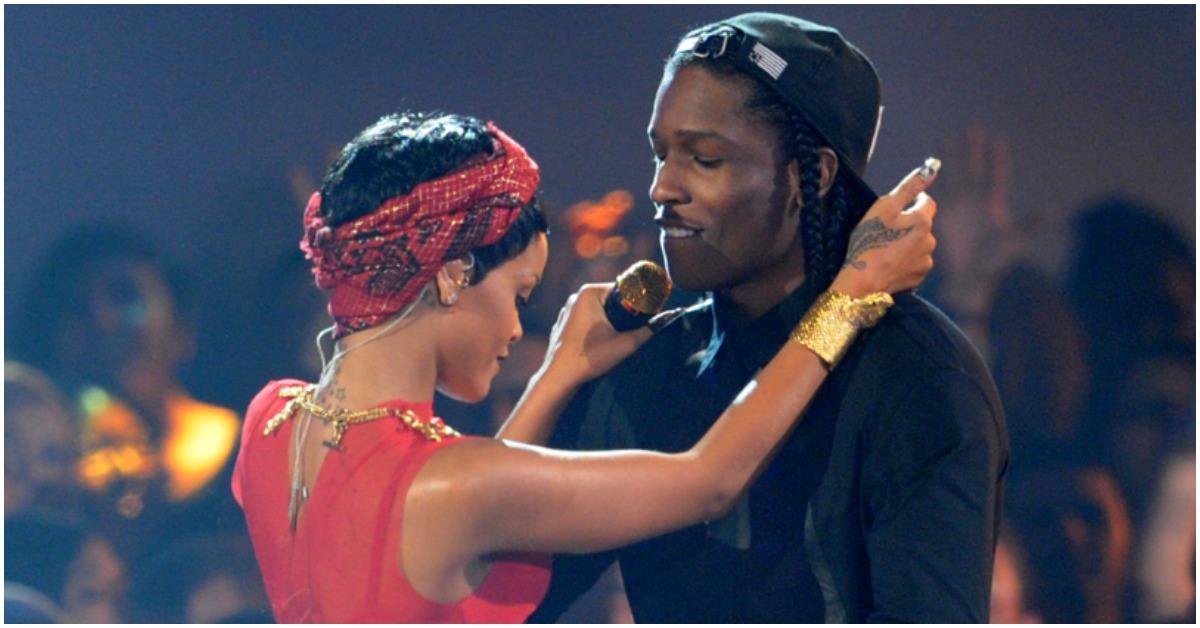 Fans began shipping Rihanna and Rocky at the 2012 VMAs. The Fenty Beauty CEO performed "Cockiness (Love It)" on stage at the event and Rocky joined in to rap his verse from the song's remix.
While dancing together, the "Good For You" artist grabbed Rih's backside and planted a kiss on his future baby mama's neck, which was all fans needed to speculate about a brewing connection.
Article continues below advertisement
September 2013: A$AP Rocky asks Rihanna to be his love interest in the "Fashion Killa" video.
Rihanna and Rocky began hanging out more and more, following the 2012 VMAs. Rocky asked the "Diamonds" singer to star in his music video for the song "Fashion Killa," after joining her on tour in March 2013.
In the video, Rihanna plays Rocky's love interest, and the two exchange multiple giggles while he's styling his boo.
Article continues below advertisement
June 2018: The romance rumors continue after Rihanna and A$AP Rocky's cozy Paris Fashion Week appearance.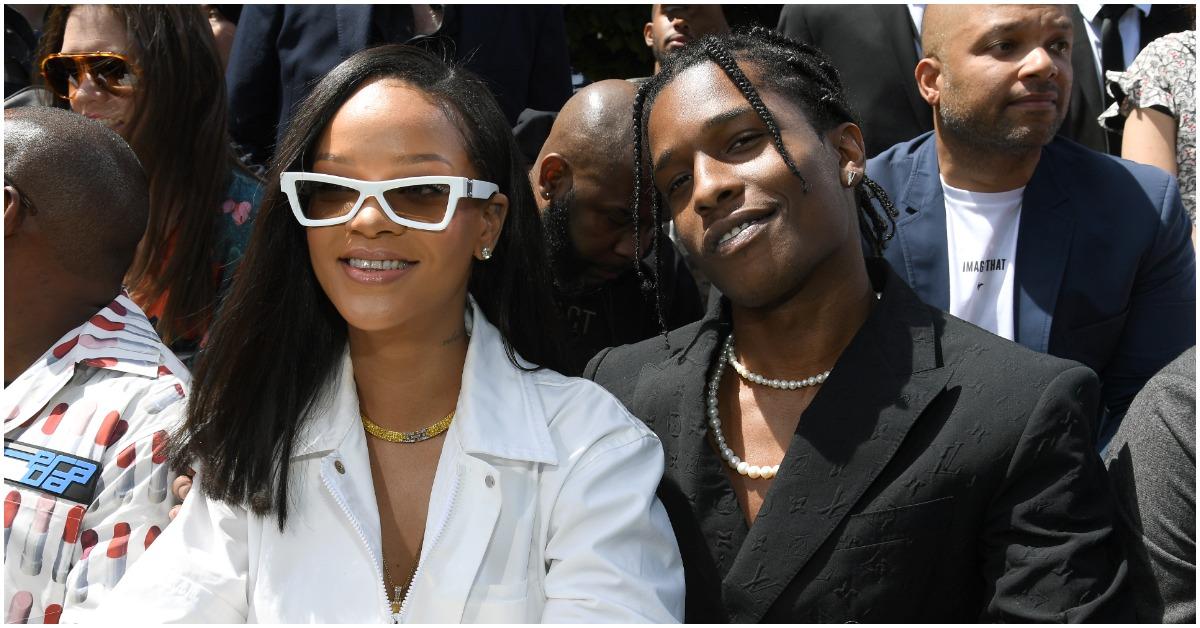 Rihanna and Rocky dealt with more relationship rumors throughout the mid-2010s. However, in a 2015 interview with Hot97, the rapper shared that they never dated and had a platonic relationship.
In 2017, Rihanna seemed to lay the rumors to rest when she started dating Hassan Jameel.
Nonetheless, when the pair sat next to each other at Virgil Abloh's Louis Vuitton Menswear Spring/Summer 2018 show for Paris Fashion Week, they had undeniable chemistry.
Article continues below advertisement
December 2019: A$AP and Rihanna grace the red carpet together.
Rocky and Rihanna fueled dating reports once again after they attended the 2019 British Fashion Awards.
Although she was still romantically linked to Hassan at the time, the Fenty designer was glowing as she and her friend were photographed on the red carpet.
Article continues below advertisement
August 2020: Rocky discusses having babies with Rihanna.
By January 2020, Rihanna and Hassan had officially broken up after three years of dating. In August of that year, she and Rocky collaborated on her first campaign for Fenty Skin. The pair showed off their comfortable rapport again in GQ's video series Face to Face.
Rihanna and Rocky revealed their love for the f-word and skincare icons. They also answered rapid-fire questions, which prompted the rapper to predict that the couple's kids would be "flyer" than them.
Article continues below advertisement
December 2020: Rihanna and Rocky spend their first Christmas as a couple.
In November 2020, People reported that Rihanna and Rocky had started dating after years of friendship. Although neither of them confirmed the reports, the "You Da One" singer invited her new beau to spend their first holiday together as a couple.
The pair spent Christmas in Barbados with Rihanna's family and were reportedly "inseparable."
Article continues below advertisement
January 2021: Rihanna supports Rocky on Instagram.
Rihanna, who typically keeps her relationships off of social media, showed her support for her man by dazzling fans in a pair of Amina Muaddi gladiators, which Rocky and the brand had collaborated on.
Rihanna also wore a matching bikini top and a long cover-up on her waist in the steamy Instagram photos.
Article continues below advertisement
May 2021: Rocky calls Rihanna the "love of my life."
Rocky was the first to discuss his and Rihanna's romance publicly. In his GQ June/July 2021 cover story, he beamed with excitement after Samuel Hine asked him about their relationship. Even though he didn't mention Rihanna's name, Rocky declared the cultural phenom was "my lady" and the "love of my life."
The rapper, who previously dated Kendall Jenner, Love & Hip-Hop alum Tahiry Jose, and Rita Ora, said being with RiRi makes him want to be monogamous.
"I think when you know, you know," Rocky declared. "She's the one."
Article continues below advertisement
September 2021: Rihanna and A$AP Rocky make their official debut as a couple at the Met Gala.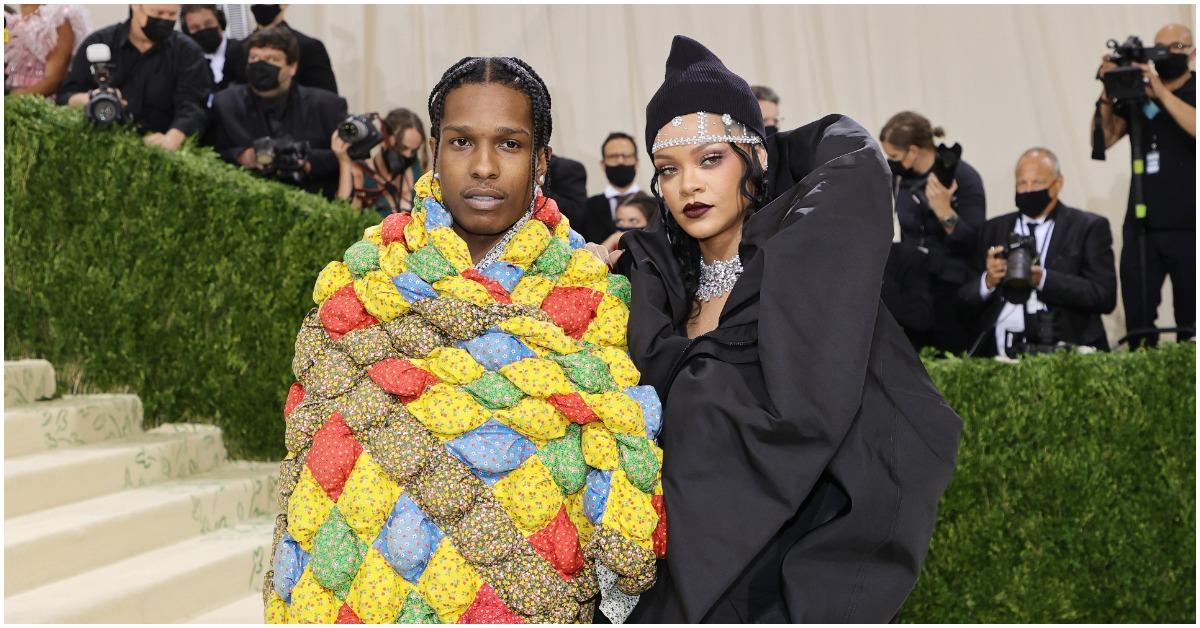 Although paparazzi had followed the couple on previous dates, Rihanna and Rocky made their first official appearance as a couple at the 2021 Met Gala. The fashion icons stunned on the red carpet and shared several smooches along the way.
However, Rihanna revealed to E!'s Daily Pop that the lovers didn't plan on causing such a stir on fashion's biggest night.
Article continues below advertisement
"We weren't even sure if we were going to go, so separately, we were planning our looks just to be prepared," Rihanna said. "We ended up getting ready together and going, and I didn't even realize we were on a carpet together until somebody said, 'You're making your debut,' and I was like, 'Oh, s––t.'"
Article continues below advertisement
January 2022: Baby on board for Rihanna and Rocky!
The power couple nearly shut down the internet on Jan. 31, 2022, when several photos of Rihanna's pregnant belly surfaced. In the pics, she and Rocky were holding hands and gazing into each other's eyes as she proudly showed off her bare stomach underneath a vintage Chanel pink puffer coat.
Rihanna then took to her Instagram page to formally announce the pregnancy with another baby-bump shot on Feb. 2. She also shared more photos in a slideshow, including one with Rocky affectionately kissing her forehead.
Article continues below advertisement
April 2022: Rihanna says she loves her "simple" life with A$AP Rocky.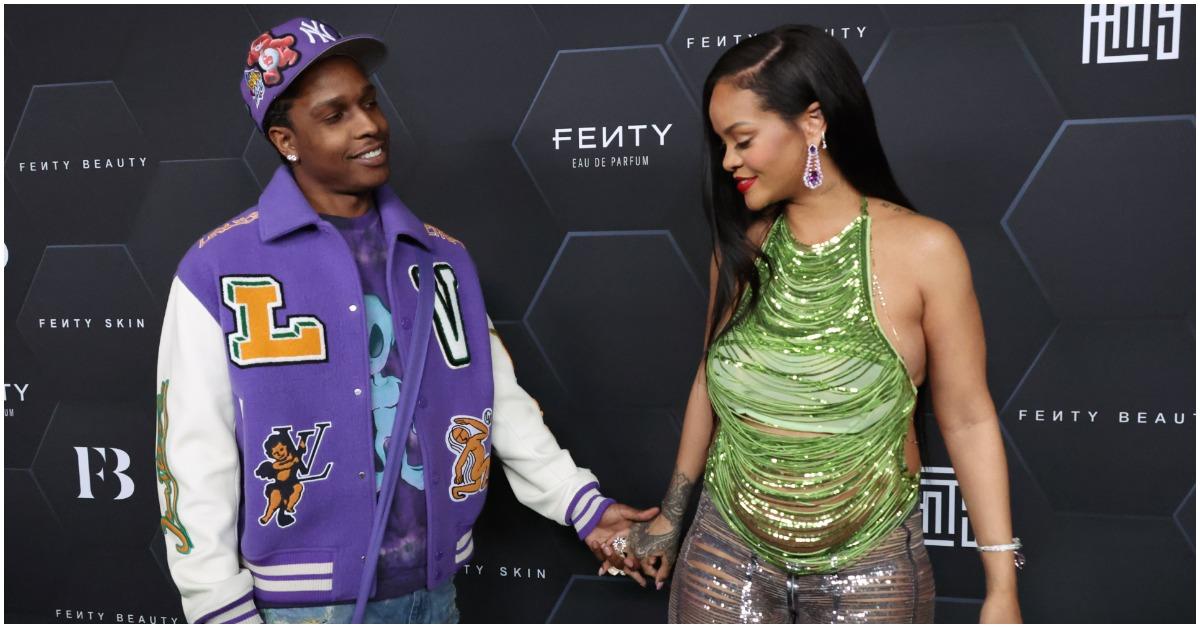 After almost two years of dating and a baby on the way, Rihanna finally opened up about her relationship with Rocky in her Vogue cover story in April 2022. During the interview, she shared how their friendship shifted into something more when they embarked on a road trip in the summer of 2020. On the trip, Rihanna "would grill barefoot" as her partner "tie-dyed T-shirts picked up at the gas station."
"I still have it, too," Rihanna told the outlet about the grill from Walmart. "It works like nobody's business."
Article continues below advertisement
The Savage X Fenty CEO said that although she had her reservations about the two becoming more than friends, she now knew that she and Rocky were destined to be together.
"I love the simple things but also the grand adventures," Rihanna said. "There's no pretentious my-brand-your-brand bulls--t, it's just us living. I just feel like I can do any part of life by his side."
Article continues below advertisement
December 2022: Rihanna shares a video of their little one for the first time on TikTok.
Fans were dying to get a glimpse of RiRi and A$AP's baby, who was born in May 2022.
In December of that year, RiRi posted a video of the little one seated in a car seat and staring out of the window beautifully cooing and yawning. RiRi gave us a close-up of his oh-so-cute little hands as he tried to grab her phone. Too cute!
At the time, the couple's baby boy was around 7 months old.
Article continues below advertisement
February 2023: Rihanna debuts a baby bump during her Super Bowl LVII performance.
Oh baby! While folks were anticipating guest performers during her Super Bowl halftime performance, RiRi shocked the world with the unexpected addition of her bun in the oven.
As her performance began, we saw a close-up of RiRi's picture-perfect face and then the camera quickly panned to her belly. While most people prefer not to speculate about women being pregnant out of respect, social media users couldn't help but wonder. After all, RiRi has been pictured before the Super Bowl with a smaller stomach.
Article continues below advertisement
However, reps for the "Lift Me Up" singer confirmed what many of us thought — there will be another mini Fenty-Mayers coming. Riri and A$AP's son — whose name is currently unknown — will be a big brother!
Article continues below advertisement
Article continues below advertisement
Are A$AP Rocky and Rihanna married?
Now that the cat is out of the bag with RiRi's second pregnancy, social media users want more tea on the couple.
A$AP and Rihanna have yet to jump the broom — even though rumors have said the couple secretly tied the knot — but it looks like marriage is in the cards for the pair.
Article continues below advertisement
In her April 2022 Vogue interview, RiRi discussed her relationship with A$AP and expecting their first child together. The billionaire beauty discussed how they didn't think they would start a family so soon.
Article continues below advertisement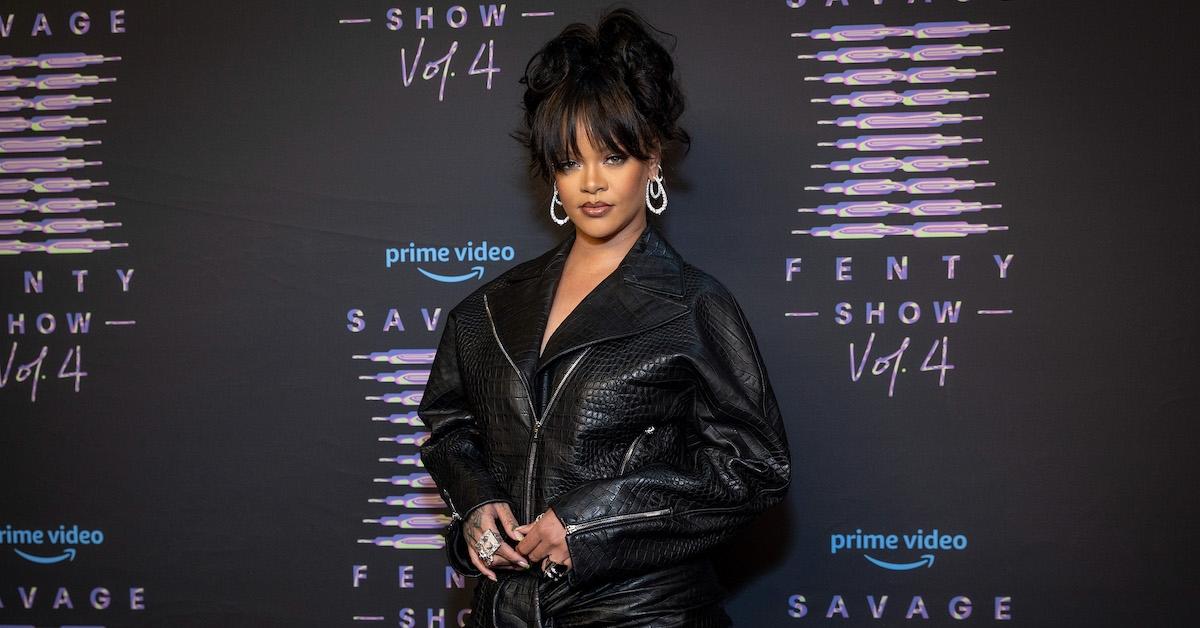 Article continues below advertisement
However, RiRi shared that she wouldn't allow traditional ideals to stop her.
"I always thought it would be marriage first, then a baby, but who the f--k says it has to be that way," she told the publication. "I'm certainly not gonna let that get in the way of me being a mom."
Congratulations to A$AP and RiRi on their second bundle of joy!