Will Archie End Up With Betty or Veronica? Find Out Which Pair Will Be Endgame on 'Riverdale's Final Season
Since 'Archie' Comics was first published in the 1950s, fans have been asking the same age-old question: Who will Archie end up with?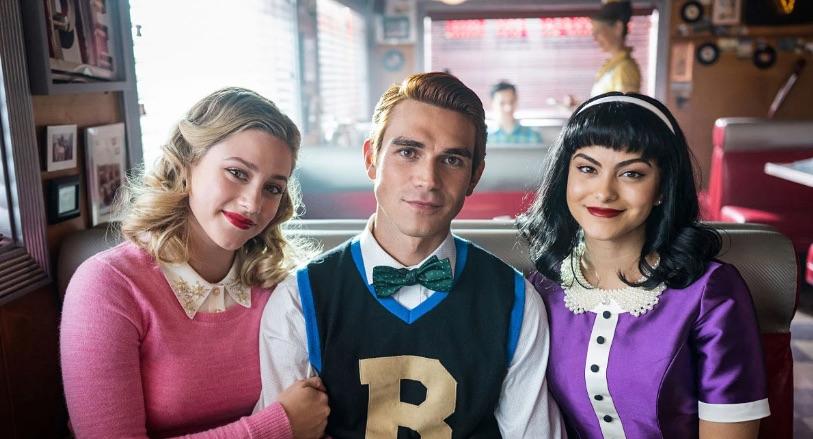 Since Archie Comics was first published in the 1950s, and Riverdale premiered on the small screen in 2017, fans everywhere have been asking the same age-old question: Will Archie Andrews end up with Betty Cooper or Veronica Lodge?
Riverdale showrunner Roberto Aguirre-Sacasa has gone on to tease both possible outcomes, but according to cast members, the product might be far more clear-cut.
Find out below which couple will ultimately prevail.
Article continues below advertisement
Will It Be Veronica?
Since the day Veronica Lodge (Camila Mendes) strutted into Riverdale High with her bon mots and pearls, Archie (K.J. Apa) was enchanted. Varchie lasted four seasons, on and off, contending with her mob boss father, Hiram Lodge, and the various warring factions of Riverdale that threatened to tear them apart.
Although the pair did have a dalliance in the fifth season, the two went their separate ways. With the time period jump in the final season, Archie and Veronica are given a clean slate.
Their meet-cute harkens back to the first season, but this time around Veronica plays with Archie's heart, and he's having none of it. After making him compete with other boys to score her as a date to the school dance, Archie firmly rejects Ronnie.
Article continues below advertisement
Will It Be Betty?
At the beginning of the series, Archie rejected his childhood best friend Betty's (Lili Reinhart) advances because he believed he wasn't good enough for her. As Archie and Betty both embarked on tumultuous long-term relationships with Veronica and Jughead Jones respectively, they kept drifting back to one another.
Every now and then when they were on breaks with their significant others, Archie and Betty leaned on each other. When they were chasing the Black Hood, they kissed.
The writers initially swept it under the rug due to the uproar from Bughead fans, but as the seasons went on the writers pandered less to fan expectations and finally went for a Barchie cheating storyline towards the end of Season 4. But the iconic pair wouldn't get together until Season 5 following a time jump that aged up their characters.
At Paley Fest 2022, Reinhart supported the pairing, "Archie's relationship with Veronica and Betty's relationship with Jughead — they're all beautiful in their own little ways, but I think Betty and Archie have a home in each other."
Article continues below advertisement
Thanks to another narrative shakeup this season that takes the characters and blasts them to the past. Teenagers once more Archie and Betty must find their way back together in the innocent, repressed times of the '50s.
In an interview with CBR, K.J. Apa told them who he was rooting for: "In my heart of hearts, it's probably Archie and Betty."
"They have been friends for such a long time." He continued, "I see them being together for a long time. I see them as soul mates."