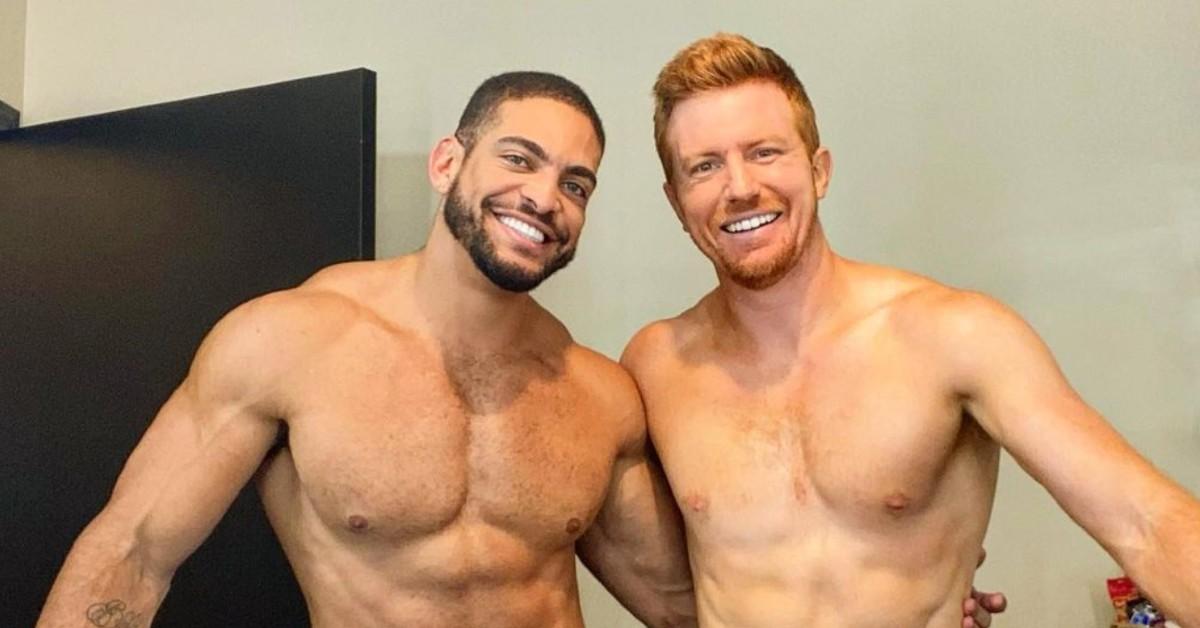 Oh, Pit Crew! Let's Meet the Gag-Worthy 'RuPaul's Drag Race' Season 15 Pit Crew
If you're looking for some masculine, oiled-up eye candy, look no further than RuPaul's Drag Race's Pit Crew. Acting as a gender-swapped version of the beautiful, silent gameshow models of the past (e.g. Deal or No Deal), the always-half-naked Pit Crew assists RuPaul during both Mini and Maxi Challenges (all while the queens ogle over its chiseled members).
Article continues below advertisement
Whether they're rolling over a cart of unconventional materials for a design challenge, acting alongside the queens, or playing Snatch Game, the Pit Crew members are an integral part of the Emmy-winning reality competition show.
And while we typically "meet the queens," it's finally time that we meet the enigmatic Pit Crew. We can practically hear RuPaul summoning them in his singsongy voice.
Bryce Eilenberg
Not only is Bryce Eilenberg the hunkiest ginger we've ever seen, but he's a smartypants, too. Aside from his gig as a Pit Crew member, Bryce is an aerospace engineer and a Red Hot 100 model.
"I'm actually an aerospace engineer for my day job. And I show up to RuPaul's Drag Race from time to time when they want people to stand around in underwear, and they want a redhead to stand around in underwear," the UCLA grad said in a 2021 YouTube video. He was inspired to become an aerospace engineer after seeing Top Gun as a child.
Bryce has been a member of the Pit Crew since Season 7 of RuPaul's Drag Race.
Article continues below advertisement
Bruno Alcantara
According to Out, Bruno Alcantara is a Brazilian model, author, life coach, and OnlyFans star.
"Self-love is the key to happiness, fulfillment, and long-lasting success. I help you to make it easier for yourself and become your best supporter. That voice in your head has to become your biggest cheerleader," his website states. Bruno is a Certified Professional Coach through the Institute for Professional Excellence in Coaching.
Bruno has been a Pit Crew member since RuPaul's Drag Race All Stars Season 4.
Article continues below advertisement
Asaf Goren
Article continues below advertisement
Jesse Pattison
According to his Instagram bio, Jesse Pattison is an action actor (who performs stunts), a model, and a trainer. Aside from his time on Drag Race, Jesse can be seen in Todrick Hall's documentary, Behind the Curtain: Todrick Hall, which examines the launch of the singer and dancer's original stage musical Straight Outta Oz.
Jesse Pattison first appeared as a Pit Crew member on Season 11 of RuPaul's Drag Race.
Article continues below advertisement
Calixto Quan
Per Out, Calixto Quan can be seen "helping with photography or spinning the wheel of lipsynching for the queens" on Drag Race. According to his LinkedIn profile, the model and gamer (or gaymer) is the Senior Program Manager, Creator Diversity at Twitch.
Additionally, the Drag Race newbie is proud to represent both the Asian and Latinx communities.
"I am humbled and feel lucky to be able to represent both my Asian and Latino heritage in the media landscape. I'd like to think that my participation in such an iconic show is helping change the environment to show that Asian men are sexy and that Salvadoran men can also stand out on the world media stage," he told Out.
Calixto has been a Pit Crew member since Season 14 of RuPaul's Drag Race.
Article continues below advertisement
Season 15 episodes of RuPaul's Drag Race premiere on Fridays at 8 p.m. ET on MTV.