Sean McLaughlin Brings The "Kenergy" to Season 20 of 'The Bachelorette'
Sean McLaughlin is vying for Charity's heart on Season 20 of 'The Bachelorette,' but who is he? Here's what to know about the contestant.
Season 20 of The Bachelorette is underway, and multiple men are vying for Charity Lawson's heart. One of the lucky remaining suitors is none other than Sean McLaughlin, a self-proclaimed "terrible texter" from Tampa, Fla.
Article continues below advertisement
Ahead of the July 10 episode, in which Sean participates in a Barbie-themed group date, let's get to know more about him! So, without further ado, keep scrolling for a few fun facts about Sean.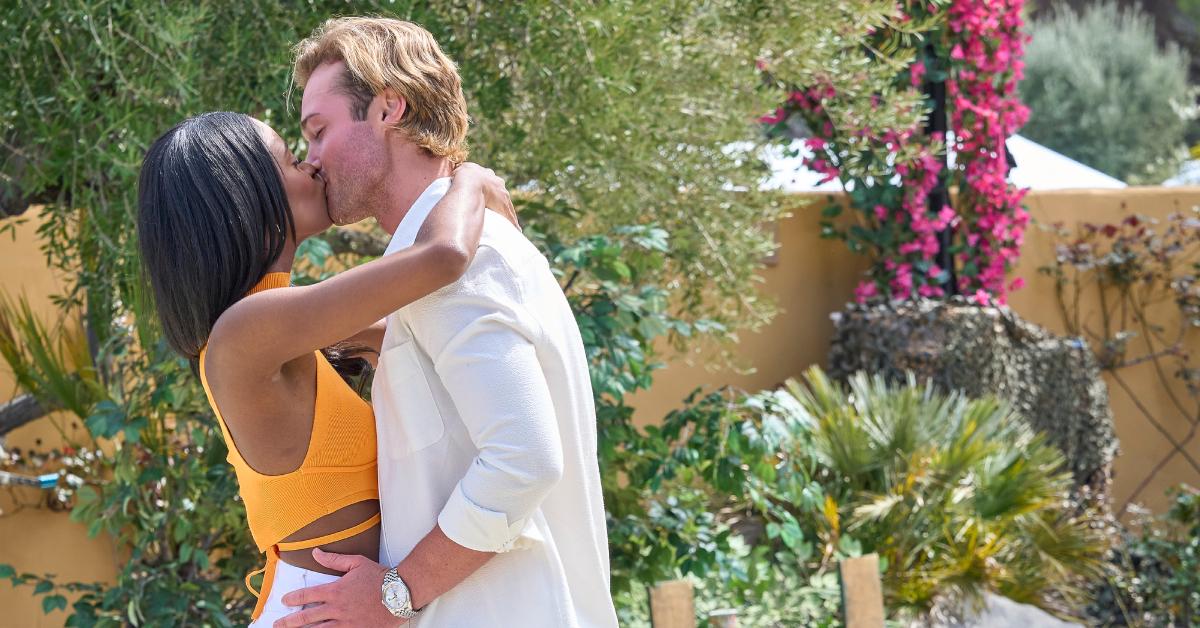 Article continues below advertisement
Who is Sean McLaughlin from Season 20 of 'The Bachelorette'?
According to his official ABC bio, Sean is "looking for the girl of my dreams to share my life with." He's worked hard in his career, having just bought his very first house — and he's so excited about the possibility of bringing Charity back home so they can start their new lives together.
Speaking of his career, Sean currently works as an account executive for EZ-ERC. The contestant previously worked as a sales representative at Paycom. Before that, Sean held many positions at BrightEdge and even interned at Barstool Sports during college (he attended the University of Tampa before transferring to Fordham University).
Article continues below advertisement
Now, when he isn't working, Sean loves golfing and going on boat rides with his friends. He also loves spending time with his dog, an adorable French bulldog named Bane — Sean even set up an Instagram account for the pup!
Article continues below advertisement
Sean's father, Steve McLaughlin, is a controversial political figure.
Although not much is known about Sean's mother, his father is Steve McLaughlin, the County Executive of Rensselaer County in New York. He assumed office term in 2018. After years as an airline pilot and banker, Steve was elected to the New York State Assembly in 2010 and represented the 107th District from 2011 to 2017.
Article continues below advertisement
In 2017, at the height of the #MeToo movement, The Wall Street Journal reported that Steve was censured by the New York State Assembly Ethics Committee for violating the sexual harassment policy. The outlet claimed that Steve asked a female staff member to send him nude photos, but he denied the allegations.
In December 2021, Steve was indicted on two felony counts, including grand larceny in the third degree. The politician was accused of withdrawing $5,000 from his campaign fund in November 2017 to pay off personal debts. However, in January 2023, he was acquitted of the charges.
Article continues below advertisement
How far does Sean get on 'The Bachelorette'? (SPOILERS)
Spoiler alert! This section contains potential spoilers for Season 20 of The Bachelorette.
According to spoiler king Reality Steve, Sean sticks around for a little while. He makes quite an impression on Charity during the "Barbie Beach Concert" group date, so much so that he's voted the winner and receives one-on-one time with the leading lady (let's face it — his Kenergy is unmatched).
Although they seem to be into each other, Sean and Charity's connection apparently fizzles out at some point because the Bachelorette sends him home right before hometowns. Only time will tell if he'll be back for Bachelor in Paradise, but Sean definitely gives off the vibe of wanting to find love on the beach!
New episodes of The Bachelorette air Mondays at 9 p.m. EST on ABC. Stream on Hulu the next day.