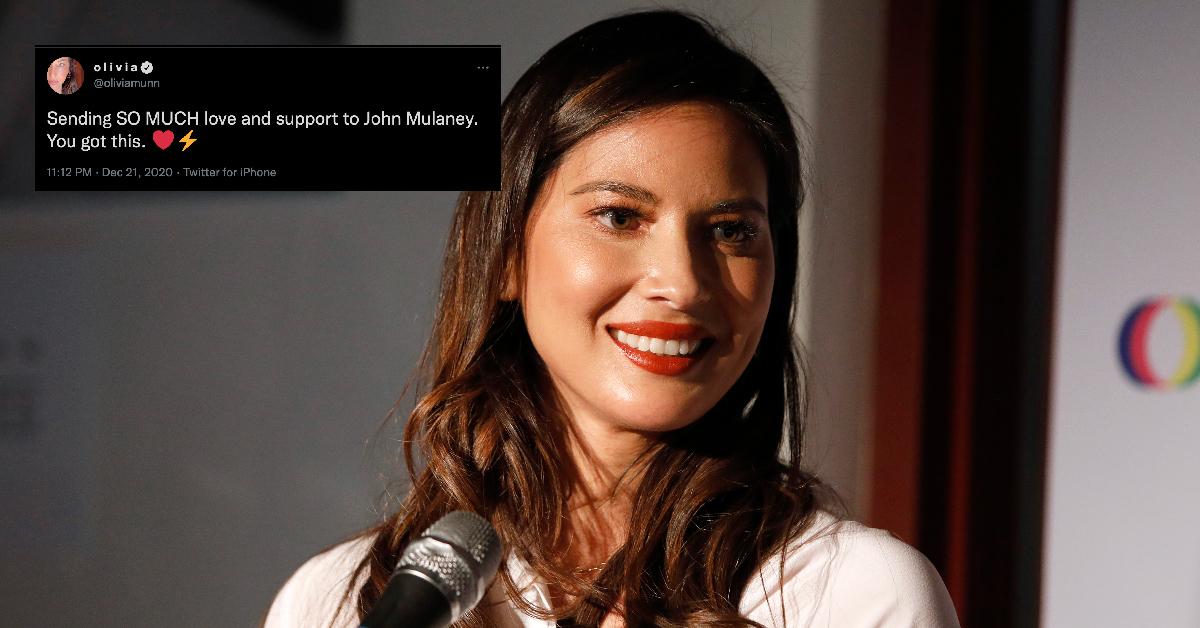 Twitter Has Made a Meme of Olivia Munn's December Tweet to John Mulaney
One of the biggest pieces of celebrity news right now is that well-loved comedian John Mulaney is expecting a child with his girlfriend, actress Olivia Munn. The news broke not long after John and his ex-wife of six years, Anna Marie Tendler, announced they were divorcing following John's recent stay in rehab.
Article continues below advertisement
While the internet may not be in love with their relationship, they'll never miss an opportunity to make a meme. Twitter users are "sending SO MUCH love" to things they want to manifest into their lives, based on a tweet Olivia sent to John in 2020.
Article continues below advertisement
The internet is making memes out of a tweet of support Olivia made for John in December 2020.
Before the news of John's first rehab stint or his separation from his ex-wife broke, Olivia tweeted words of support to the comedian on Twitter.
"Sending SO MUCH love and support to John Mulaney. You got this," Olivia tweeted on Dec. 21, 2020. At the time, news had recently broken that he would be checking himself into rehab. That was the second time in six months he had attempted to get sober.
Article continues below advertisement
Article continues below advertisement
Many are joking that Olivia manifested her relationship with John into existence, as he recently revealed on Late Night with Seth Meyers that not only are he and Olivia together, but they're expecting a child soon.
As a result, the tweet has gone viral almost nine months later, with people quote tweeting it and sharing things they want to manifest into their own lives. Some are joking about bringing a new significant other into their life, while others are wishing for more simpler things.
Article continues below advertisement
Not everyone is buying Olivia and John's relationship timeline.
Since the news broke that John and Olivia were in a relationship, not everyone has been receptive of it. There's been a significant amount of hate directed at Olivia online, especially as John shared they're expecting a child together, with former fans of John's work sharing fatphobic lines from Olivia's 2010 memoir and calling her a "pick me girl."
Article continues below advertisement
"I went to rehab in September, I got out in October, I moved out of my home from my ex-wife. Then in the spring I went to Los Angeles and met and started to date a wonderful woman named Olivia," John said on Seth Meyer's show of his relationship timeline. "I got into this relationship that's been really beautiful with someone incredible. And we're having a baby together."
But this timeline has raised many eyebrows, and not everyone is convinced there wasn't infidelity involved.
"Anna Marie knew he was doing things with other women before he went to rehab in December. And his claims to friends that he was trying to protect her before he went away to rehab were rubbish, she didn't need protecting," an insider told Page Six. "John was using Anna Marie to protect himself. But still, she was very heartbroken that he decided to end the marriage, she was heartbroken how it went down, it wasn't something that she wanted, she wanted to work it out. I am sure this news about the pregnancy will be very difficult for her."