Hey Babe, Take a Tour of Small-Town America With Hilarious TikToker @SinisterPondBabe
Once upon a time, learning about a new place before traveling there involved buying an actual guidebook. Before the internet allowed folks to Yelp their way into a decent restaurant, we lived an analog life filled with bookshelves devoted to entire countries with helpful tools about traveling. From learning whether or not to tip to which tours got you the most bang for your buck, it was paper or nothing.
Article continues below advertisement
Nowadays there are so many digital ways we can discover fun facts about a place we hope to visit. But what about the places we'll probably never visit? Don't the strange, small towns of America deserve love too?
Enter TikTok user @sinisterpondbabe, who answers all of the weird tiny town travel questions you never knew you had. Strap in, babe, we're going to the outskirts of the world.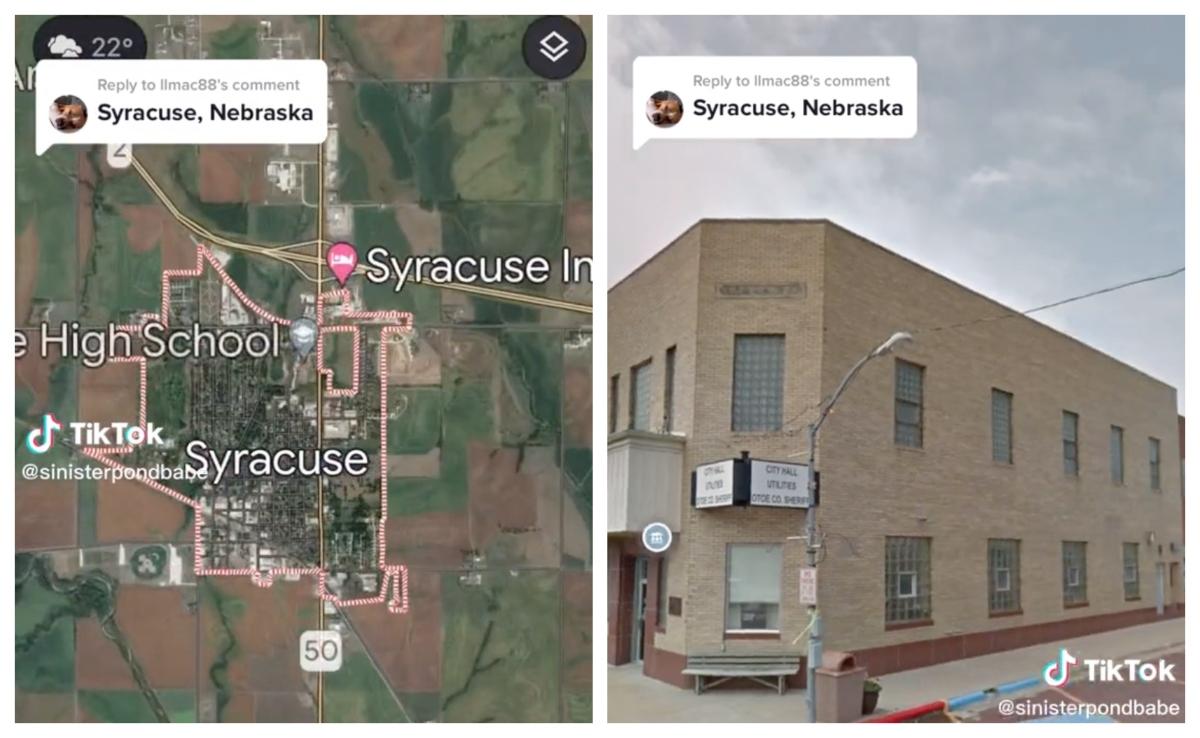 Article continues below advertisement
We are obsessed with Sinister Pond Babe (@sinisterpondbabe) on TikTok.
We are severely lacking in creative ways to use TikTok, and that's just how it is. The app has been around long enough to witness trends come and go, hate speech come and stay, and of course drama for life. This is why when @sinisterpondbabe dropped her first sardonic travel TikTok in October 2022, we sat up and took notice.
In it, and in subsequent TikToks, she begins as most of us have begun: on Google Earth. Her captions are simple. "Would you live here???" she asks. Soon, @sinisterpondbabe zeros in on the town of Rankin, Ill., which according to Wikipedia is actually a village. It boasts a waning population of 487 in 2021, and has an honest-to-God Main Street. She then moves into the street views. That's where things get interesting.
Article continues below advertisement
We want to hangout with @sinisterpondbabe.
The videos only go up from there as @sinisterpondbabe now takes requests from fans, for a Venmo or CashApp'd fee of course. Content creators deserve to be paid for their ideas and work! Since the first video, she has developed a style and voice marked by an excessive use of the word "babe," and by excessive we mean just the right amount.
Article continues below advertisement
In January 2023 a CashApp request came in from a "babe that scared [her] a little." She goes on to say, "He was a little crazy, babe. One night in my messages it said 'Are you scared of me?' and I said 'Babe, what the hell? You can't say that to a mentally ill girl because I start thinking 'Oooh, stalker.'"
Although he deleted his CashApp account, @sinisterpondbabe still honored his request of having her virtually visit the town of Lake City, Iowa.
About The Cornerstone Suites hotel, @sinisterpondbabe said, "It's giving me weird vibes, babe. It's uncanny valley." Moving on, she reached the Towne Square Quilt Shoppe, which @sinisterpondabe said looked like a "'90s infomercial." She is right. You could never hang your hat on a single theme in that store unless the theme was chaos.
Another word she defaults to often is "sinister." Often the places in these towns are sinister, and because of @sinisterpondbabe, we cannot wait to visit.